Harvard University Press E-Books (2013)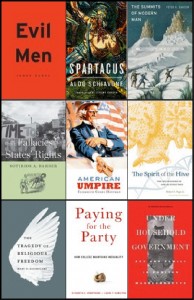 A large selection of 2013 Harvard University Press e-books are available to Bates students, faculty and staff beginning this year.
Many are already in the Ladd Library catalog, and more will be added between now and January, 2014. We will have a total of 166 books at that time.
All books have unlimited use and permanent access, and you may download chapters at your convenience. We hope that you will find these books easy to use. If you sign up for an account on the DeGruyter platform where we offer these books, the ability to add titles to a "bookshelf" and take notes on them will be available to you. Here are just a few of the titles which are already accessible:
Defending American Religious Neutrality
Alone in America
Economic Foundations of International Law
Laws of Creation
Ordered Liberty
The Fallacies of States' Rights
Collected Papers on Monetary Theory
Bengali Harlem and the Lost Histories of South Asian America
Declaring His Genius: Oscar Wilde in America, 1882
First Amendment Institutions
Lincoln's Tragic Pragmatism
The Behavior of Federal Judges
The Land of Too Much
Under Household Government
Building a Public Judaism
Rules, Reason and Self-Knowledge
Spirit of the Hive
The Duke and the Stars
The Fragile Wisdom
Trent: What Happend at the Council
Black Jews in Africa and the Americas
American Umpire
The Gandhian Movement

Making Toleration
We always welcome your feedback on e-book platforms and new content. Let us know what you think!