Celebrate the 75th anniversary of The Wizard of Oz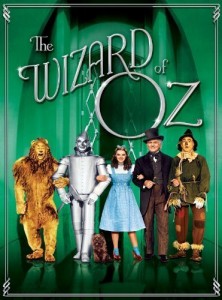 Celebrate the 75th anniversary of The Wizard of Oz—straight or with a twist.
75 years ago Dorothy, the Tin Man, the Cowardly Lion, the Scarecrow, and Toto too began their journey down the Yellow Brick Road in the MGM adaptation of the Frank L. Baum novel.  Relive the wonder by watching the original, available in the Audio (M1508.8 .W593 2009).
Plus here in Maine on Saturday, October 12, 2013, the Farnsworth Art Museum, in downtown Rockland, Maine, will open an exhibition entitled The Wonderful Wizard of Oz, drawn from the largest collection of Oz material in the world. The exhibition will run through Spring 2014 in the museum's Crosman Gallery.
Too cheerful for your taste? Turn down the sound, and pair the visuals from this 1939 film with the haunting strains of Pink Floyd's Dark Side of the Moon, also available at Ladd (COM XM 350 .P55 D3 1992).  By starting the album at the end of the MGM lion's final roar, you will experience The Dark Side of the Rainbow.  Although Pink Floyd band members deny that they produced the album with The Wizard of Oz in mind, others find the synchronicity of these two works too coincidental.