Vote 2014: where & what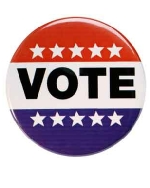 You can vote in the upcoming election, Nov. 4th, as a Maine resident.
For information on Registering to Vote, see Lewiston City Clerk's Office.  Students have a right to vote where they go to school.  Maine has same-day voter registration.  This means you can bring your ID and proof of residency, and vote on the same day.
Most students on campus will be voting at the Lewiston Armory, 65 Central Avenue.  This is about 1 1/2 blocks from the corner of Central and Campus Avenues – a several minutes walk from Chase Hall. Polls open at 7AM and close at 8PM.  Most of campus is in Wards 3-1, 3-2, or 1-1.  You can also type in your street address in the Maine Voter Information Lookup.
There are 7 statewide referendum for Maine and Lewiston has two additional municipal questions.
For help sorting out the issues and the candidates, use the Maine Center for Public Interest Reporting's 2014 Voter Survival Guide with links to many non-partisan groups.
Make your Voice count!