Copyright for Thesis & Mt. David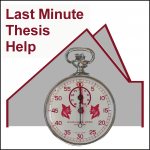 Putting the finishing touches on your thesis or Mt. David project?  Ready to share it with the world?
If your work is going into SCARAB — the Bates institutional repository — you need to be sure that it conforms to copyright regulations.  SCARAB is a publication, and while copyright law gives you broad leeway to adapt other people's work in your research, it doesn't grant you the right to republish that work.
Don't worry!  We're here to help!
Now that your thesis is coming into focus, bring your questions or concerns to Ladd 148 @ 4 PM on  Monday March 19 or 7 PM on Wednesday March 21.  Chris Schiff will be there to go over the submission process, the forms that you will need to sign with your advisor, and the ways to structure a thesis or presentation so that it conveys your research without violating copyright.
Can't make it then?  Contact Chris at
cschiff@bates.edu
for an individual meeting time that does fit your schedule!