Bates remembers Evan Dube '15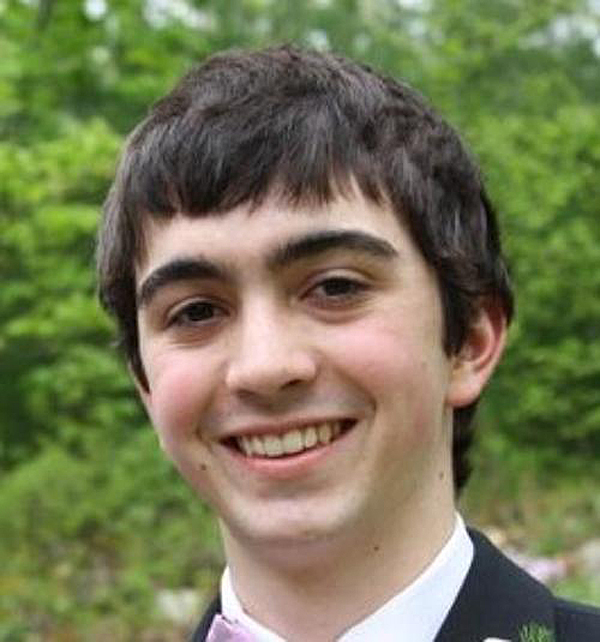 Bates College has been shaken and deeply saddened to learn that first-year student Evan Dube, 19, died on Saturday night, May 19, in the Shetland Islands, Scotland.
On Sunday night, at least 200 Bates College students, faculty and staff members crowded into Perry Atrium in the college's Pettengill Hall for comfort and support, and to share thoughts and stories about Evan. He was remembered as a young man who was studious and serious, exuberant and funny — and a caring friend.
From Plaistow, N.H., Evan was pursuing classical studies at Bates. He amassed an impressive theatrical resume during his high school years and had already entertained the campus with his performance as the cowboy Virgil in the Department of Theater's production of Bus Stop last fall.
Associate Dean of Student James Reese recounted that in September 2011, during orientation for the first-year class, Evan also impressed his classmates and others by winning an annual competition to become the first new student to recite the Bates mission statement by heart. "He spoke every word correctly and in a way that gave every word meaning." Reese also noted that when the time came to publicly recognize Evan for his win, he wasn't present, because he had left early to do homework.
College Multifaith Chaplain Bill Blaine-Wallace recounted Evan, a Buddhist, "bounding" into his office to introduce himself and to say, "I have some very unusual religious beliefs, and I thought that as chaplain you should know."
The event concluded a difficult day for the Bates community as the campus learned Sunday afternoon about Evan's passing via an email message from Dean of Students Tedd Goundie.
"We will be absorbing this terrible loss for many days and long into the future," Goundie wrote. "Please join me in keeping Evan's family and friends in your thoughts and prayers."
Evan's fellow students in Scotland are receiving grief counseling and will return to Boston on Tuesday.
The Bates Multifaith Chaplaincy and the college's Health Center are providing counseling for members of the campus community.
Incident background
Evan was one of 10 Bates students in a study-abroad class co-taught by Gerry Bigelow, Bates lecturer in history, and Professor of History Michael Jones.
The students were participating in the Shetland Islands Climate and Settlement Project, an ongoing archaeological research project funded by the National Science Foundation, involving scholars from Bates and other higher education institutions.
Following a preliminary investigation, Scottish law enforcement authorities stated that "there do not appear to be any suspicious circumstances surrounding the incident."
The authorities have given this account of the incident:
Class members went to a beach south of the town of Lerwick, on the Shetland island called Mainland, to have a cookout. They arrived a little after 9 p.m. local time. Shortly afterward, Evan dived into the ocean briefly, then collapsed as he left the water.
Evan's companions took immediate action, beginning resuscitation efforts and calling emergency medical services.
A local ambulance arrived on the scene within minutes, followed quickly by a helicopter that airlifted Evan to the nearest hospital, in Lerwick. Resuscitation efforts administered from the outset were unsuccessful.
The college has no other information about the incident to offer — simply that we have lost a member of our Bates community long before his time.