Rebecca Herzig, Johnson Professor in Interdisciplinary Studies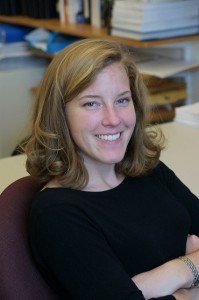 Supported by an endowment established by the Christian A. Johnson Foundation, the professorship recognizes a faculty member who has made transformative contributions to interdisciplinary studies.
Herzig was away on the day of the March 8, 2012 ceremony honoring six Bates faculty members appointed to named professorships, but her work will be the focus of an event in her department next fall. (Read about the event.)
Meanwhile, Dean of the Faculty Pam Baker noted in brief remarks that Herzig is well-known for both her teaching — including courses such as "Technology in U.S. History" and "Blood, Genes and American Culture" — and books like Suffering for Science: Reason and Sacrifice in Modern America (Rutgers University Press, 2005) and Pluck: A History of Hair Removal in America (forthcoming from Harvard University Press).
Herzig is a scholar in the study of women and gender studies who has taught at Bates for 14 years. Her research focuses on material culture, gender technology and feminist science and technology studies.
Recently, her research has focused on the historical and cultural significance of hair removal. She has published articles, book chapters and presented lectures on the topic of hair removal, including her presentation on "Suffering, Choice, and the History of Hair Removal," at the Institute for Research on Women and Gender Lecture Series, Columbia University (October 2010) and her article "Removing Roots," in The Gender of Technology and the Technology of Gender, edited by Maria Rentetzi (Athens: Ekkremes, September 2011).
Herzig received her doctorate in the history and social study of science and technology from the Massachusetts Institute of Technology and her bachelor's degree in American cultural and environmental studies from the University of California at Santa Cruz.