Lynne Y. Lewis, Elmer W. Campbell '27 Professor of Economics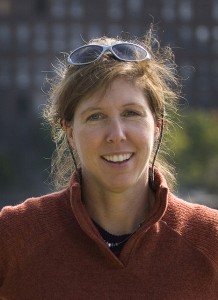 Campbell established this professorship to support the Bates economics program by honoring an exemplary faculty member in that department.
From remarks by Michael P. Murray, the Charles Franklin Phillips Professor of Economics, at a March 8, 2012, reception honoring six Bates faculty members appointed to named professorships. (Read about the event.)
There is a paradox about diamonds and water which economists have long discussed: Why is water, which is essential to life, nonetheless cheap relative to inessential diamonds? The Bates economics department has integrated the elements of this paradox: we have a gem who teaches about valuing water – Lynne Lewis.
In college, Lynne's rich intellectual curiosity made settling on a traditional major difficult. Physical sciences fascinated her; languages appealed to her; and social sciences spoke to her practical soul. In the end, Lynne assembled a multi-disciplinary major in international relations.
Lynne has a pragmatic bent that is reflected in programs that drew her early interest: veterinary science, international relations and international business. Lynne's interest in international business led her to study international trade, which led to microeconomics, which led, by chance, to a research assistantship with a notable water economist. In water, the various strands of Lynne's intellectual eclecticism came together: there were intergovernmental and international disputes; the physics of hydrology; the chemistry and biology of aquatic life; and the economics of balancing water's many dimensions – and later there were the pleasures of sea kayaking. In water, Lynne found a playground that has engaged her intellectually and physically across her career.
It was the quality of Lynne's research that took her to Yale. Indeed, Lynne's early research on water disputes and her subsequent work on urban water supply reliability have been anthologized. And at Bates, Lynne has found the freedom to continue her high-quality interdisciplinary research. She is currently working on a bioeconomic model connecting Maine's freshwater systems to the near-shore cod fishery. This summer, Lynne and Ta Herrera of Bowdoin will present some of this research at a conference in Tanzania. Lynne's full body of work on river restoration projects in Maine, some of which has been funded by a five-year NSF grant jointly with Bev Johnson of Bates and colleagues at Bowdoin and the University of Southern Maine, is reshaping how economists and policymakers view dam removal and river restoration.
The quantity and the quality of Lynne's research output have marked her as a leader in water policy issues, yet Lynne is as much a teacher as a scholar. Highlights of Lynne's teaching at Bates include several articles published with students and the participation of Lynne's students for 11 years now in the Environmental Protection Agency's sulfur dioxide emission permit auction, a hands-on learning exercise in the real-world economic management of the environment. And in classrooms around the globe, students use the textbook on environmental economics co-authored by Lynne and Tom Teitenberg of Colby that is now the world's bestselling environmental economics textbook. It's no wonder that Jim Hughes, who chaired economics when Lynne came to Bates, has often described as his "best day at Bates" the day Lynne first expressed interest in coming to Bates.
Lynne is an activist as well as a teacher and scholar. Her determination to make things better has led her to serve on the boards of numerous organizations. She is drawn especially to organizations like the Natural Resources Council of Maine that are dedicated to both good science and engagement in legislative agendas. Lynne has served NRC of Maine, the Universities Council on Water Resources and Maine Audubon, among others. And the love of animals that drew Lynne towards veterinary science has led her to provide a foster home for many stray pups.
Teacher, scholar, activist, colleague – and now, the Elmer W. Campbell Professor of Economics: Lynne Lewis.