Stories about "creative writing"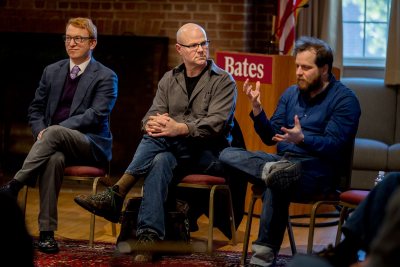 Wednesday, February 21, 2018 1:49 pm
As 'retirement urges sweet return,' Bates salutes poet Rob Farnsworth, who leaves the classroom after 26 years.
Tuesday, January 19, 2010 11:31 am
As part of a two-day residency at Bates College, folk-pop singer-songwriter Suzanne Vega performs two concert sets, at 7 and 9:30 p.m., on Saturday, Jan. 23, in the Olin Arts Center Concert Hall, 75 Russell St. Tickets are $15 for general admission and $5 for seniors and students per set and are available at www.batestickets.com. For more information, contact 207-786-6135 or email olinarts@bates.edu. The concert is presented by the Bates Concerts Committee.
Sunday, May 11, 2008 11:22 am
Two Prizewinning alum poets praise Rober Farnsworth, recipient of the Kroepsch Aware for Teaching, for helping them navigate the writer's world.