Stories about "U.S. Senate"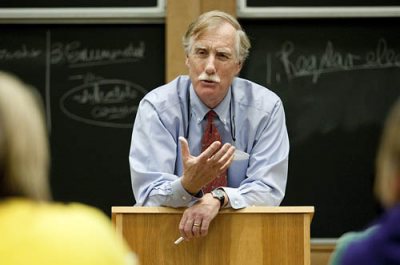 Monday, October 12, 2015 1:56 pm
U.S. Sen. Angus King will deliver remarks titled "How Washington Works (Or Doesn't)" at Bates on Oct. 14.
Sunday, August 10, 2008 12:38 pm
In an essay published in Maine's Kennebec Journal and Morning Sentinel newspapers in Maine, Visiting Professor of Politics Eric Hooglund writes about his early summer trip to Iran, which coincided with U.S. Senate and House resolutions (since blocked) authorizing President Bush to set up a naval blockade of Iran.
Tuesday, October 15, 1996 11:02 am
Four candidates for the seat of retiring U.S. Sen. William S. Cohen, R-Maine, will discuss their views in a televised debate at Bates College on Monday, Oct. 21. Any tickets remaining after distribution to students will be available starting Wednesday, Oct. 16, at the Office of Special Projects and Summer Programs, 163 Wood St.