Nancy J. Cable, Interim President 2011-2012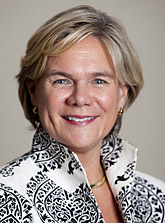 Nancy J. Cable assumed duties as interim president of Bates on July 1, 2011.  She served in that capacity until July 1, 2012, when she returned to a position as a vice president, also serving as senior adviser to the eighth president, Clayton Spencer.
Cable joined Bates in early 2010 as vice president and dean of enrollment and external affairs, with responsibility for strategic enhancement in admission, financial aid, career development, and college communications, marketing and positioning.
On Oct. 22, 2012 the Arthur Vining Davis Foundations announced Cable's appointment as president, effective in the spring of 2013. Based in Jacksonville, Fla., the foundations were established in 1952 by industrialist and philanthropist Arthur Vining Davis and are dedicated to supporting education, theological education, public television and health care.
In addition to the A.V. Davis Foundations appointment, with the support of the foundations' board of trustees, Cable will travel next summer to China as a Fulbright Specialist. Based in Hong Kong, she will work with a team of scholars on developing liberal arts education in China.
Cable has built a national reputation in higher education, compiling a distinguished record of senior leadership at highly regarded colleges and universities and in various national higher education organizations, including Guilford College, Davidson College and the University of Virginia.
As Bates interim president, Cable focused on faculty governance, campus ethos, robust faculty hiring and matters of diversity and inclusion. She completed key philanthropic initiatives, launched new programs in collaborative leadership, and led ceremonies dedicating two new academic buildings and formally announcing Spencer's appointment as Bates' eighth president.
As vice president and dean for enrollment and external affairs, Cable collaborated with trustees and the campus community to increase the visibility of Bates in the marketplace and led major innovations in admission and financial aid practices, and in the college's communications and media relations enterprise.
---