Student Profiles
Class of 2015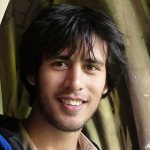 Brett Emmons'15, from Dover, Delaware, created an interdisciplinary major entitled "Individual and Social Development," which is a fusion of sociology, psychology and education. Brett is passionate about development of both the individual and society. He recognizes that societal and individual developments are the pillars of our communities. "Education is at the crux of it all" he says, "and this major allows me to examine these two complimentary but distinct processes." He believes that education allows one to "reveal its splendors and allow mankind to benefit there from." By creating his own major, Brett transcends the limits of a single disciplinary lens. At the same time, because he finds his field to be so broad he is particularly cognizant to look at it from a variety of angles. "I can zoom in and look at social issues in educational settings or zoom out and look at a society's welfare, I appreciate the immensity."
Unlike many other students who are introduced to the L-A community through education courses, Brett was involved with youth right away. As an incoming student Brett became a volunteer at Tree Street, an after-school program that serves 150 kids in the heart of downtown Lewiston and has gone on to assume a major leadership role as the Intern Coordinator. He hopes to make Tree Street a safe space for youth development and foster unity across lines of difference through implementing a moral/character development program.
Brett's life is grounded in the community; after graduation he plans to continue his work at Tree Street for at least another year. He will build upon his existing projects and work with the Baha'i community to encourage it to take ownership of its intellectual, social, and spiritual development.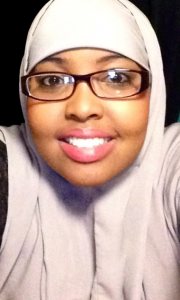 Naima Qambi'15, from Auburn, Maine, came to Bates already knowing that she wanted to study education. Inspired by her love of learning and teaching, Naima became a Teacher Education Minor to pursue the necessary certification to have her own classroom. Naima believes that the real impact of education can be attributed to passionate teachers who foster both academic and social growth. She strives to be a teacher who reaches most, if not all, of her students by appreciating "the effort the students make and whatever they bring to the table, even if it isn't something valued in a traditional classroom environment.
At Bates, Naima is a Psychology major and a Bonner Leader. She gravitates towards the rich educational opportunities in Lewiston, and has done most of her education field-placements tutoring at the Hillview Resource Center, the mosque, and the Lewiston Public Library. Although Naima has taken a lot of compelling education classes, her favorite is Student Teaching. This course helps Naima to "reflect on my own teaching and learning. I am comfortable making mistakes because I have recognized they are part of the process-they are areas of growth, not failures." As a component of this course Naima is teaching 11th grade English Literature at her own Edward Little High School. She remarked that "it's fun to return as a faculty member rather than a student and to have both perspectives." Her presence serves as an inspiration and shows the class that a college education at Bates in not unattainable with persistence and dedication.
Next year, Naima will move to Ohio, where the rest of her family currently lives, and find a job teaching English. Naima plans to attend graduate school to become a Nurse Practitioner in the more distant future.
Teik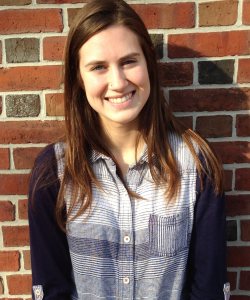 a Carlson'15 is a minor in both Educational Studies and Spanish, and a major in Environmental Studies. She comes from Southbury, Connecticut. Teika was initially drawn to the field of education because of the clear, real-world link between theory and practice that she observed in her field placements in Lewiston. Moreover, Teika was drawn to such opportunities for community-engaged learning since she was also able to reflect on how schooling experiences in Lewiston differed from hers growing up.
As she pursued Education and community outreach, Teika moved from working in traditional classroom setting to "less restrictive" after-school settings. "I was drawn to the flexibility of after school programming," she described, "since it really seemed to fill gaps and a really important need." Teika co-started a girls' book club that focused on empowerment for youth and ELL skills. She also received a Harward Center Summer Fellowship to be the Activities Coordinator at Hillview Housing Authority in Lewiston. "It was such a valuable experience. I got practice in lesson planning, and learned about cultural sensitivity," she noted. Furthermore, this experience fueled a curiosity about her own cultural background in which she reflected on her ancestors' experience as students at the Carlisle boarding school for Native Americans. From this process of self-discovery and from her Education classes, she has learned "how important it is to question the purposes of education in the past and today."
Teika's favorite education class at Bates has been the Senior Capstone Seminar, Because of how much autonomy she has had in self-designing a meaningful research project. She appreciates how interdisciplinary her studies in the Education Department have been and how she has been able to "consider different perspectives and represent voices that aren't always heard." Moreover, she is grateful for the Education Department Faculty who provide "great support" yet encourage enough agency so as to facilitate "a process of self-discovery." The department would be proud of this example of the "zone of proximal development" in action!
By using the cultural awareness she's learned from Lewiston and the Education department, Teika aspires to learn about pedagogies from different parts of the world, and she has applied for a fellowship to teach English in Argentina next year. Her plans for the more distant future include school leadership or administration opportunities where she hopes to "foster community and uniting people across differences."