Field experience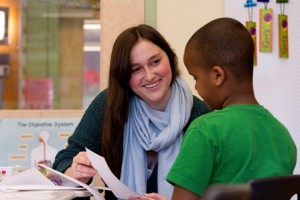 As part of its larger mission, all courses in the Department of Education include a 30-hour field placement component.
In coordination between department faculty, students, and The Harward Center for Community Partnership, students are placed in local school and community settings and complete community-based learning projects designed to encourage the integration of theory and practice and address the interests of community members and organizations.  Course assignments offer students an opportunity to reflect systematically on the larger questions surrounding educational structures and practices raised through field experiences.
---
Off-Campus Study Planning
Students may apply to have an off-campus program or course to count as one of the six required Education courses as part of their planned programs.  Because such requests require the prior approval of the Department of Education faculty, students must complete proposal forms and their secondary concentration applications before they leave campus.