Seniors submit and defend honors theses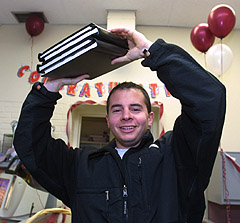 "I'm going to the gym now and work off some aggression," said Chris Mabbett '02 of Medford, Mass., one of 47 ambitious Bates seniors to submit senior honors theses last Monday. The sciences produced the largest number of 2002 honors theses, and the geology department led the pack with eight. Mabbett, a geology major, worked under the direction of instructor Gene Clough, researching Trichloroethylene Contamination in a Shallow Unconfined Aquifer System: Is Natural Attenuation Working?
The bleary-eyed seniors handed in four copies each of their manuscripts to the academic services staff that outfitted their Lane Hall office with celebratory balloons and edible goodies. Later that evening, students and their thesis advisers attended a reception, a prelude to the rigorous defense process that each student must undergo. Those seeking honors must defend their theses before a committee of four composed of thesis adviser, a departmental member of the Bates faculty, a non-departmental member of the Bates faculty, and an outside examiner who is an expert in the field of study. An April 3 dinner for students and faculty will mark the completion of the yearlong endeavor.
Outside of academic services, a special bulletin board invited comments from the submitters. "One of the most intense, yet rewarding, experiences of my life. Thank you Bates!" wrote Rachel Beckhardt of Nashua, N.H., whose women and gender studies/psychology thesis explored women's words on the meaning of food.
"It's good to start early," commented an anonymous — and wise — contributor.
View Comments