'Modern-day Will Rogers' performs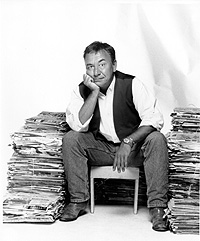 Will Durst, a political comedian likened to Mort Sahl, Hunter Thompson and Dick Gregory, performs at Bates College at 7 p.m. Saturday, March 30, in Skelton Lounge, on the second floor of Chase Hall, 56 Campus Avenue. David Brusie, a musician and a senior at Bates, opens the performance, which is free and open to the public.
The Los Angeles Times once called Durst "a modern-day Will Rogers," and as a matter of fact, Durst, just like that illustrious predecessor, frequently claims that his best material comes straight from the newspapers. "All I do is edit," Durst says, "and precious little of that."
Raised in Milwaukee, Durst has said that his heroes today are the same as when he was 12 years old: Thomas Jefferson and Bugs Bunny. He established himself as a comedian in San Francisco (where he also ran for mayor, finishing fourth in a field of 11.)
The only comic ever invited to perform at Harvard's Kennedy School of Government, Durst appears frequently in nightclubs and on television, including specials for HBO, Showtime and A&E, and David Letterman's and Jay Leno's late-night programs. He is host and co-producer of PBS' awardwinning series Livelyhood, he offers regular commentary on public radio and he writes for print and the Internet.
Brusie, of Acton, Mass., opens the evening. Brusie describes his music as "a cross between pop, folk and traditional country, with some rock 'n' roll thrown in for good measure."
Leave a Reply
This is a forum for sharing your thoughts about the preceding post with the public. If you have a question for the author, please email the Bates Communications Office at communications@bates.edu.