Bates track and field to host 2002 NESCAC championships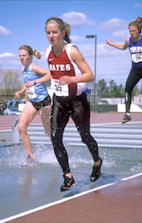 Bates College will host the 2002 NESCAC Outdoor Track Championships Saturday, April 27 and Sunday, April 28. The Bobcat men will be looking to reclaim the title they first won in 2000 on their new facility, the Russell Street track, which held its first varsity competition this earlier this month.
The championships should feature strong competition as several NESCAC teams scored in this year's NCAA Division III Indoor Track and Field championships. The Williams, Amherst and Wesleyan women each finished in the top 20 in the national indoor championship and five NESCAC schools finished among the top-40. Trinity and Bates finished in the top-20 in the men's national indoor championship with three other schools among the top-45.
Seven NESCAC student-athletes are ranked first or second in NCAA Division III in their events, led by Bates thrower Jaime Sawler in the hammer. Sawler won the 2002 indoor championship in the 35-pound weight and is the defending NESCAC titlist in the hammer. Healy Thompson of Williams (shot put) and Ryan Bak of Trinity (1,500 meters) each captured the individual national title in their event in the 2002 NCAA Indoor Track and Field Championships. Carter Hamill of Amherst (5,000 meters) also won an individual championship in the national indoor meet.
Williams has won 11 men's conference titles and nine women's titles, including four consecutive women's championships from 1994-97. Middlebury won two of three women's championships from 1998-2000. Tufts captured three consecutive women's titles from 1986-88, and Bowdoin won back-to-back women's conference championships in 1992 and 1993. Bates broke an eight year winning streak by Williams when it won the men's title in 2000. Trinity captured back-to-back men's NESCAC titles in 1988 and 1989, Tufts won the men's title in 1991, and Colby captured the men's title in 1986.
The championship gets under way at 2:30 p.m. on Saturday at the Russell Street Outdoor Track. Sunday's competition starts at 10 a.m. Click here for a schedule of events. Results will be available on the web (http://abacus.bates.edu/sports/mtrack/nescac2002/), updated at the end of each day.
View Comments