Former U.S. Sen. Max Cleland discusses veterans' issues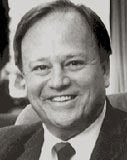 Max Cleland, a Vietnam veteran and former U.S. senator from Georgia, discusses veterans' issues and the impact the Bush administration has had on American military veterans in a speech at 5:30 p.m. today in the Edmund S. Muskie Archives, Bates College, Campus Avenue.
Cleland's talk, sponsored by the Bates Democrats, is open to the public at no cost.
"We need to improve dramatically [Veterans Adminstration] healthcare for all of our veterans instead of cutting the requested VA budget by $6.5 billion as President Bush has done," Cleland, an outspoken critic of Bush administration policies, told an audience in Atlanta last June.
Since 2002, Cleland has served on the National Commission on Terrorist Attacks Upon the United States, a body examining the facts behind the Sept. 11, 2001, terrorist attacks and charged with making recommendations to prevent future acts of terrorism.
Cleland is a distinguished adjunct professor at American University's Washington Semester Program and serves there as a fellow in the Center for Congressional & Presidential Studies. A former senator from Georgia, he began his public service as an officer in the U.S. Army, volunteering for duty in Vietnam in 1967, where he served until a grenade attack in April 1968 cost him both legs and his right arm.
After recuperating from his injuries, Cleland was elected to the Georgia State Senate. In 1975, when he was 34 years old, President Carter appointed him administrator of the Veteran's Administration, where he instituted the revolutionary "Vets Center program," which for the first time offered psychological counseling as well as physical care to combat veterans.
Cleland was elected to the U.S. Senate in 1996, where he served as chairman of the Personnel Subcommittee of the Armed Services Committee, and was a member of the Senate Veteran's Affairs Committee. In the Senate, he earned enormous respect for his work in such areas as health care and education reform, bio-terrorism preparedness, homeland security and fiscal responsibility.
Cleland is the author of Strong at the Broken Places (Longstreet Press, 2000).
View Comments