Bates to welcome accepted students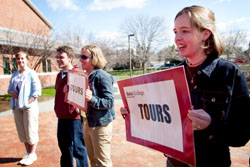 Every April, Bates College devotes a day to welcoming the students (and their parents) who have been accepted for admission to Bates. The annual Accepted Student Reception includes tours and panel discussions, a barbecue with live music for incoming students and a luncheon for their parents, and receptions and other programs designed to present Bates values, offerings and academic practices.
This year's Accepted Student Reception takes place around the campus from 9 a.m. until 3 p.m. on Monday, April 26.
Panel discussions with Bates faculty and current students will cover such topics as the first-year seminar, senior thesis and, for parents, the transition from high school into college. Less-formal events include a barbecue with live music for students, a luncheon in Commons for parents, and a reception for all at the Multicultural Center.
Campus tours will depart on the hour from the Admissions office between 10 a.m. and 4 p.m., and the Bates College Museum of Art, which is usually closed on Mondays, will welcome visitors between 10 and 5 p.m.
A full schedule is available at registration. For more information, please call 207-786-6000.
View Comments