Bates takes part in $18 million biomedical research initiative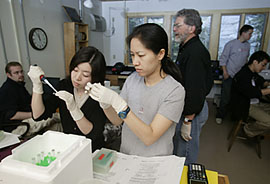 Bates College is one of nine Maine institutions that will benefit from a federal grant of nearly $18 million designed to expand biomedical research opportunities across the state.
Maine Gov. John Baldacci announced the five-year, $17.8 million award, called the IDeA Network of Biomedical Research Excellence (INBRE) grant, during a press conference today at the Mount Desert Island Biological Laboratory, one of two research facilities involved in the grant process. Baldacci and the participating institutions see the grant as a boost to Maine's efforts to develop a technically skilled workforce and strengthen its research capacity.
In addition to Bates and MDIBL, which is the lead institution in the Maine INBRE program, institutions collaborating in the grant are: The Jackson Laboratory, Bowdoin and Colby colleges, the College of the Atlantic and three campuses of the University of Maine System: Farmington, Machias and the flagship campus, at Orono.
The overarching goal of the INBRE grant is to expand the biomedical research capacity that the institutions (except the Farmington and Machias schools) previously established through the Biomedical Research Network (BRIN). The network makes research resources and opportunities available to faculty and students at the participating schools, provides outreach to other educational institutions in Maine and helps steer students toward career opportunities in health research.
INBRE provides funding for each institution to strengthen and expand its research programs with a common focus on comparative functional genomics. INBRE also addresses Maine's growing need for a technically skilled workforce by providing concentrated research training opportunities to more than 500 undergraduate students throughout the state.
The program supports intensive training workshops at the Mount Desert facility for undergraduate students and faculty. Bates has held those during the college's Short Term each spring. In addition, faculty research, student research and student thesis projects benefit from the grant, and grant funds will support Bates staff positions related to biomedical research.
Other benefits to Bates include the establishment of an imaging and computing center that will enhance the college's research capabilities in genomics and bioinformatics, a field that explores the application of information science to biology.
"This equipment will be shared by multiple departments and programs at Bates," says Pam Baker, an associate dean of faculty and biology professor — "leading, we hope, to additional opportunities for collaboration within the college, and within the INBRE network in Maine."
The BRIN and the INBRE programs are funded by the National Center for Research Resources at the National Institutes of Health (NIH). The INBRE grant is an institutional development award available to states that have a success rate of less than 20 percent in competing for NIH grants or that have received less than $70 million on average in NIH support from 1995 to 1999. The program is intended to help these states build the necessary infrastructure to compete more successfully for federal NIH dollars and, more important, to support and conduct cutting-edge biomedical research.
View Comments