New dean of students starts in August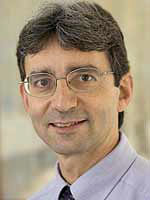 Tedd R. Goundie, recently appointed as dean of students at Bates College by President Elaine Tuttle Hansen, begins his duties Aug. 1.
Goundie has been a teacher and administrator at Swarthmore College in Pennsylvania for more than 20 years. He served Swarthmore as associate dean for student life since 1996. Among his broad responsibilities in this position, he led the student life division of the college and collaborated extensively with the Swarthmore public safety, health services and psychological services departments.  In addition to general counseling and academic advising of individual students, he provided oversight for new student orientation; the college's judicial system; and the selection, training and supervision of undergraduate resident assistants.
Goundie holds a bachelor of science degree from Muhlenberg College and a master's degree in biology from Bowling Green State University.
Goundie says it is the obligation of residential liberal arts colleges to "ensure the development of the whole individual, equipping graduates with critical intellectual skills to pursue their passions with joy and commitment, always with an eye toward contributing positively to society."
Goundie replaces F. Celeste Branham, who resigned earlier this year. A national search was conducted over five months. Goundie will move to Lewiston with his wife, Lisa; his son, Ben, a sophomore at Susquehanna University; and his daughter, Elizabeth, who will enter Lewiston High School as a junior this fall.
View Comments