'Soul of a Citizen' author to address Convocation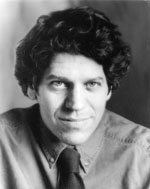 Paul Rogat Loeb, author of a highly praised book exploring community involvement, opens the 150th academic year at Bates College with the Convocation address "The Impossible Will Take a Little While: Hope in a Time of Fear" at 4:10 p.m. Wednesday, Sept. 8, on the main quadrangle. The rain site will be the Alumni Gymnasium.
Loeb will address a campus community of about 2,000 members, including 467 first-year students. In all, some 1,800 degree-seeking students will be enrolled on campus or in Bates-sponsored off-campus programs this fall. (Click here for more about the Class of 2008.)
Loeb's Soul of a Citizen: Living with Conviction in a Cynical Time (St. Martin's Press, 1999) examines what it takes to lead a life of social commitment. At Bates, Loeb will discuss themes from Soul — the summer Common Reading Program assignment for the class of 2008 — and from his just-released anthology, The Impossible Will Take a Little While: A Citizen's Guide to Hope in a Time of Fear (Basic Books).
For more than 30 years, Loeb has researched and written about citizen responsibility and empowerment, asking why some people choose civic activism and involvement while others abstain. He has written widely admired books, lectured to enthusiastic responses at some 300 colleges and universities, and has written for or been covered by many national and international news organizations.
Loeb has written for The New York Times, The Washington Post, the Los Angeles Times, Psychology Today, Village Voice, Utne Reader and many other publications. He has been cited in congressional debates and discussed in periodicals from The Economist to Family Circle, from Teen to Modern Maturity.
Every year, under its Common Reading Program, Bates asks its incoming first-year students to read a book to be discussed with faculty, staff and older students during the new-student orientation period.
The idea is to equip new students to begin their Bates careers with "a discussion that's intellectual and based on a theme important to think about," says associate dean Holly Gurney, the member of the dean of students office responsible for first-year students and for the Common Reading Program.
The Common Reading Program committee selected Soul of a Citizen, she explains, because it was considered valuable "to start entering students thinking not only about their role in the larger world, but also about how we maintain a healthy campus community, in and outside classes."
"While this book certainly has themes very much in line with Bates' identity," she adds, "there were points that committee members found provocative, in a good way, about topics of great importance to campus and people in general. We want new students thinking right away about critical discourse, about getting outside their own perspective."
With Soul of a Citizen, wrote Publishers Weekly, "Loeb offers Americans a new vision for personal engagement with societal issues. . . . [He] eloquently argues for a return to community involvement and social activism which, he says, have declined since the 1960s and 1970s. He gently chides former activists lost to private pursuits, fatigue and cynicism, and warns of increasing social isolation and the widening opportunity gap between rich and poor, despite our robust economy. Throughout, Loeb emphasizes the psychological and spiritual importance of the human connection.
Its title adapted from a lyric sung by Billie Holiday, The Impossible Will Take a Little While is Loeb's new book. Continuing the theme of civic empowerment set forth in Soul, it combines Loeb's essays with writings by people as diverse, effective and influential as Maya Angelou, Marian Wright Edelman, Vaclav Havel, Seamus Heaney, Tony Kushner, Jonathan Kozol, Bill McKibben, Nelson Mandela, Pablo Neruda, Desmond Tutu, Alice Walker, Cornel West, Terry Tempest Williams and Howard Zinn.
Loeb is an affiliate scholar at Seattle's Center for Ethical Leadership. Born in California in 1952, he attended Stanford University and New York's New School for Social Research, and worked in both places to end the Vietnam War. From 1974 through 1976, Loeb edited Liberation magazine, where he worked with writers like Grace Paley, John Berger, Jane Jacobs, Allen Ginsberg, Noam Chomsky and Gary Snyder.
His first book, Nuclear Culture (New Society Publishers, 1982), reported on the daily world of atomic weapons workers in Hanford, Wash. Hope in Hard Times (Lexington Books, 1986) examined the lives and visions of ordinary Americans involved in grassroots peace activism. Generation at the Crossroads: Apathy and Action on the American Campus (Rutgers University Press, 1995) explored the values and choices of American college students.
View Comments