Law professor Derrick Bell gives Brown v. Board of Education talk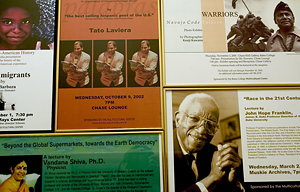 The exhibition Multicultural Center Retrospective: Eight Years of Diversity Programming opens Thursday, Oct. 28, with a 6 p.m. reception whose guests include the author and attorney Derrick Bell, featured in a 7 p.m. talk commemorating the historic Brown vs. Board of Education decision. The public is invited to attend free of charge the reception and the lecture, held in Chase Hall Gallery and Chase Hall Lounge respectively, Campus Avenue, Bates College. For more information, call 207-786-8376.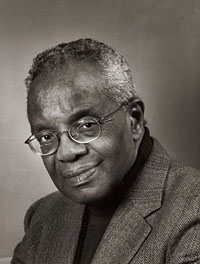 From the perspective provided by 50 years, Bell says that the 1954 Supreme Court decision served the same political function in the 20th century as the Emancipation Proclamation served in the 19th. Each acknowledged that injustices suffered by blacks, first under slavery and then under segregation, were wrong. "Encouraged by the acknowledgments, black people and their white allies failed to notice the primary motivations for these and virtually every other civil rights measure, namely the self-interest the civil rights policy declarations provided for white policy makers," Bell says. When the interests of white policy-makers changed, he says, so did their commitments to blacks, and the implementation and enforcement of law had low priority or were abandoned entirely.
The Rev. Jesse Jackson calls Bell "one of our movement's giants, one of our true heroes." Author of Silent Covenants: Brown v. Board of Education and the Unfulfilled Hopes for Racial Reform (Oxford University Press, 2004), Bell is a professor at New York University School of Law.  For 47 years, he has worked in every aspect of civil rights —  as a litigator, recruited by Thurgood Marshall, with the NAACP Legal Defense Fund from 1960 to 1965; as an administrator in the federal government with the Department of Health, Education and Welfare; and, after joining the faculty of the Harvard Law School in 1969, as a professor of law (he was the school's first black tenured law professor) and writer. After 12 years at Harvard, Bell accepted an offer to join the faculty of the University of Oregon Law School as dean, serving for five years, before returning to the Harvard faculty in 1986, where he remained until 1992.
In 1990, Bell went on an unpaid leave of absence from Harvard in support of student efforts to achieve more racial and gender diversity on the faculty. When his protest continued beyond the school's two-year limit on leaves of absence, he was dismissed.
Credited with advancing the academic study of race and racism as a legal issue, in 1973 Bell wrote what has become a standard law school text, Race and Racism and American Law (Little, Brown and Company). His other books include Ethical Ambition: Living a Life of Meaning and Worth (2003), And We Are Not Saved: The Exclusive Quest for Racial Justice (1987), Faces at the Bottom of the Well: The Permanence of Racism (1992), Confronting Authority: Reflections of an Ardent Protester (1994), Gospel Choirs, Psalms of Survival in an Alien Land Called Home (1996) and Afrolantica Legacies (1988).
The promotional materials in this exhibition, on display Oct. 25-Nov. 8, cover approximately 100 selected programs developed and sponsored or co-sponsored by the Office of Multicultural Affairs/Multicultural Center since 1997. The display is organized by program type, including lectures, academic collaborations, exhibits, performances, social justice presentations, language and culture tables, cultural immersion experiences and films. The mission of the Office of Multicultural Affairs/Multicultural Center is to explore the diverse cultural experiences of members of Bates College and the community. In addition to its specific mission of advocacy for students from historically underrepresented populations in the United States, the office's programs focus attention on global issues and realities.
Titled Learning the Untaught Lessons of Brown, Bell's 7 p.m. talk is part of a yearlong series of events examining the legacy of the 1954 Supreme Court case outlawing segregation in public schools. The series is sponsored by the Office of Multicultural Affairs/Multicultural Center.
View Comments