Newbury Award winner Lois Lowry to speak at Bates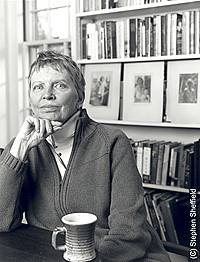 Lois Lowry, winner of the 1990 Newbury Award for Number the Stars, will speak at Bates College at 7:30 p.m. Thursday, Aug. 4, in the Keck Classroom (Room G52), located on the ground floor of Pettengill Hall. Sponsored by the Holocaust Human Rights Center of Maine, the event is free and open to the public. Books by the author will be available for sale and signing at the event.
Lowry is one of several guest speakers invited to address participants in the 15th annual summer seminar for teachers that HHRC runs at Bates. The 2005 program, July 31-Aug. 5, offers two concurrent programs, "Teaching the Holocaust: Implications for the 21st Century" and "Integrating the Arts into the Teaching of the Holocaust."
In addition to Lowry, several Holocaust survivors will discuss their experiences. Alex Wilde, of Brewer, recounts his experiences as a 15-year-old on a Kindertransport (children's transport) from Austria to England at 7 p.m. Monday, Aug. 1. Julia Skalina, of Portland, a survivor of the Auschwitz death camp, describes her life before and after the Holocaust at 7 p.m., Tuesday, Aug. 2. Charles Rotmil recounts his experience as a hidden child during the Holocaust at 7 p.m. Wednesday, Aug. 3. These events, all held in Room G52, Pettengill Hall, are free and open to the public.
Lowry attended Brown University before marrying, having children and moving to Maine, where she finished up her bachelor's degree at the University of Southern Maine. Continuing on to graduate school, Lowry began to write professionally. "Finally, I was doing the thing I had dreamed of doing since I was a child," she explains, "when I would endlessly scribble stories and poems in notebooks." Lowry now divides her time between Cambridge, Mass., and her home in Maine.
The author of some 20 books, including the popular Anastasia series, Lowry has received various honors, among them the Boston Globe-Horn Book Award, the Dorothy Canfield Fisher Award, the California Young Reader's Medal and the Mark Twain Award. Her novel The Giver (Houghton Mifflin, 1993) also received a Newbury Award.
Although her books differ in content and style, all deal with the importance of human connections. A Summer To Die (Houghton Mifflin, 1977), Lowry's first book, is a highly fictionalized retelling of the early death of her sister and its effect on her family.
The Giver, Gathering Blue (Houghton Mifflin, 2000) and the newest in Lowry's futuristic trilogy, Messenger (Houghton Mifflin 2004), explore the vital need of individuals to recognize their interdependence, not only with each other, but with the world and its environment.
Number the Stars (Houghton Mifflin, 1989) tells a story set in another era: In Nazi-occupied Denmark, a young Danish girl and her parents hide a 10-year Jewish friend and her family before sending them to Sweden. The novel is based on the heroic episode of resistance in September 1943 when Danish Christians hid thousands of their Jewish compatriots before shipping them under cover of darkness to Sweden. This act of spontaneous defiance arose in response to a German-planned roundup and deportation to concentration camps of 10,000 Danish Jews.
For more information on the speakers or seminars, contact the HHRC at 207-993-2620 or e-mail hhrc@gwi.net.
View Comments