Theme of unity shines through in Bates Convocation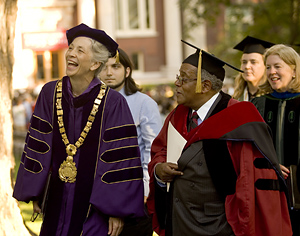 Speakers who addressed the Convocation audience Sept. 6 offered ample food for thought to the incoming Class of 2009, from the historical evolution of academic freedom to life lessons implicit in the Bates education.
But unity — as in unity of self and unity on campus — was a subtext for remarks by both the featured convocation speaker, the Rev. Peter J. Gomes '65, and President Elaine Tuttle Hansen. Gomes referenced a sermon on his first Sunday on campus, in 1961 during what was then called "Freshman Week," that stressed Bates' role in assembling the diverse components of character into "a life worth living." Hansen, meanwhile, called for a shared campus commitment to robust intellectual inquiry.
Gomes (at right), Hansen, Student Government president Mustafa Ryan Nabulsi '06 and others addressed about 1,000 faculty, staff, friends and students gathered on the historic Quad to kick off the college's 151st academic year. Among them were 490 first-years and 17 students from Maine who accepted a semester's free classes after Hurricane Katrina closed their original academic destinations in New Orleans.
As an initiation for the Class of 2009, and perhaps a reminder for everyone else, Hansen's formal Charge of Convocation laid out bedrock concepts of the scholarly enterprise. She discussed the importance of diversity of both people and ideas, and the dangers of labeling people and ideas; and she traced key principles of academic freedom from Plato to the poet Milton, from educational philosopher John Dewey to the American Association of University Professors.
What it all boiled down to was the urgent imperative to sustain and protect the engine of academic life: intellectual inquiry that is honest, unfettered, free-ranging and rigorous. She clued in first-years to the fact that professors ask tough questions not out of hostility or meanness, but rather to test ideas.
"What I fear the most is not that we heatedly disagree, but that we retreat from engagement," she said — "to that terrifying place that Yeats saw, where 'The best lack all conviction, while the worst / Are full of passionate intensity.'"
Hansen paid particular attention to issues around the tone and terms of intellectual expression, ranging from censorship — "people willing to set themselves up as censors are ironically the very people who understand the least about truth," she said — to polarizing political labels like "liberal" and "conservative." Regarding the latter, she quoted a recent observation by David Kolb, Bates professor emeritus of philosophy: "Removing middle grounds for discussion is a standard tactic for extremists of all kinds."
"The past and present of Bates College meet . . . when we celebrate the virtue of openness," Hansen concluded, touching on the year's celebration of the College's sesquicentennial. "I ask that we begin this new academic year with a renewed commitment to the hard listening and rational dialogue that teaching and learning demands."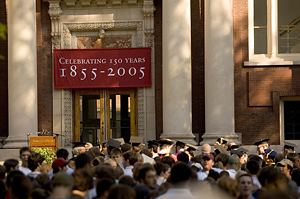 A Bates Trustee, Plummer Professor of Christian Morals at Harvard University and minister in the university's Memorial Church, Gomes is celebrated as a speaker who knows when to go for laughs and when to let the enduring ideas shine through. In an address that was by turns teasing and inspirational, Gomes used the occasion of Bates' 150th anniversary to point out that, as an undergraduate, he had known two members of the previous Class of '09 — 1909.
"It's an extraordinary thing to be able to say that I knew somebody in the Class of 1909, and I look forward to meeting at least two people this afternoon in the Class of 2009, so that I can dine out on this experience for the rest of my life," he joked.
More seriously, Gomes gave the first-years a few Bates lessons to consider before they got too deep into their new lives. The last of those, drawn from that 1961 sermon by Professor of Religion Rayborn Zerby, was perhaps the most important: "He said that college was all about wholeness, putting things together," Gomes recalled.
"The whole enterprise was really about constructing a life worth living," and in that process developing the person inside. "The day will come when you'll discover the necessity of relying upon your inner resources of heart, mind and spirit," Gomes said. "And if those have been wisely and zealously cultivated at Bates . . . you will not only endure, you will indeed overcome."
View slide show of Orientation 2005.
Speech by President Elaine Tuttle Hansen
Understanding intellectual diversity
View Comments