---
Mount David Summit celebrates student achievement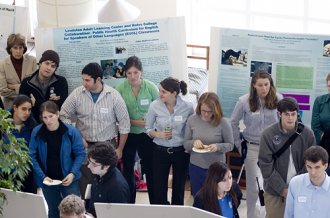 Hundreds of Bates people and members of the local community flooded Pettengill Hall as the College mounted its fifth annual Mount David Summit on  March 24. An eagerly anticipated presentation of student scholarship, service-learning and creative work, the summit unfurls a panorama of the rich life of the student mind at Bates.  Read more about the summit.
---
Categories: Bates Now, Current students, Intellectual rigor, Research excellence, Slide show.
Tags: Mount David Summit.
Contact Us