Time and room change for Coming Out Speaker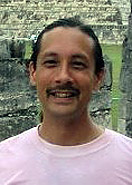 Please note the following talk has a new time and location:
Richard "Anguksuar" LaFortune, a Native American GLBT and "Two-Spirit" community organizer, presents a talk titled A Thousand Years of Respect at 7 p.m. Wednesday, Oct. 11, in Chase Hall Lounge, 56 Campus Ave., Bates College. The Bates College Office of Multicultural Affairs, sponsor of the lecture, invites the public to attend at no charge. For more information, please call the Multicultural Center at 207-786-8376.
As defined by Wikipedia, "Two-Spirit" is a term used by Native American and Canadian First Nation tribes that "implies a masculine spirit and a feminine spirit living in the same body. It is also used by some contemporary gay, lesbian, bisexual, transgender and intersex Native Americans to describe themselves."
LaFortune (also known as "Anguksuar," or "Little Man") was born into the Yupik (Eskimo) tribe in 1960 in a small fishing village in southwest Alaska. LaFortune has served as executive director of Honor the Earth, an environmental justice foundation, and director of training for the National Native American AIDS Prevention Center.  In 1991 Minnesota Governor Rudy Perpich appointed him to the state's task force on lesbian and gay Minnesotans.
LaFortune has worked in philanthropy and public policy for 15 years and currently chairs the development committee to the Tretter GLBT Collection of the University of Minnesota Archives. He is co-founder of the Two Spirit Press Room, a national GLBT Native cultural and media literacy project based in Minnesota.
View Comments