Alan Schwartz '61 sees the law end of the credit crisis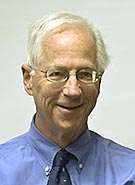 An expert in bankruptcy and corporate governance, Yale law professor Alan Schwartz '61 knows his work relates to the recently approved $700 billion plan to rescue distressed U.S. financial firms.
Like other scholars, though, he's observing the unprecedented financial events with great respect for their complexity. "If my research could really explain what is going on," he recently quipped, "I would be a happier guy than I am today."
Schwartz is the Sterling Professor of Law with appointments in the Yale Law School and School of Management. He's been ranked in the top half-percent of social scientists worldwide in total citations.
Concerning the rescue plan, with its fat-cat provisions targeting executive compensation, Schwartz is aware that new laws don't always have their intended results.
Just last year, for example, he sat on a Yale Law School roundtable that discussed efforts to increase corporate transparency; such efforts, in fact, could actually drive up executive compensation.
In 2005, Schwartz and other scholars entered the public arena to criticize changes in bankruptcy laws, making it much harder for individuals to declare Chapter 7 bankruptcy.
At first glance, the change made sense, to force deadbeat spendthrifts to own up to their debts. But Schwartz and other scholars argued that bankruptcy should exist as a kind of consumer "wage insurance," where people pay high interest rates on consumer loans, like credit cards, as sort of a premium, giving them the right to escape their debts through bankruptcy. Creditors don't mind, because they were charging high rates to high-risk clients knowing this could occur.
But the law was changed anyway. "Sometimes [scholars] are listened to, and a lot of times we're not," Schwartz says.
View Comments