Bates King Day offers 'Inaugurating Change' theme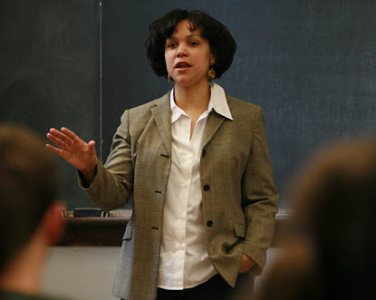 Melissa Harris-Lacewell, associate professor of politics and African American studies at Princeton, is the keynote speaker for the 2009 Martin Luther King Jr. Day observances at Bates College. Classes at the college are canceled and special programming is scheduled throughout the day with an emphasis on the theme "Inaugurating Change: Where Do We Go From Here?"
Scheduled for 10:45 a.m. Monday, Jan. 19, in the Olin Arts Center Concert Hall, 75 Russell St., Harris-Lacewell's address is part of a celebration of King's life and work that includes performances, video installations, workshops and orations. Harris-Lacewell also will give the annual Memorial Service of Worship sermon on the eve of the holiday at 7 p.m., Sunday, Jan. 18 in the Olin Arts Center Concert Hall. All events are open to the public free of charge. For more information, or to see a complete list of events, call 207-786-6400.
Chaired by Charles Nero, associate professor of rhetoric, African American and American cultural studies, the Bates committee that organizes the annual observance of King's birthday chose "Inaugurating Change" as its theme.
Nero explains: "We faced an historical election process this year. Never before had an African American and a white woman been the Democratic Party front-runners for president. Never before had a white woman been the nominee for vice-president from the Republican Party.
"Elections are a way to think about Dr. King's legacy in light of our aspirations for the future. Were these nominations a reflection of what the civil rights movement imagined for the nation? How will Barack Obama carry forth the legacy of the civil rights movement? These are some of the questions we will address this year at our observation of MLK Day."
Harris-Lacewell, delivers the annual Martin Luther King Jr. Day Memorial Service of Worship sermon, titled "Time to Believe: Lessons from Edwina," at 7 p.m. Sunday, Jan. 18, in the Olin Arts Center Concert Hall. The service includes musical performances by Bates students including vocalist Megan Guynes, a sophomore from Rancho Cucamonga, Calif., as well as a "sound collage" of political rhetoric developed by Assistant Professor of Music Dale Chapman. Following the service, the Multifaith Chaplaincy hosts an 8:30 p.m. reception and conversation with Harris-Lacewell in the Olin lobby.
A Princeton University professor of politics and African American studies, Harris-Lacewell's academic research is inspired by a desire to investigate the challenges facing contemporary African Americans and to better understand the multiple, creative ways African Americans respond to these challenges.
She is the author of Barbershops, Bibles and BET: Everyday Talk and Black Political Thought (Princeton University Press, 2004) and is currently at work on her next book, For Colored Girls Who've Considered Politics When Being Strong Wasn't Enough. Her writings have been published in nationwide newspapers, and she is a regular contributor on National Public Radio and TheRoot.com. Harris-Lacewell appeared twice on Bill Moyers' PBS broadcast "Journal" and has provided frequent analysis of the election of Barack Obama for national network and print news outlets. She keeps a political weblog at http://princetonprofs.blogspot.com/.
Harris-Lacewell received her B.A. in English from Wake Forest University and her Ph.D. in political science from Duke University. She received an honorary doctorate from Meadville Lombard Theological School, and is currently a student at Union Theological Seminary in New York.
Student debaters from Bates and Morehouse colleges and local high schools kick off King Day itself with an annual oratorical event, "Minutes and Words of Eternity: The Dr. Benjamin Elijah Mays Speech Invitational."
The debaters will be introduced at 9 a.m. in the Benjamin Mays Center, 95 Russell St. The debaters will discuss the topic, "The United States should reform its system of prison and incarceration" at 9:30 a.m. The event has historic resonance for the schools, which share a continuing commitment to collaborative projects. The nation's largest liberal arts college for men, Morehouse was Martin Luther King Jr.'s alma mater. One of its longtime presidents was 1920 Bates graduate and accomplished debater Benjamin Mays, a lifelong adviser to the great civil rights leader. Mays eulogized King in 1968.
Mays, who served for 27 years as president of Morehouse and was the first African-American chairman of the Atlanta School Board, inspired generations of civil rights leaders with both his words and actions. King called Mays "my spiritual mentor and my intellectual father."
Harris-Lacewell delivers her 10:45 a.m. keynote address, "The Relevance of King in the Age of Obama," in the Olin Arts Center Concert Hall. The Bates Jazz Band offers a musical prelude to the keynote address at 10:30 a.m..
This year video artist Craig Saddlemire, Bates Class of 2005, curates a video installation, "Social Justice: Critique, Action, Change," as part of the Bates MLK Day celebration. Scheduled for Monday, Jan. 19 from noon through 5:30 p.m., in the Perry Atrium of Pettengill Hall, the installation encourages reflection on the legacy of King, the Civil Rights Movement and the struggle for social justice. Organized by theme, the videos will be shown throughout the afternoon on three large viewing screens in the Atrium.
Concurrent Monday afternoon workshops hosted by various academic departments and student organizations begin at 1:20, 2:35 and 4 p.m. in classrooms throughout Pettengill Hall and the Marcy Plavin Dance Studios. The workshops, featuring speakers, films and discussion, will focus on various topics tied to "Inaugurating Change," the day's theme. Topics range from spiritual resources for social activism to the use of music in the Obama campaign, from eating well for people with low incomes to a discussion of Obama's inauguration as a sign of hope for Africa. For more information about the workshops, call 207-786-6400.
The entire King Day observance concludes with a performance in the Olin Arts Center Concert Hall at 7:30 p.m. Bates students commissioned to create cultural work for the occasion present music, theater, dance and spoken-word performances. The evening features seniors Shawki White of Danville, Ill., and Sulo Dissanayake of Pita Kotte, Sri Lanka, and Ben Smeltzer '10 along with the performance of an improvisatory piece created during the day in a workshop run by the Philadelphia-based Headlong Performance Institute, a group of artists and master teachers who train students to create, improvise and perform.
The college also co-sponsors an annual MLK Day Read-In where faculty, staff, students and members of the community will share a picture book with Martel School students in grades 4-6 at 1:30 p.m., Thursday, Jan. 22. Those interested in volunteering should e-mail Anne Fischer at afischer@bates.edu or call 908-642-2620. (The snow date for this event is Friday, Jan. 23.)
View Comments