Senior diver's odyssey from emergency room to All-America honors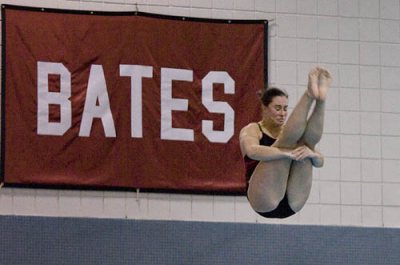 As Bates senior diver Kelsey Lamdin was warming up on Friday, March 20 for the final competition of her collegiate career, her goal was to win an eighth All-America award and become the most decorated diver in Bates history.
But she would soon unintentionally prove herself as one of the toughest athletes ever to put on a Bobcat uniform.
Practicing a reverse one-and-a-half somersault before Friday's 1-meter diving competition at the NCAA Division III Swimming and Diving Championships, Lamdin (Brunswick, Maine) struck her hands and head on the edge of the board. Only 80 minutes remained until her event was to begin, but her head and hands were bleeding and required immediate medical attention.
"I was actually angry," says Lamdin. "I couldn't believe I had done that in my last meet."
Fortunately, the University of Minnesota Medical Center was nearby on campus. A miraculously quick visit to the emergency room, abetted by Bates diving coach Mike Bartley's prodding of the staff on hand, got Lamdin back to the pool with about 10 minutes left to prepare for the final dives of her career. Swollen hands, 15 staples in her scalp, and no anesthesia to mask the pain were no match for Lamdin's determination to compete one more time.
"Everyone was like, 'Why are you here?'" Lamdin told the Portland Press Herald. "I told them there's no way I'm not competing. It's my senior year. It's my last meet. I've worked too hard to just give up."
Lamdin, who had finished sixth two days before in the 3-meter competition, notched the 10th best score out of a field of 22 competitors, not good enough to make the finals but securing her coveted eighth and final All-America honor.
"So many times, adversity leads to great moments," Bates head swimming coach Peter Casares told the Press Herald. "I wouldn't wish it upon anyone, but she sure made the best of it."
Lamdin's stirring performance came the same day junior teammate Katelyn Drake (Hudson, Ohio) won her second career All-America swimming honors, in the 100-yard backstroke. Lamdin, Drake and sophomore (New Canaan, Conn.) all competed at the meet for Bates.
View the feature about Kelsey Lamdin that aired on Portland ABC affiliate WMTW
View the feature about Kelsey Lamdin that aired on Portland NBC affiliate WCSH
View Comments