Stacia Saniuk '09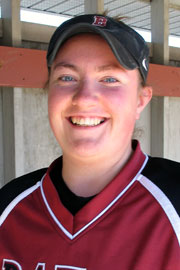 Bates College senior Stacia Saniuk (Sharon, Mass.) batted .778 (7-for-9) and posted a 1.444 slugging percentage along with a .867 on-base percentage during a 3-1 week for the Bobcat softball team. She hit two home runs, recorded six walks, had four RBI and four runs scored. Saniuk hit her 20th career homer on Sunday against UMaine-Farmington, extending her program-record mark. She has currently reached base in six straight plate appearances. On Saturday, her two-run homer in the sixth inning lifted Bates to a 6-4 win over NESCAC East rival Colby.
Saniuk, who plays third base and designated player, also earned NESCAC Softball Player of the Week honors, the New England Small College Athletic Conference announced on Monday. It's the first time a Bobcat has earned NESCAC Softball Player of the Week honors since Saniuk did it on March 19, 2007.
A three-time NESCAC All-Conference player, Saniuk also owns Bates' career records for extra-base hits (42) and total bases (193) in addition to the homers record. With 108 career base hits, she is currently two away from tying the Bates career record of 110 held by Krissie Whiting '03.
View Comments