Bates names new vice president and dean of enrollment and external affairs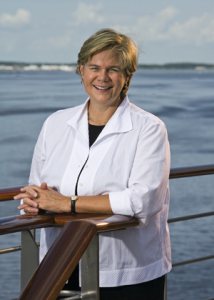 Bates College has appointed Nancy J. Cable as vice president and dean of enrollment and external affairs, a newly created position overseeing Bates' offices of admissions, student financial services, communications and media relations, and career services.
"Nancy Cable brings us the expertise, national reputation and leadership skills needed to engage all Bates constituencies in advancing the mission of the College," Bates President Elaine Tuttle Hansen said in making the announcement. "She is the leader Bates needs to present the vitality of the current academic and co-curricular program to a global audience of prospective students and faculty and extend the College's reach and presence in the landscape of higher education."
In accepting this position, Cable said that Bates "is uniquely well-positioned to meet its founder's challenge: for Bates to be a 'college for coming time.' This historic challenge calls forward college-wide communications, admissions, career services and financial-aid efforts to enroll the most talented and deserving prospective students through Bates' hallmark personalized approach to student recruitment. I am privileged to be joining Bates faculty, senior leadership, trustees and students in this important work for the College's future."
According to Bates Trustee Chair Joseph T. Willett, "This position was created to work with the senior leadership to enhance the college's culture of inquiry, evidence, and transparency and help us tell the Bates story in a strategic way.  In Nancy Cable we have found a talented and seasoned administrator who will collaborate effectively with the College's many constituencies."
Cable served most recently in executive fundraising roles at the University of Virginia and with its academic partner, Semester at Sea. She has served as Virginia Engineering Foundation vice president for development and associate dean for development of the School of Engineering and Applied Science. In these roles, she secured funding for a nanotechnology science facility, numerous scholarships, the Desmond Tutu Program in Global Understanding and for the inauguration of a faculty lectureship and student scholarship program in China-U.S. relations for Semester at Sea.
Between 1992 and 2005, Cable served Davidson College as vice president and dean of admission and financial aid. She led a college-wide effort to advance selectivity, diversity and faculty involvement in the admission and financial aid process, and provided a tangible link between student recruitment and fundraising through the inauguration of several national scholarship programs.
Cable previously served as a vice president at Guilford College and held several administrative and faculty positions at Denison University.
A native of Ohio, Cable holds a bachelor's degree with Phi Beta Kappa honors from Marietta College, a master's in education from the University of Vermont and a doctorate in educational history from the University of Virginia.
Known for her efforts to strengthen socioeconomic diversity within the fields of admissions and financial aid, Cable has served on a variety of national boards and committees related to higher education, including the College Board, the Council for the Advancement and Support of Education Task Force on Admissions, the College Board Committee on Selective Admission Criteria and the National Merit Scholarship Selection Committee. She has been a board member of Marietta College and the Cannon and Asheville schools in North Carolina. She has served as a guest speaker and lecturer at colleges and secondary schools nationally.
Cable will begin her service at Bates Feb. 22.
On Jan. 1, 2010, Bates' current Vice President for External Affairs William C. Hiss, Bates class of 1966, assumes the position of executive director of international advancement and lecturer in Asian studies. Hiss will work with the Office of College Advancement to strengthen the interaction between Bates and the worldwide community and to promote Bates' reputation internationally as a leading liberal arts college. His efforts will support deeper connections with Bates alumni, parents and friends outside the United States, with an immediate focus on Asia.  An expert on the history of Bates, Hiss will also continue to develop multimedia presentations about the College's past for audiences on and off campus and to work with the Garcelon Society, which raises scholarship funds for Androscoggin County students at Bates.
View Comments