A Mountain Away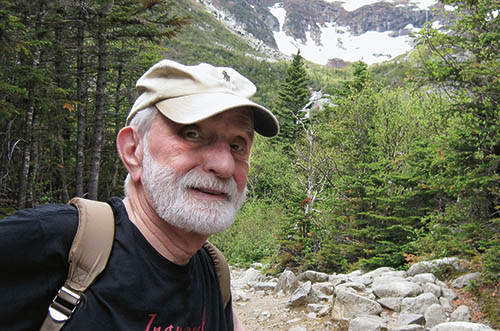 Since he was a Boy Scout growing up in Lewiston, Phil Isaacson '47, L.H.D. '97 has loved to venture into the White Mountains, whether hiking on trails that have been accessible since the 1800s or skiing snow fields like the Gulf of Slides or Tuckerman Ravine. For his 85th birthday last June, he hiked up Tuckerman, along with 13 family members and friends. "I was a significant interval from the fastest up the trail," he says, "which is a lawyer's way of saying 'slow.'"
Into his ninth decade, Isaacson is still dazzled by the White Mountains and what they offer: a transformative experience available in Lewiston's back yard. "They are so proximate," he says. "And within about an hour's climb you are in an entirely different world, the kind of world you might find by traveling 1,000 miles north of here. In effect, you are in Northern Labrador after a not-difficult climb." When not in the clouds, Isaacson still walks to work each day from his home on Benson Street, near Mount David, to his law office downtown.
Though walking and climbing are lifelong habits, they do involve the mindful task of conquering inertia, he admits. "It is easier not to climb than to climb, and in the first few steps I feel the reluctance of my body. Climbing is not a test of endurance, but you do have to want to do it."
Leave a Reply
This is a forum for sharing your thoughts about the preceding post with the public. If you have a question for the author, please email the Bates Communications Office at communications@bates.edu.