Campus Construction Update, Aug. 20, 2010: Garcelon Field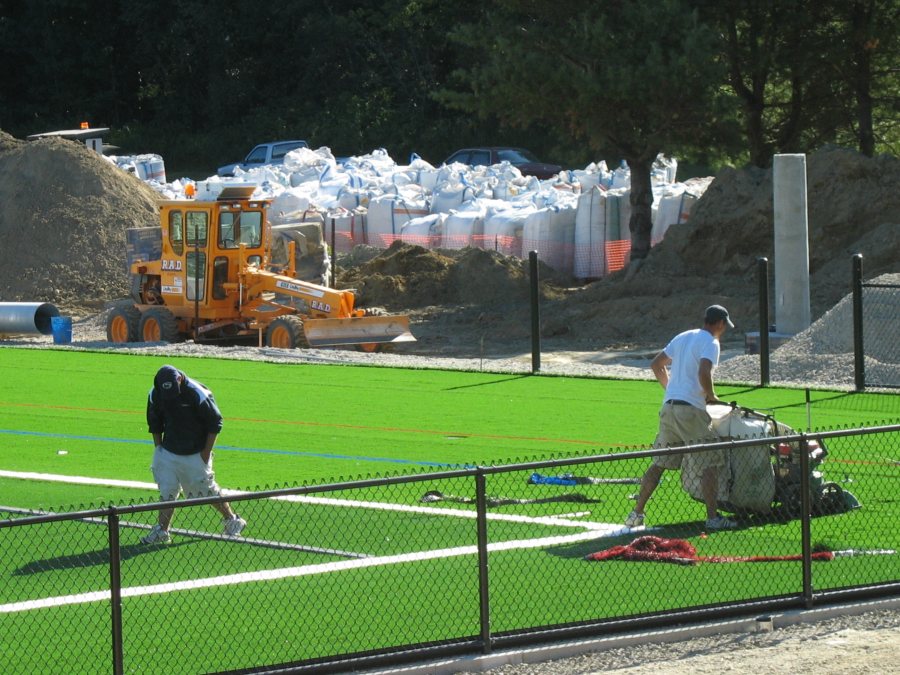 See a WCSH-TV report about the Garcelon Field project.
The big news in the Garcelon Field renovation these days, of course, is the installation of the FieldTurf playing surface.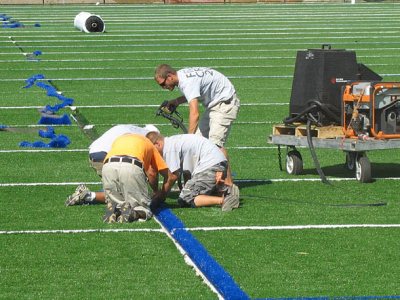 The intensely green synthetic grass was rolled out in big strips starting Aug. 11. It was a very hands-on process involving a big front-end loader and a squad of big guys. They used big clamps to wrangle the strips into place and a big pneumatic gun to stitch them together. Laying down the yard-line numbers finished off what can only be described as a big job.
What comes next is the spreading of a mix of processed rubber particles and sand over the carpet of synthetic grass. That could start as early as today, says Pam Wichroski, director of capital planning and construction at Bates. (Mike Gustin, our usual contact for Garcelon Field, was out of the office this week.)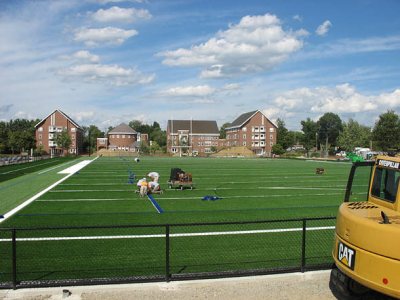 Proprietary to the FieldTurf brand, this infill gives the synthetic turf a playing quality that the manufacturer describes as "forgiving." Mostly sand at the bottom and mostly rubber particles on top, the sand-rubber mix is both stable and shock-absorbent in a way that protects athletes from impacts and torques that could otherwise cause injury.
Outside the fence, footings for the Musco field lights have been poured and backfilled. Sleeves for the flagpoles will be installed the week of Aug. 21 — and on that Tuesday, Wichroski added, the scoreboard and the two 30-second play clocks will be erected.
---
Watch live video from Garcelon Field.:
Read about Bates's latest student residence and the renovation of Hedge and Roger Williams halls. And here's the plan for the Garcelon Field project.
View Comments