Leading intellectual of the hip-hop generation to speak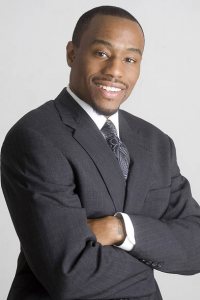 One of the nation's leading intellectuals of the hip hop generation, Marc Lamont Hill offers the talk The State of the Hip-Hop Nation at 7:30 p.m. Thursday, Feb. 10, in Pettengill Hall's Keck Classroom (G52), 4 Andrews Road (Alumni Walk).
Sponsored by the college's Office of Intercultural Education, the event is open to the public at no cost. For more information, please call 207-786-8376.
Named one of "America's Top 30 Black Leaders Under 30" by Ebony Magazine in 2005, Hill is an associate professor of English education and anthropology at Columbia University's Teacher's College. He holds an affiliated faculty appointment at Columbia's Institute for Research in African American Studies.
His writing, which covers topics such as hip-hop culture, politics, sexuality, education and religion, has appeared in numerous journals, magazines, books and anthologies. Hill has lectured widely and provides commentary for media outlets like NPR, The Washington Post, Essence Magazine, and The New York Times.
Hill is a political contributor to Fox News Channel, where he appears regularly on programs such as The O'Reilly Factor, Huckabee and Hannity. Prior to joining Fox News, he was a regular guest on CNN, MSNBC and CourtTV.
A nationally syndicated columnist, his writing appears weekly in California's Metro Newspapers and he maintains an award-winning daily blog on his website.
He is the author of Beats, Rhymes, and Classroom Life: Hip-Hop Pedagogy, and the Politics of Identity (Teachers College Press, 2009), and co-edited Media, Learning, and Sites of Possibility (Peter Lang, 2007).
Since his youth in Philadelphia, Hill has been a social justice activist and organizer. He is a founding board member of My5th, a nonprofit organization devoted to educating youth about their legal rights and responsibilities. He also works closely with the ACLU Drug Reform Project, focusing on drug informant policy.
In 2001, he started a literacy project that uses hip-hop culture to increase academic engagement and reading skills among high school students. He continues to organize and teach adult literacy for high school dropouts in Philadelphia and Camden, N.J.
Trained as an anthropologist of education, Hill earned his doctorate from the University of Pennsylvania.
View Comments