Bates Matters: Network Change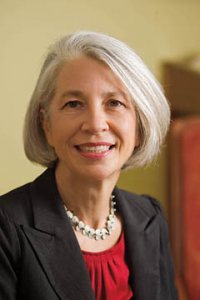 Bates uses a networked approach to pursue innovation in three key initiatives
By President Elaine Tuttle Hansen
By now, most people will have already abandoned their New Year's resolutions, which reminds us once again that change is always hard.
Nor do colleges easily change. Skeptical of trends and fads, we serve our enduring mission by taking the long view. But let us not confuse this with resistance to growth and improvement.
Indeed, at Bates, a clear and compelling desire to innovate, pursued through a sustained campus planning process, has given rise to Choices for Bates, a planning document presenting three strategic initiatives designed to take areas of already-proven Bates strength to the next level:
The Arts Initiative, rooted in the development of a multidisciplinary team of arts practitioners and advocates known as the Bates Arts Collaborative, is enhancing the vitality and visibility of our cutting-edge programs in the arts.
The Learning Initiative is improving the coordination and consistency of the Bates learning environment, starting with the creation of a Learning Commons as an incubator and workshop for forward-looking academic collaboration.
The Mathematics and Science Initiative is improving the coherence and reach of the science curriculum while creating more and earlier opportunities for student research.
Endorsing the potential of these initiatives to foster change, the Andrew W. Mellon Foundation has awarded Bates and Choices significant start-up funding, particularly appreciating and enabling our networked approach during and after the planning process. We have eschewed a top-down, "rational" model, and instead recognized the power of complex, interconnected groups of on-the-ground experts — faculty and staff leaders from multiple disciplines and departments who interact to develop the next generation of educational strategies.
The Math and Science Initiative, for instance, is led by chemist Matt Côté, physicist Hong Lin, mathematician Pallavi Jayawant, and biologist Rebecca Sommer.
One thrust of this initiative focuses on increasing student-research opportunities, reflecting Bates' strong reputation in this area. Meanwhile, the curricular aspect of the Math and Science Initiative has a few more moving parts.
We'll start with two longtime Bates professors, physicist Eric Wollman and geologist John Creasy, who created and team-taught a new introductory course this fall, "The Unexpected Earth." The course showed how geology and physics are behind various crucial and difficult discoveries about the Earth, such as the fact that the Atlantic Ocean is growing wider and the Pacific Ocean is shrinking — about as fast as a fingernail grows.
Importantly, the course also taught students how ideas flow across departmental walls, and how, like the social sciences and humanities, the sciences are seeing disciplinary silos become more and more permeable. Tanner Cunningham '14, who took "The Unexpected Earth," said it was "refreshing" to have two experts teaming up to teach geophysical concepts, just the way scientific discoveries often come "from the meeting of discrete minds."
Creasy, who has team-taught courses with Wollman in the past, said the experience is a chance "to get outside of myself," adding that "Eric routinely had ideas and approaches that I would not have thought of" — a confirmation that our math and science faculty are also reconsidering how they teach material that crosses disciplines.
For example, consider a typical introductory physics and chemistry sequence. First-year student Susan learns about electron shells in introductory physics in the fall, then again in introductory chemistry in the winter. Meanwhile, Razin takes chemistry before physics, and thus sees the atomic treatments in the opposite order. And Kim, taking only chemistry, sees the material just once.
In response to this disconnected approach, a Bates faculty team is now developing an integrated chemistry-physics sequence to deliver overlapping material more coherently. Once it is in place, professors will be aware of, and thus able to tap into and build on, their students' evolving scientific knowledge. A similar goal lies behind mathematician Meredith Greer's efforts to develop a course that teaches math concepts often seen in science courses.
By doing this quiet, hard, and collaborative work now, our network of scientists and mathematicians are also positioning the College to address a major facilities need — an integrated science and math building — envisioned some years hence by our updated Campus Facilities Master Plan.
Like the Arts and Learning initiatives, our work today is in fact all about building, in multiple senses of the word: carefully working together to frame choices and strategies that will define our future.
View Comments