Website supports students affected by acts contrary to Bates values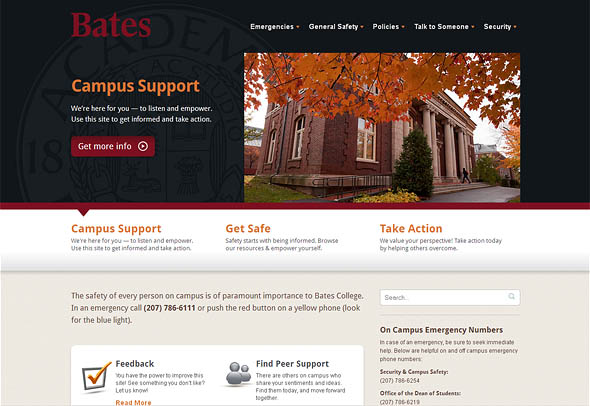 New to the Bates website is a collection of pages designed to serve as a sort of first-aid kit for students and other members of the campus community victimized by, or witness to, a sexual assault, hate crime or other act of violence or prejudice.
Titled Campus Support, the site was created by members of the college's communications office in collaboration with the Bates Coalition Against Discrimination, a student organization.
Stressing safety, support and education, the site is a clearinghouse of resources for people impacted by actions inconsistent with Bates' values of mutual respect and tolerance. Features include:
•    Contact information for students to reach safety personnel and counselors both on and off campus
•    Checklists of steps a person involved in an emergency should take
•    College policies regarding discrimination and violence
•    A section on gender and sexuality resources
•    And even online forms for reporting a hate crime, bias incident or sexual assault.
This spring, the Bates Coalition Against Discrimination used well-attended campus forums, an open letter to the college newspaper and meetings with faculty and staff leaders to articulate measures for advancing diversity and inclusiveness at the college. Campus Support is one result of BCAD's activism.
In particular, the students pointed out, people who have just been assaulted deserve fast and straightforward Web access to help. Campus Support, in response, presents a wealth of resources in one easy-to-navigate site.
"It was really exciting that the folks in Communications and Media Relations were able to pull everything together onto the website, make sure that phone numbers were updated, and bring more clarity to these resources," says Emma Posner, a BCAD member from Cambridge, Mass.
The site recognizes the fact that, because of the stress and confusion that can come in an abusive, discriminatory or hate-crime incident, victims or witnesses may not be even clear about what they have experienced. Accordingly, Campus Support provides an initial effort to clarify both functional definitions of specific acts and college policies about them.
The site sends an important message about Bates to both the campus and beyond, too, says Tedd Goundie, dean of students. "Embracing difference, keeping students safe and responding to acts of violence or intolerance should rightly have prominence in Bates' core values as a college community," he says.
"We don't pretend these issues don't happen at Bates, just as they are real issues at all colleges and universities. This site expands our available information for all Bates students."
The role of the BCAD in the creation of Campus Support was not surprising at Bates, where college students are expected to act thoughtfully and effectively on their convictions. "The students researched websites at other schools, and gave us some great ideas on how to improve the visibility and accessibility of resources," says Goundie.
"They really pushed us along," adds Heather Lindkvist, an instructor in anthropology who will become special assistant to the president for diversity and inclusion this summer.
"As students who have really loved Bates and have gotten so much out of it, we wanted to give back, and to make Bates a better place," says Charlotte Friedman, a senior from Santa Monica, Calif. "That's the overall idea of BCAD — just to say we love Bates, and it can do better."
The students, in turn, were gratified by the readiness with which Vice President for Enrollment and External Affairs Nancy Cable and the Bates Web team — Ethan Magoon, Chris Bournakis and Nick O'Brien — responded to their request for the site.
"We're also thankful for how inclusive they were," says Afroz Baig, a senior from Petaluma, Calif. "And just the amount of work they put into launching the site in such a short amount of time."
The BCAD has committed to ongoing dialogue with campus leaders through the summer and into the upcoming academic year to broaden and deepen Bates' attention to this work.
View Comments