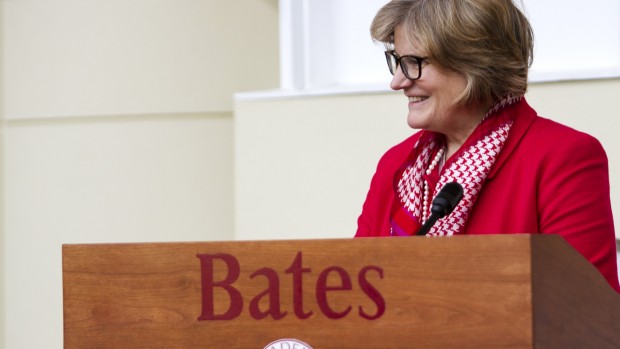 "We have ambitious goals for Bates, and I am inspired by this outpouring of support from the college community," said President Clayton Spencer.
Published on
Description

---

August 28, 2009
12:58 pm

An Inside Higher Ed essay by Bates cultural historian David Scobey suggests how colleges might respond to the decline of…

August 19, 2009
10:09 am

Photographs from study abroad hint at the space between knowledge and experience

July 21, 2009
10:06 am

The Daily News-Record of Harrisonburg, Va., reports that U.S. Rep. Bob Goodlatte '74, R-Roanoke, gave $1,000 to the Big Brothers…

July 7, 2009
10:31 am

The Portland Press Herald talks to Laura Young Connelly '88 of Cape Elizabeth (and takes her photograph) for a story…

July 1, 2009
2:13 pm

Army physician Dave Lounsbury '72, a veteran of Iraq, brings the war home

July 1, 2009
11:44 am

Visits aim to build bonds between Bates, Native Americans

July 1, 2009
11:09 am

The latest campus comings and goings

July 1, 2009
11:00 am

Readers share comments about Bates Magazine.

July 1, 2009
10:39 am

At Reunion, two Bates classes 25 years apart talk about the pursuit of happiness.

July 1, 2009
10:21 am

Dr. Dave Lounsbury '72, retired Army colonel and co-editor of "War Surgery in Afghanistan and Iraq," visited the campus in March.