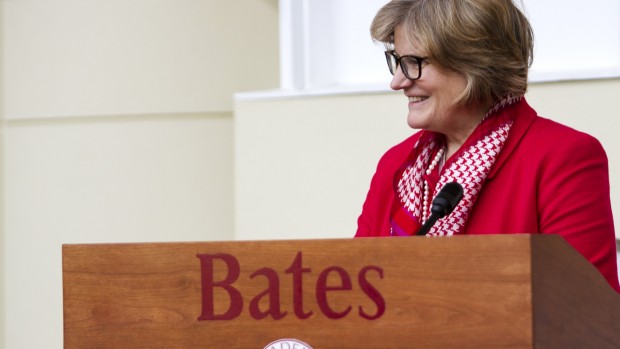 "We have ambitious goals for Bates, and I am inspired by this outpouring of support from the college community," said President Clayton Spencer.
Published on
Description

---

July 21, 2005
9:48 am

The fifth annual Clean Sweep, the Bates College "garage sale" of furnishings and other goods donated by departing students, generated $12,222 in proceeds that were divided among a variety of local schools and nonprofit organizations.

May 9, 2005
4:05 pm

Juan Williams, senior correspondent for National Public Radio's Morning Edition and author of an acclaimed biography of Supreme Court Justice Thurgood Marshall, will give a lecture titled "The Legacy of Brown vs. the Board of Education" at 7:30 p.m. Thursday, May 12, in the Bates College Chapel. The public is invited free of charge.

May 2, 2005
3:43 pm

The state of Maine's pivotal role in the founding of Bates College 150 years ago made Monday afternoon's Statehouse celebration, featuring a "Bates College Day" proclamation by Maine Gov. John Baldacci and a legislative joint resolution sponsored by State Sen. Peggy Rotundo, D-Androscoggin, a proud event for both college and state.

April 27, 2005
10:39 am

Two different service programs will bring more than 100 volunteer carpenters, painters, roofers and others together to refurbish two Lewiston homes on Saturday, April 30.

April 8, 2005
10:01 am

Bates College is one of the nation's best colleges fostering social responsibility and public service according to The Princeton Review and Campus Compact.

April 6, 2005
9:34 am

Thanks to two Bates College fellowship programs, nine Bates students will have the opportunity to pursue cultural and environmental research in countries around the globe this year.

April 4, 2005
11:59 am

David M. Scobey has been named as the director of the Harward Center for Community Partnerships and as the Donald W. and Ann M. Harward Professor of Community Partnerships at Bates College, announced Vice President of Academic Affairs and Dean of Faculty Jill Reich.

March 31, 2005
11:24 am

Six members of the Bates College community — four students, a psychology professor and a staffer for the chaplain's office — were among a select group of individuals from campuses across the state to receive awards from the Maine Campus Compact in recognition of outstanding contributions in community service and service-learning.

March 23, 2005
1:53 pm

A Jesuit priest and professor of history, John Staudenmaier will give a lecture and present the annual William Stringfellow Lecture in Justice and Peace Wednesday, March 30, in Chase Hall Lounge, 56 Campus Ave.

January 13, 2005
10:02 am

Author Elizabeth Minnich speaks on the complex challenges of providing a liberal arts education Thursday, Jan. 20, in Chase Lounge, Bates College, Campus Avenue.