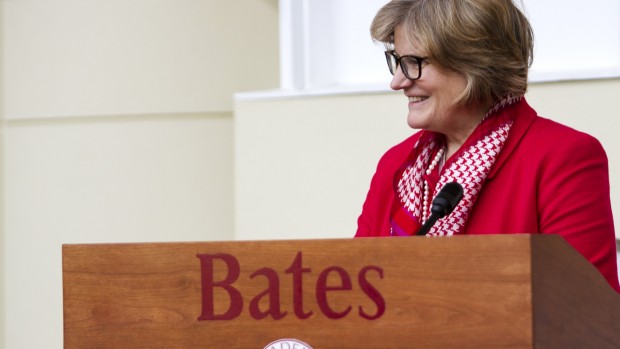 "We have ambitious goals for Bates, and I am inspired by this outpouring of support from the college community," said President Clayton Spencer.
Published on
Description

---

October 29, 1998
3:24 pm

Ira Harkavy, associate vice president and director for the Center for Community Partnerships at the University of Pennsylvania, will discuss "Participatory Action Research and Service Learning" at 7 p.m. Thursday, Nov. 12, in the Benjamin Mays Center.

June 16, 1998
12:40 pm

The Auburn School Department, in collaboration with four students at Bates College, is opening an environmental summer day camp for students in grades 2-8 at the 13-acre Auburn Land Lab located in the C.P. Wight School at the northern end of Lake Auburn. Transportation is available.

May 26, 1998
1:30 pm

Georgia Nell Nigro, associate professor of psychology at Bates College, has been named one of two 1998 recipients of the Maine Campus Compact (MCC) Faculty Service-Learning Award, one of the most prestigious awards for community service in the state of Maine.

February 11, 1998
2:11 pm

Christopher J. Gousse of Lewiston and Brian H. Houston of Poland have been named inaugural recipients of a Bates College scholarship fund awarded annually to children of Bates employees.

October 31, 1997
12:01 pm

Kip Tiernan, founder of Rosie's Place for Women, the Greater Boston Food Bank and Healthcare for the Homeless, will discuss "A Social Activist's Perspective" as part of a new Bates College lecture series, "Spiritual Journeys: Stories of the Soul," at 4:30 p.m., Nov. 14, in the Benjamin Mays Center. The public is invited to attend free of charge.

July 30, 1997
10:22 am

The Bates College Dance Festival, in sponsorship with the City of Lewiston Recreation Department, is conducting a three-week "Youth Arts Program" from July 28 through Aug. 16 at the Lewiston Memorial Armory on Central Avenue. Sixty-one Lewiston children, ages six to 17, are involved with music and dance classes Mondays through Fridays from 9 a.m. to noon.

June 2, 1997
10:28 am

The Bates Dance Festival invites senior citizens and teenagers from Lewiston-Auburn and surrounding communities to participate in a three-week intensive workshop, July 28 through Aug. 15, under the direction of choreographer and educator Jeff Bliss.

May 1, 1997
11:52 am

Stanton Wortham, assistant professor of education at Bates College, has been honored with the Maine Campus Compact's Faculty Service-Learning Award. Wortham was recognized for designing several innovative service-learning projects, including a program in which Latino Bates students tutor and mentor Latino schoolchildren in S.A.D. 52 (Turner, Maine) schools.

January 14, 1997
3:26 pm

In commemoration of the Rev. Dr. Martin Luther King Jr.'s birthday, and in an effort to encourage literacy, more than 120 students, faculty and staff from Bates College will hold a "read-in" for youngsters in grades K-3 classrooms in Lewiston and Auburn schools on Thursday and Friday .

September 3, 1996
9:23 am

A Harvard political scientist will discuss civic life as the first talk in a lecture series, The Quality of Our Civic Discourse and Civic Life, at 7:30 p.m. Sept. 16 in the Edmund S. Muskie Archives. The public is invited to attend free of charge.