Grant supports public school programming at Bates museum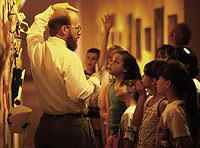 A two-year, $50,000 grant recently received by the Museum of Art will support educational programming for 400 local middle school students at the museum.
The grant supports the museum's Thousand Words Project. Launched in 1996, the project enhances not only students' grasp of the visual arts but their writing skills. The museum's key educational outreach program, the project integrates the museum into the middle schoolers' curriculum — making it, in effect, an extension of the students' own classrooms.
"The Thousand Words Project is very fulfilling, because students react so positively to it," says education coordinator Anthony Shostak, who has overseen the the program since its inception. "They are simply excited to see original works of art in a museum setting, and they appreciate the challenge we give them to look at and think critically about the images."
He says, "What we do is opposite to the spoon-feeding of images they are used to from TV and advertising."
Through the project, students from middle schools in the Lewiston-Auburn region each make 10 visits to the museum. Working with Shostak, student interns and professional writers-in-residence, the visitors learn to look actively at the art on display, developing their critical responses and examining their emotional reactions to it.
Then they articulate these thoughts through writing assignments that progress from simple descriptions to more layered and creative work such as fiction, poetry or journalistic writing.
"With this program we underscore the importance of cultural and visual literacy by linking them to standard literacy," explains Shostak. "Students experience the cross-fertilization that has historically occurred between the arts and other disciplines."
"Part of the success of the Thousand Words Project stems from the fact that students are truly hungry for all of the art and art history training they can get," Shostak adds. "Moreover, we don't just offer something schools don't provide, like some kind of field trip. The project is collaborative — fully integrated into the curricula of the schools — and thus assists in achieving Maine Learning Results standards."
The Museum of Art was founded to preserve the nation's largest repository of Marsden Hartley drawings and other items relating to this important American artist, a Lewiston native. Its other holdings include a robust print collection and notable works by Maine artists of national significance, such as Dahlov Ipcar, the late William Thon, Neil Welliver and Charles Hewitt.
The flagship museum for the Maine Art Museum Trail, the  Museum of Art is located in the Olin Arts Center, 75 Russell St. Admission is free. The museum is open 10 a.m.-5 p.m. Monday through Saturday and 1 p.m.-5 p.m. Sunday (closed major holidays). For additional information, please call 207-786-6158.
View Comments