Stories about "Merimanders"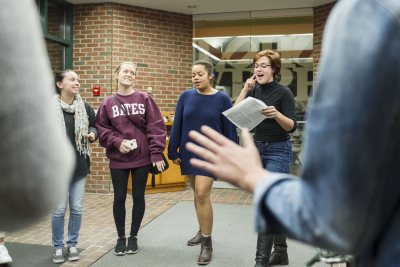 Friday, September 30, 2016 11:53 am
Thursdays after 8:30 p.m. in Olin Arts Center are not the best time and place for quiet study — but they are perfect for quality a cappella.
Wednesday, March 3, 2010 3:36 pm
For three years, I have sung oohs, ahs and na-nas with The Crosstones. Having never been in an a cappella group before, I started out wary of singing in semi-circles and using bizarre syllables to recreate Billy Joel's greatest hits. But after spending my first year at Bates watching numerous a cappella performances in packed rooms all over campus, I was hooked.
Friday, April 10, 2009 4:52 pm
The Merimanders, Bates all-female a cappella group, will perform in Augusta under...