It can be arranged: The art of setting songs for a cappella
For three years, I have sung oohs, ahs and na-nas with The Crosstones. Having never been in an a cappella group before, I started out wary of singing in semi-circles and using bizarre syllables to recreate Billy Joel's greatest hits.
But after spending my first year at Bates watching numerous a cappella performances in packed rooms all over campus, I was hooked.
I joined The Crosstones in my sophomore year, as the group was moving away from "head" arrangements in favor of sheet music. Sure, we still arrange songs by pressing our ears against loudspeakers in the Olin Arts Center, desperately trying to discover hidden voice parts in songs like "White Christmas." But now most of our arrangements are transcribed onto sheet music as we build a repertoire archive for future members.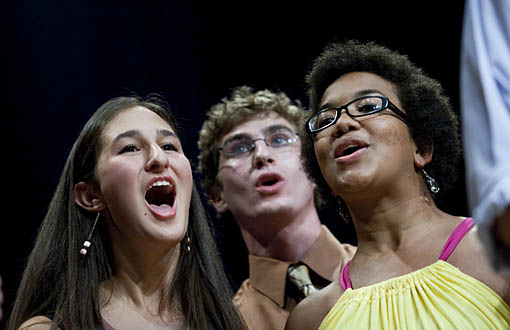 Arranging songs by ear and notating them is as time-consuming and difficult as it sounds. It's a process of stopping the original recording with one hand, using the other to explore phrases on the piano and keeping the beat with your foot.
For The Crosstones, a new arrangement doesn't necessarily mean a new song. "Past songs are often improved upon and rarely discarded," says musical director Phoebe Uricchio '10. Three of us recently reimagined an old favorite, Fiona Apple's "Criminal," to give it the grit and eerie tonalities of the original recording. But rearranging a song takes as much time and effort as working up a brand-new one.
---
Catch The Crosstones in concert at 8 p.m. Saturday, March 20, at the Benjamin Mays Center, 95 Russell St.
---
In most songs, our goal is to imitate the instrumental background of the original recording. By attempting to emulate guitars, pianos, basses and drums, we find ourselves becoming an orchestra of vocalists. Blending is very important as each part becomes one layer of many in the background vocals. Regardless of the song choice, we strive to support the soloist and strengthen our collective sound to make a whole greater than the sum of its parts.
Dan Arsnow '10, musical director of the all-male Deansmen, says that song choice is often a reaction against the past for his group. Founded in 1957, The Deansmen are one of Bates' oldest a cappella groups and boast a repertoire dating back 30 years. "We lean toward songs that offer a departure from the styles, moods and tempos that characterize our current repertoire," he explains.
And because The Deansmen are an all-male group, they continually think about different ways to "add vocal embellishments, rhythms and other nuances" to make best use of the male range, notes Arsnow.
Thursday and Sunday nights, you can find the members of Northfield "shape-note" singing in The Ronj, Bates' student-run coffee shop. The individual shape given to each printed note on the scale is what distinguishes this genre, which is meant to facilitate sight reading and therefore encourage participation from large congregations.
Also offering folk songs from around the world and sometimes singing with fiddlers or at contradances, Northfield has its own way of picking material. "Our group decides on songs very organically," says Northfield president Sarah Davis '10. "Members bring songs to our rehearsals whenever they get the urge and teach them to the group. Our repertoire is very fluid."
While The Deansmen stand for tradition, often performing in tuxedos, and Northfield embraces an atmospheric folky quality, Bates' other a cappella groups have their own cherished roles. Bates' newest all-male a cappella group, The Manic Optimists — affectionately called The ManOps — have assumed the role of a cappella funny men, coupling their singing with choreography that never fails to entertain.
"It doesn't feel like pressure, but it definitely makes it more exciting for us to do shows knowing that people are ready to see a more polished and amusing show," says musical director Ryan Pollie '10. Musically, while The ManOps aren't above acquiring arrangements from other groups, their repertoire took a step up with changing membership.
"When we started getting music majors and kids who sang in high school in the group," Pollie says, "we realized that we had the ability to come up with some really impressive stuff on our own."
If the a cappella sound is only now finding an audience in the world outside academe, here on campus it's a beloved way to stretch oneself both vocally and socially. The act of merging undefined syllables with melodies may seem corny, but when the result is a full sound sung while bopping around on stage with some of your best friends, nothing beats it.

View Comments