News Archives
Wednesday
September 4, 2013 4:46 pm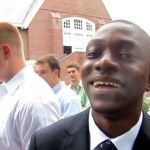 Members of the Class of 2017 try to sum up what it's been like so far in two words.
Thursday
August 21, 1997 1:26 pm
Two-hundred and thirty-six incoming students — half the class of 2001 at Bates College — will first face physical rigors, while hiking, rock climbing, canoing, backpacking or mountain biking in the Annual Entering Student Outdoor Program (AESOP) orientation. Dan Voisin, a Bates senior from Lanesboro, Mass., is overseeing the preorientation program, including transportation, food and gear procurement as well as training the 52 student-trip leaders.