'Community and connection' are what's in store for the arriving Class of 2019 on Aug. 31
When the 518 students in the Class of 2019 arrive en masse on Monday, Aug. 31, for move-in day, they'll have a few hours to unpack, get photo IDs and keys, meet their roommates, and hit the bookstore.
Soon after Opening Day, though, the journey to becoming a bona fide Bates College student begins with Orientation, a heady, weeklong mix of conversations, activities, and academic programming, and concludes with Convocation on Sept. 8 and the start of classes the next day.
In addition to introducing new students to the people, places, and programs at Bates, Orientation also aims to arm first-years with the knowledge and skills necessary for a successful and safe transition from high school grad to fully independent college student.
An inclusive start, right from the start
"Our focus is on creating a sense of community and connection among the first-year students," said Josh McIntosh, the college's vice president for student affairs and dean of students. "We're creating opportunities to interact and talk with them about topics that are relevant to succeeding as a Bates College student."
For longtime observers of Opening Day at Bates, this year's version has a few enhancements designed to support that mission-driven idea of community and connection.
This year, all new students and families will arrive on a single day, rather than the past years' format that saw three arrivals, of students going on multi-day, outdoor AESOP trips; students playing varsity sports; and then the balance of the class.
The class will spend time together on campus before embarking on their student-led trips in Maine, known as AESOP.
"This is a much more inclusive schedule," McIntosh says.
"And instead of the weekend arrivals of the past, having the arrival day on a Monday, when the campus is really lit up with faculty and staff and student Orientation leaders, will be a great experience for us all."
Class of 2019 by the numbers
The Class of 2019 was selected from a record-setting pool: 5,636 applicants, a 12 percent increase over the previous year.
Bates accepted just 22 percent of those who applied — the strongest rate of selectivity yet. Forty-one percent of accepted students chose to enroll, among the strongest "yield" rates as well, according to Johanna Seltzer '03, interim director of admission.
Some numbers:
The new students come from 38 U.S. states and the District of Columbia.
They are citizens of 43 other countries.
12 percent are the first in their families to go to college.
22 percent are U.S. students of color.
19 percent of the class comes from burgeoning regions in the U.S., the Southeast, West, and Southwest. In fact, California was the college's third-largest producer of applicants for this class.
Behind the numbers, of course, are real people — young adults with a variety of aspirations, skills, and talents.
The Class of 2019 includes New England's third-ranked fiddler, a 2014 Olympic qualifier in alpine skiing, and a patent holder for a running shoe. A member of Pakistan's under-19 national cricket team and the top-ranked biology student in Rwanda are also among this year's first-years, as is a nationally recognized ceramicist.
Orientation and the Common Reading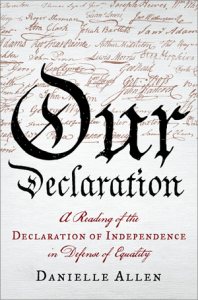 The work of helping this diverse group of students blend into a cohesive class has already begun with this year's Common Reading, Our Declaration: A Reading of the Declaration of Independence in Defense of Equality, by Danielle Allen.
Both book and author have a central role in Orientation: the book as the Common Reading and the author as the featured speaker at Convocation, where she will address the academic community on the topic of creating a community with shared values and expectations.
A close, philosophical reading of the Declaration of Independence, Allen's book reveals how the concept of equality is the underpinning of that foundational document, and how the Declaration serves, in effect, as a blueprint for building a democratic society based on its shared principles and values.
During Orientation, the work of joining and creating community begins right off the bat. Junior Advisors — upperclass students trained as a resident peer advisers to groups of up to 20 first-years in their residences — are a constant presence in the lives of the new Bates students. Backing them up and supporting all students is McIntosh's staff in Student Affairs.
"The Junior Advisors are the ones taking their first-year students to educational events and programs," explains McIntosh, "And, in many cases, they are leading these conversations, too, and bringing various topics and issues back to their residential communities."
As students discuss Allen's book in their First-Year Centers, they will talk about how they want to live and how they want to live together in the Bates community, says Erin Foster Zsiga, the college's associate dean of students for residence life and health education.
"How do they choose to do that?" Foster Zsiga said. "How are these values manifested in their centers and their residential community?"
This year, every First-Year Center will create its own declaration, she says.
---
A range of Bates people have joined the conversation about the Class of 2019's Common Reading, Our Declaration. President Spencer responds to Allen's idea that the Declaration is about the "co-creation of a shared world."

---
Answering those sorts of questions involves introspection, accommodating the points of view of others, and training sessions, many of which will occur during Orientation, as well as throughout the first semester.
For example, all first-year students will receive training in the Green Dot Bystander Intervention Program, which teaches students how to intervene in high-risk situations. The teachings are applicable to everything from physical or sexual violence, to inappropriate language, to dorm damage and more.
Orientation week also has several panel and group
discussions to help students plan their academic experience, explore Lewiston and Auburn, and learn more about diversity and inclusion and student life at Bates.
For the first time, every student (except varsity athletes, who begin practices during the week) will partake in an AESOP trip.
This year, more than 50 AESOP trips offer a widened variety of adventures, voyages, and excursions throughout New England, such as a Habitat for Humanity project, community service opportunities in Lewiston-Auburn, and an art experience on Monhegan Island.
Upperclassmen arrive on Sept. 6, and the academic year will officially kick off on Sept. 8 with Convocation.
View Comments