News Archives
Tuesday
March 20, 2012 4:41 pm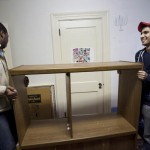 It isn't Mikey Pasek's style to grumble while waiting around for improvement. He makes change happen.
Thursday
September 6, 2007 8:19 am
Students received the rare opportunity to compare 21st-century college life with the Versailles experiences of the French queen Marie Antoinette as Bates College opened its 153rd academic year on Sept. 5.