Convocation 2007: 'An essential rightness about your presence here'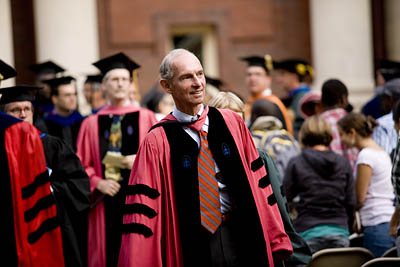 Students received the rare opportunity to compare 21st-century college life with the Versailles experiences of the French queen Marie Antoinette as Bates College opened its 153rd academic year on Sept. 5.
"There is an essential rightness about your presence here," Convocation speaker John R. Cole told the incoming Bates class of 2011. It was an assurance derived from Cole's sly, earthy and erudite interpretation of a correspondence between the teenage queen and her mother, Holy Roman Empress Maria Theresa.
But where the 18th-century empress exhorted the rambunctious Marie Antoinette to trust in her and in God, Cole told some 460 new Bates students to "trust me and my kind, and trust yourselves."
The Thomas Hedley Reynolds Professor of History at Bates, Cole was the featured speaker at a Convocation held beneath cloudless skies on the college's historic Quad.
The incoming first-year and transfer students, along with hundreds of faculty, staff and upperclass students, also heard college President Elaine Tuttle Hansen, who offered an overview of important developments at Bates; the Rev. Bill Blaine-Wallace, the college's multifaith chaplain; Dean of the Faculty Jill Reich; and student government President Bill Jack, whose remarks opened the ceremony.
Introducing Cole as a "historian with a capital H," Reich explained that Cole's role as featured speaker was the result of a Bates tradition, now in its second year, through which the departing senior class each spring chooses a faculty member to welcome the arriving first-years in the autumn. It's a tradition, she said, "that acknowledges that each of us stands on the shoulders of those who have gone before us [and] a tradition that recognizes the fundamental place of the faculty-student relationship in the educational environment and life of Bates."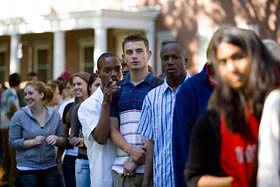 Cole began by briefly conjuring up Harry Potter's Hogwarts as he welcomed the "fellow Muggles and wizards of the class of 2011." But his address — titled Dress Right, Stand Right, Play Right, Ride Right, Write Right . . ., after Maria Theresa's exasperated exhortations to her high-living daughter — gave new students much to consider as they learned about 18th-century mores and customs.
"Month after month, year after year," Cole said, her mother was sending Marie Antoinette "letters of a sort your mothers won't be sending you. 'Are you pregnant yet? Why aren't you pregnant? Get pregnant!'"
As Cole explained, he really wanted his listeners to take from his talk an idea he expressed in two French terms. One was "confiance," a word much employed by Maria Theresa that's a cognate for "confidence" but really expresses a much deeper and subtler concept of trust.
In keeping with the concept of the divine right of royalty, Maria Theresa opened her first letter to her daughter at Versailles with the words: "Vous voilà donc où la Providence vous a destinée de vivre" — "So there you are, where Providence has destined you to live."
Cole told the students, "Whether or not it is God's doing, here you are. There is an essential rightness about your presence here at this stage of your lives — trust me on this. You can be confident in our honesty, our dedication to serving your interests and our professional competence.
"You can also be confident in yourselves and your promise."
But Cole, who called himself a "professed doubter," ended his address with a humorous twist. "Trust me, trust yourselves and good luck to us all," he told the students, but he went on to discuss the essential duplicity in Marie's and Maria's letters to each other.
And Cole concluded, "If anyone tells you once too often . . . 'trust me,' that's a yellow caution signal. And when the speaker is an old man wearing a red dress" —a reference to his own academic gown — "it's a stop sign. Trust me."
Telling her listeners that the "volatility of great institutions is more visible than ever at Bates," Hansen told the new arrivals about important changes under way at Bates. Starting with the construction projects that are changing both the look of the venerable campus and the way students live together, she went on to explain the campus master planning process that is guiding the revitalization of Bates infrastructure.
Noting that the class just arrived will be the first to experience the restructured General Education requirements — "You are the pioneers," Hansen told the class of 2007 — Hansen extended her architectural metaphor to sketch out the new requirements.
Finally, Hansen used her experiences teaching a writing and peer-editing Short Term course to explore the most important development on her list: Bates' redoubled efforts to improve diversity on campus. She described the "Believing Game" concept, developed by writing theorist Peter Elbow, in which the reader seeks not to doubt the assertions on the page but to try to see through the author's eyes and believe what's written.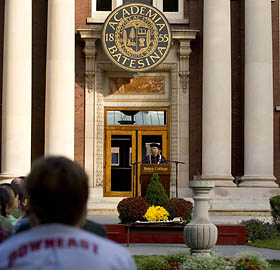 Hansen asked her listeners to bring to their endeavors at Bates this kind of a generous credulity, this willingness to see through others' eyes — "to experience and enter into views that look wildly, and possibly unappealingly, different from the outside, but from the inside can help us test, strengthen, modify and improve our own thinking."
"I'd like to ask you to consider, in the academic year now opening, acting with your freedom and your generosity to enter into those places you have not yet visited — perhaps especially those that seem most alien — and to help those spaces that are under construction by playing, with us, the Believing Game," she said. "I look forward to working together to expand the elbow room at this great college."
---
Related Stories
Sep.12:
Slide show presents memories from Class of 2011 orientation
Sep.6:
Bates students by the numbers
Aug.30:
A look at famed mother and daughter opens Bates' 153rd academic year
View Comments