Lewiston and Auburn, Maine
Historic, walkable riverfronts, and rural surroundings
Lewiston and Auburn, twin cities on the revitalized Androscoggin River, are home to a number of parks and walking trails, along with natural gems such as Lake Auburn and the 357-acre Thorncrag Bird Sanctuary.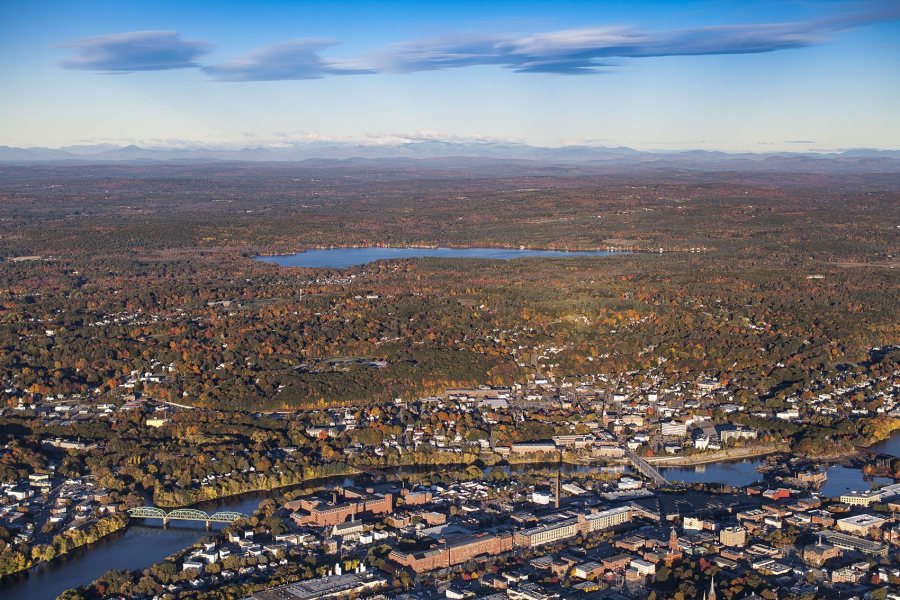 Former mill towns in the midst of a renaissance, the Lewiston-Auburn area (known as L-A) is home to a first-rate professional theater, a symphony orchestra, several art galleries and colorful celebrations like the Great Falls Balloon Festival.
Daily life in L-A has a distinctly French accent owing to the thousands of French Canadian immigrants who came to work in textile mills powered by the Androscoggin River in the mid-19th century.
More recently, Lewiston has seen the arrival of new residents, including a vibrant Somali and Togolese population.
---
Lewiston/Auburn in brief
Population
107,552 in the Lewiston-Auburn Metro Area; 58,893 in the twin cities; second-largest metropolitan area in Maine.
Location
40 minutes north of Portland; one hour from the ocean or mountains.
Arts
Galleries and museums; a historical society; performing arts groups, including a classical music society and Equity theater.
Shopping/Dining
A downtown shopping area and several shopping centers; two multiplex cinemas; more than 80 restaurants, offering a wide variety of styles and cuisines.
Outdoor Recreation
Four golf courses, 2,260-acre Lake Auburn, the Androscoggin River, several natural parks, freshwater beaches, and ski areas. Ranked the 31st healthiest community in the country by Business/Development Outlook, a trade magazine.
Job Opportunities
Included among the major employment fields are health care, printing and graphics, banking, telemarketing and developing technologies.
More
---
A distinctive regional culture of tradition and innovation
One of the attractions of Bates is the opportunity to live in Maine, which is known for its coast, north woods, mountains, lakes and rivers, as well as safe mid-sized cities and villages.
Explore New England
Each of northern New England's four seasons is distinct: crisp, colorful falls, snowy winters, fragrant springs and warm, verdant summers. Abundant options for recreation, entertainment, and community engagement lie nearby.
Bates' tree-shaded campus in Lewiston is equally handy to the rugged Maine coast, the White Mountains and the Lakes Region. The seaside city of Portland and Freeport, home of outdoor outfitter L.L. Bean, are each within a 45-minute drive.
The 574-acre Bates-Morse Mountain Conservation Area, protecting rare salt marsh and dune beach ecologies, is a fertile resource for students engaged in scientific research and other education programs.