Slideshow: 28 favorite Bates photographs of 2015
When you apply to Bates, you share what you've learned from the unexpected events and challenges in your life.
In the spirit of telling stories about the unexpected, Bates photographers Phyllis Graber Jensen and Josh Kuckens have offered to share brief stories about their favorite photographs of 2015.
"We keep an eye out for the unexpected, and Bates always delivers," says Phyllis.
Flight of the Frisbee
Held during Orientation, AESOP is the college's outdoor program for first-years, and it's a distinctive experience that calls for distinctive photography. Following one group, I spent two hours at Mount Blue State Park creating long-exposure images of the campfire and Milky Way while taking advantage of some above-average Frisbee talent. — Josh Kuckens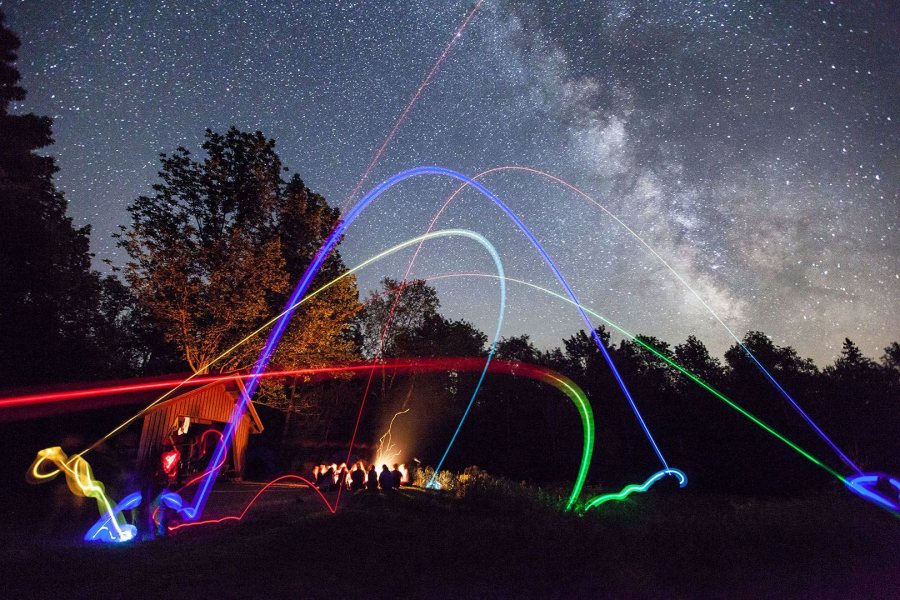 ---
Festival of Silhouette
I joined Bates students who crossed the Androscoggin River on Dec. 6 to join a first-night-of-Chanukah party at Temple Shalom in Auburn, where Auburn Police Chief Phil Crowell lit the synagogue's "mega-menorah." It used to have flame candles lit with a blow torch, but this year the flames were traded for LEDs. When I heard about the change, I wondered how it would translate into a photograph. No smoke? No flickering flame? But the beautiful Maine dusk provided a dramatic backdrop, and another silhouette was born. I'm a sucker for them. — Phyllis Graber Jensen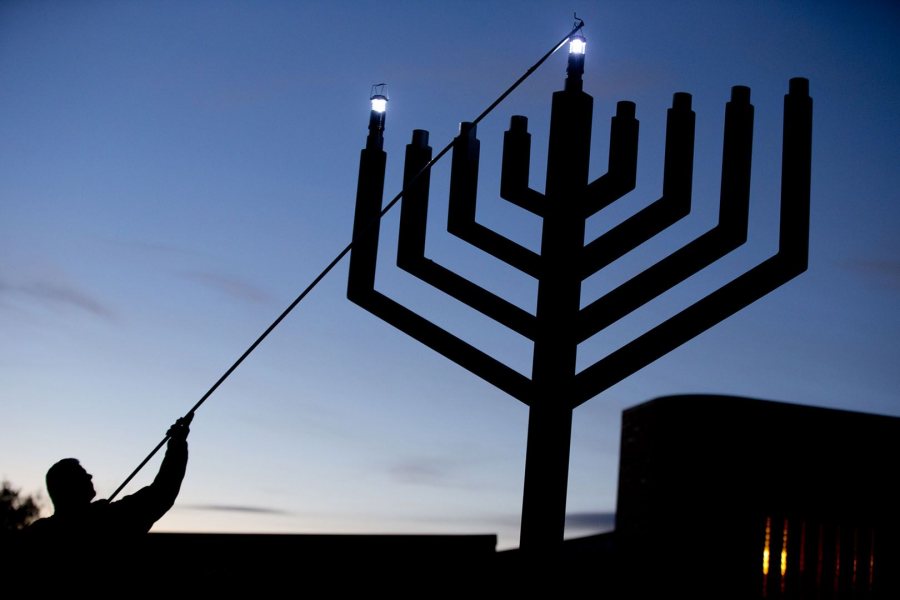 ---
The Sack Heard 'Round the World
The Bates defense was in the Bowdoin backfield constantly during the CBB title game, so I started to focus on the opposing quarterback, hoping to capture a sack. When shooting with a long (read: gigantic) telephoto lens, your field of view is incredibly narrow, and you rarely see the players' entire bodies in the viewfinder — unless, as in this case, everyone gets horizontal. — Josh Kuckens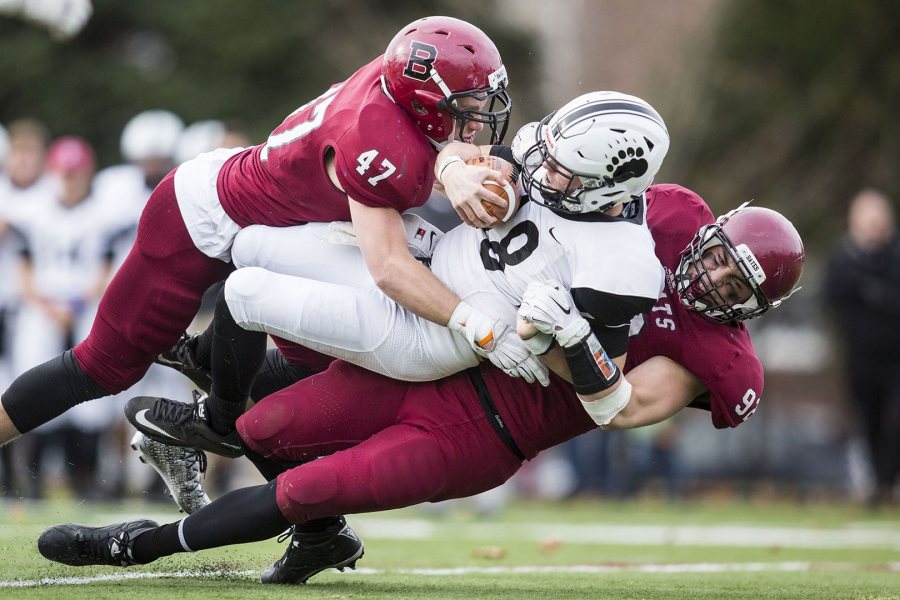 ---
It's Better with Music
Wild emotions swept over me as I photographed a dress rehearsal for Dat Club. As I stood at the foot of the Schaeffer Theatre stage and listened to the anthem "And I Am Telling You," I almost fainted with pleasure: It was like being back in a wet darkroom, printing photos while listening to music. The prints always looked better with a soundtrack. — Phyllis Graber Jensen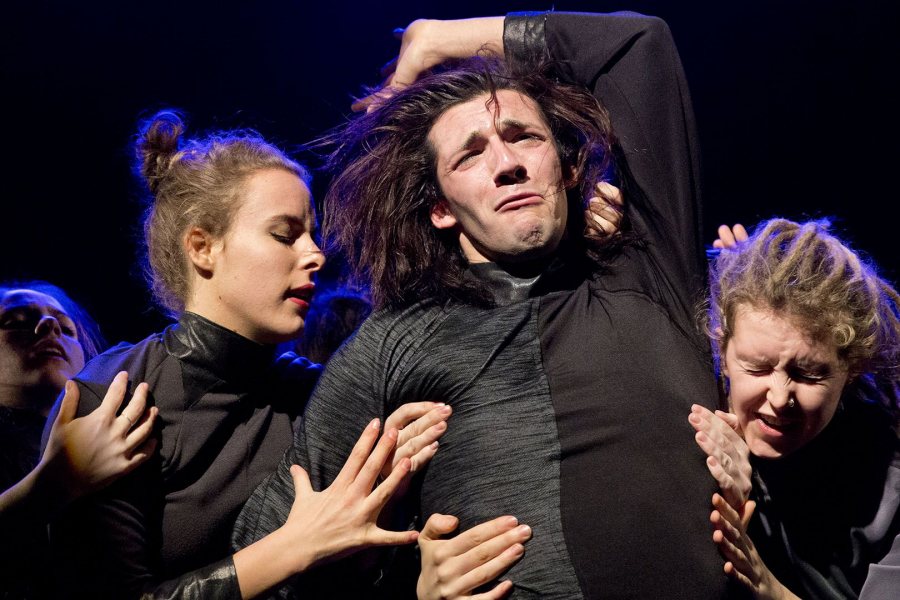 ---
Sunset Skip
I photographed a cohort of geology students in August, and they were a hospitable group. Besides inviting me to join them for dinner, they welcomed me on their short trip down the road to Hermit Island, where we had front row seats to a breathtaking sunset. Nathan Stephansky '17 added his own mark to the canvas with some rock skipping. — Josh Kuckens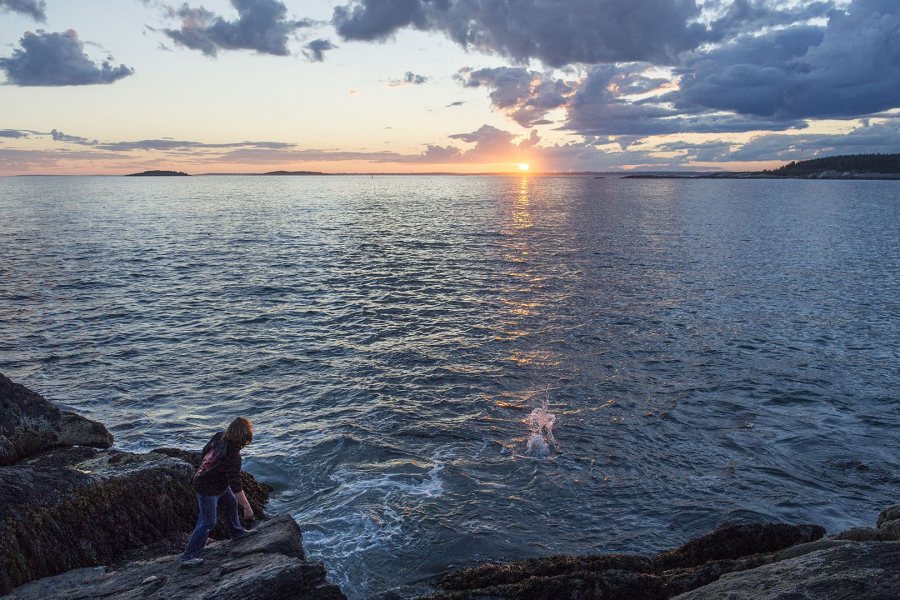 ---
Dining Together
The expressions on these students' faces radiated warmth and affection during a campus storytelling event, so I moved in as close as I could to bask in the their glow. — Phyllis Graber Jensen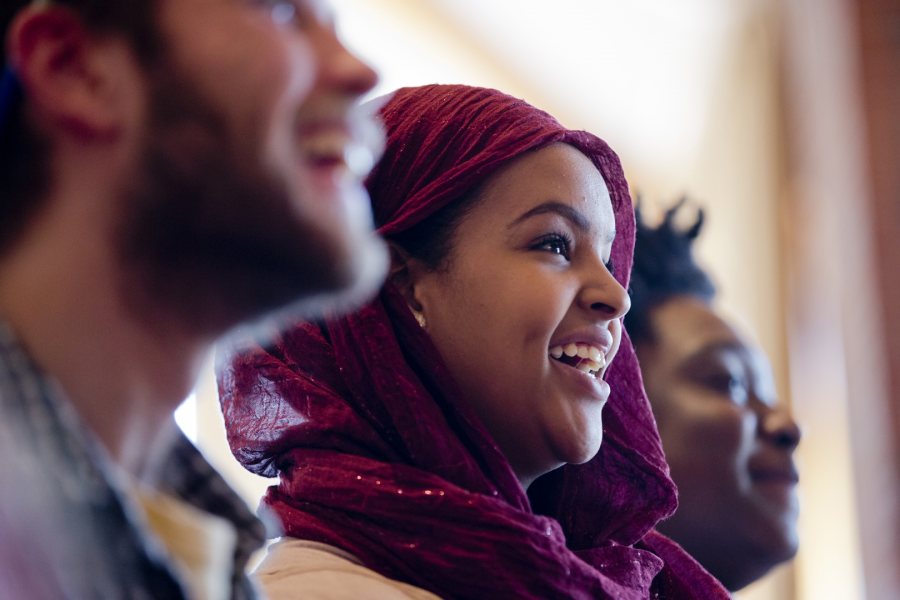 ---
No Drones About It
Dean of Students Josh McIntosh takes flying lessons, and I joined one of his flights. After we took off from Twitchell Airport in nearby Turner, Josh and the instructor took us over campus to see peak foliage. Contrary to comments posted on social media about this image, lots of aerial photography is still done by pointing a camera out the roaring window of a small airplane — no drones to speak of. — Josh Kuckens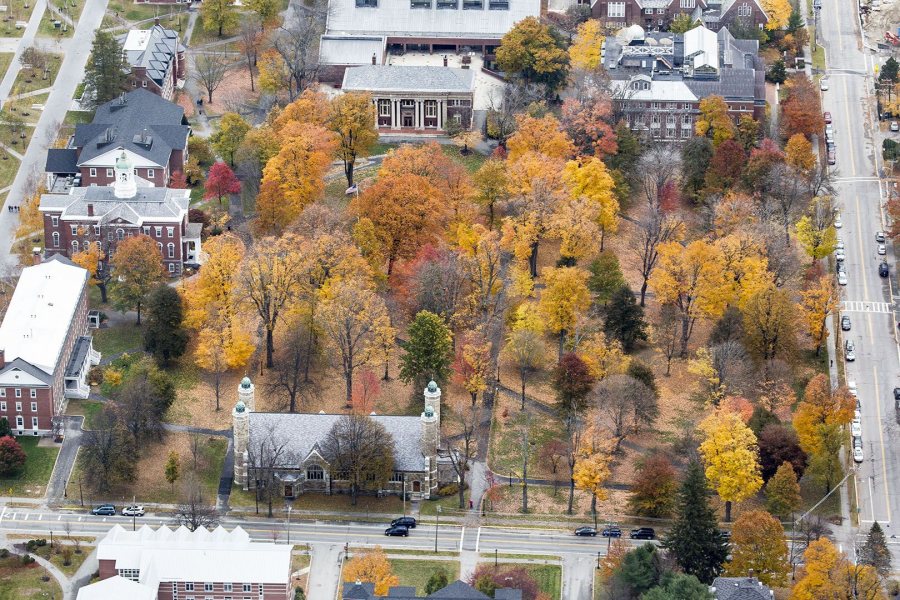 ---
60 Is the New 30
A native Mainer, Sarah Stanley '16 nevertheless admitted that she was "no match" for the Jan. 27 blizzard. Me, I decided to spend the day documenting the storm, in part to prove that at age 60 I was still tough enough to provide — effortlessly! — comprehensive coverage of everything that happened. — Phyllis Graber Jensen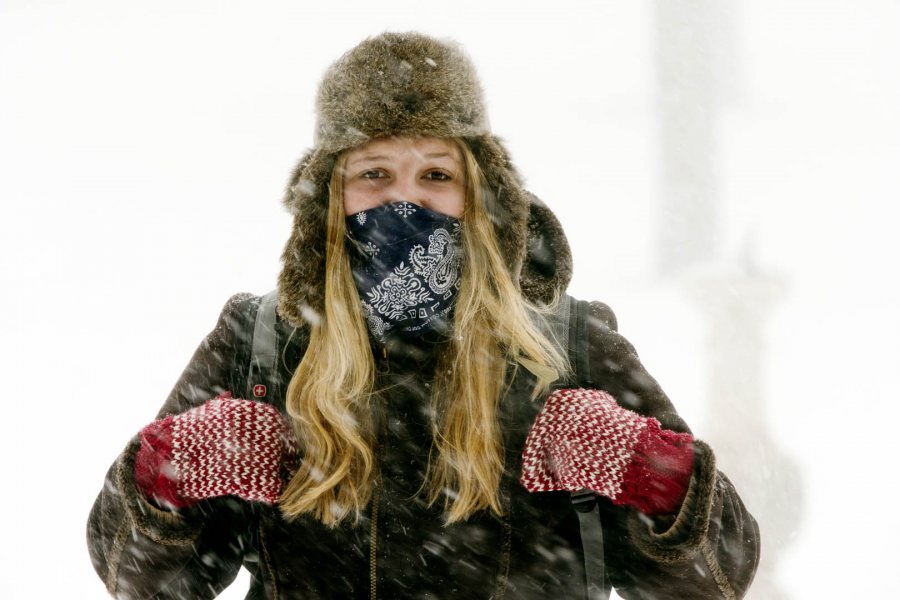 ---
First-Year Assembly Line
I attended a large university, so Bates' intimate move-in day was new sight. Volunteers formed a bucket brigade, passing items from packed cars to the main doors of Smith Hall. Incoming students had their entire room whisked up the stairs in a matter of minutes, leaving them plenty of time to argue with their parents over where to put the refrigerator. — Josh Kuckens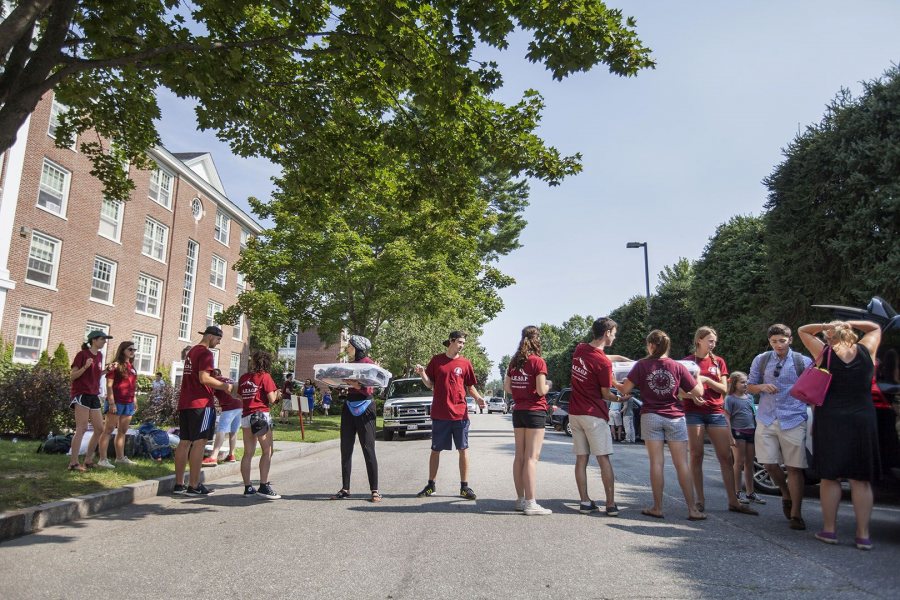 ---
Leaping Libby
I play tennis every Friday morning in Merrill Gym, so I felt relaxed while photographing the women's varsity tennis team competing against Smith — so relaxed that I never expected Libby Voccola '17 to nearly leap into my lap. Shooting with a zoom lens, I widened my field of view and right away knew that I got the picture. — Phyllis Graber Jensen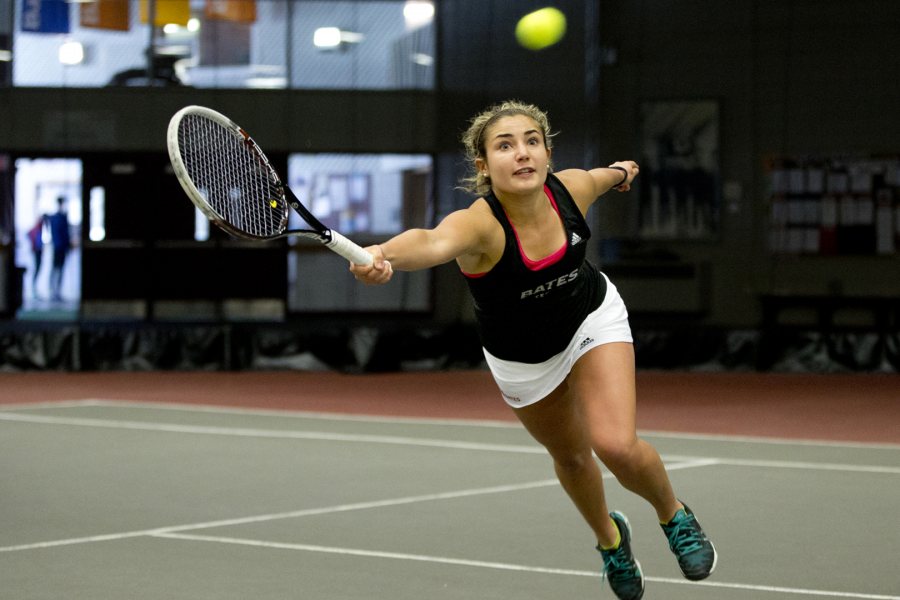 ---
Fireproof But Not Reflection-Proof
After being outfitted with the proper eyewear, headgear, and safety vest, I photographed the site at 55 and 65 Campus Avenue where Bates is building two new residence halls. Catching my eye here was reflection and contrast: vibrant July greens vs. the monochrome palette of the construction site, particularly this worker, who was coating steel beams with a gray fireproofing paste. — Josh Kuckens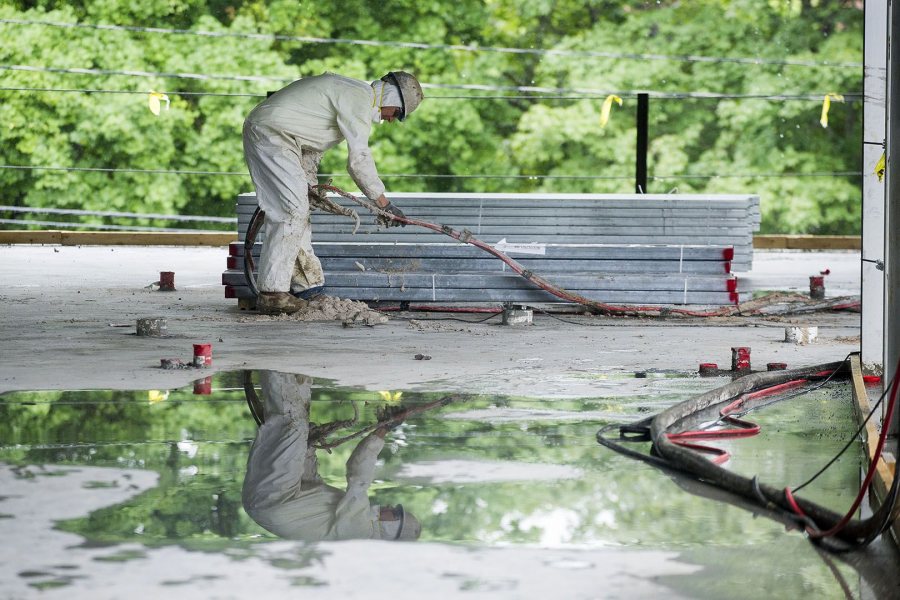 ---
Listen and Learn
The last time I photographed Eben Miller '96, he was a Bates sophomore, in the woods, teaching schoolchildren at an Auburn environmental summer day camp. Now, he has a doctorate and is at Bates as a lecturer in environmental studies, listening to students discussing strategies in the face of climate change. — Phyllis Graber Jensen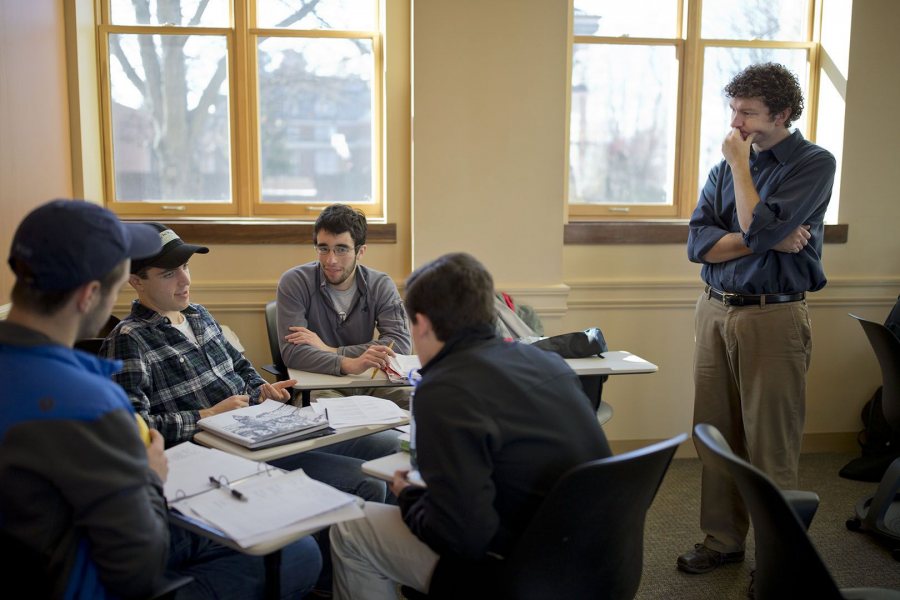 ---
The Photographer Will See You Now
Phyllis Graber Jensen and I photographed a number of student internships last summer, including this one, showing Alex Eaton '17 posing in an operating room at Central Maine Medical Center, where he was a Purposeful Work intern. One of my professors said that photography is a "backstage pass to life," and this was one of those times. — Josh Kuckens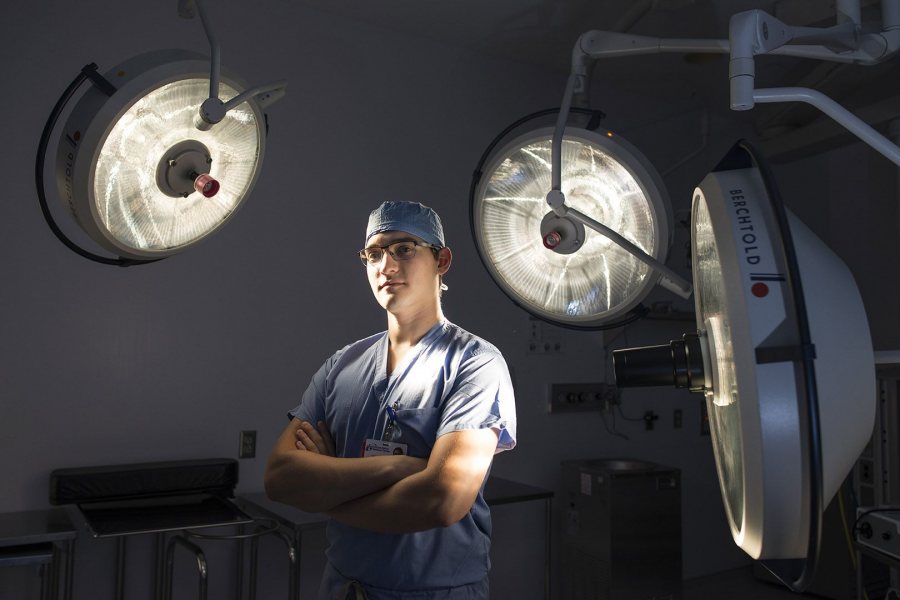 ---
Dance Family
I know what love looks like when I see it. This was it. Stopping by Schaeffer Theatre, Marcy Plavin, founder of the college's modern dance program, shared a moment of merriment with Rachel Segall '91 and Michael Foley '89, who had returned to campus for an alumni dance reunion that honored Plavin. — Phyllis Graber Jensen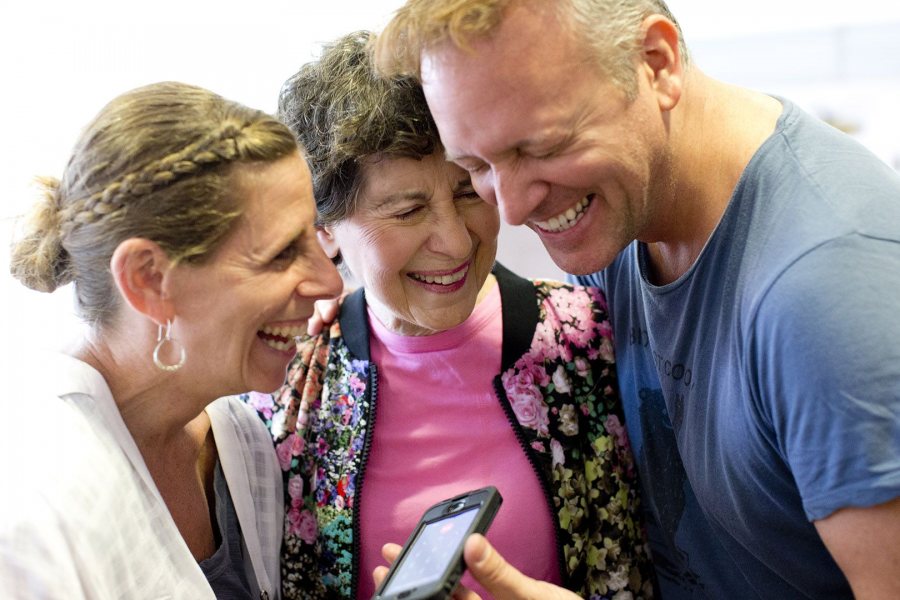 ---
Fire on High
Journalistic photographers shooting at night have to deal with low ambient light, but this roaring and bright bonfire during Reunion Weekend offered me refuge from that challenge. (Don't worry about those sparks: Jim Guzelian of the Environmental Health and Safety staff keeping a watchful eye!) — Josh Kuckens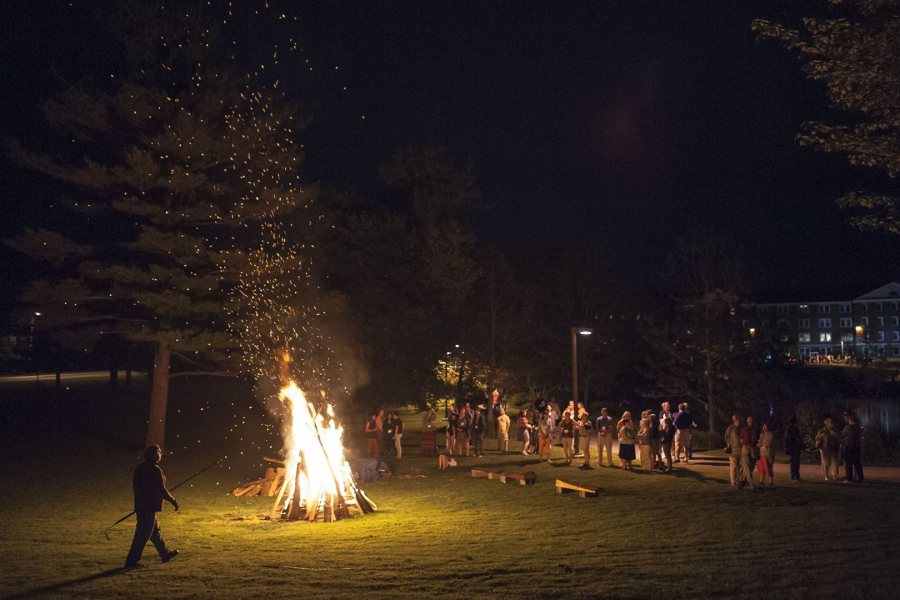 ---
Knuckle Sandwich
It's compelling to photograph what you don't understand. Paden Brunault '17 does a boxing-and-cardio workout twice a week and lifts weights three times a week. The bloody ardor, the passionate discipline? It doesn't add up for me. "Tired feels good," he tells me, and that I get. — Phyllis Graber Jensen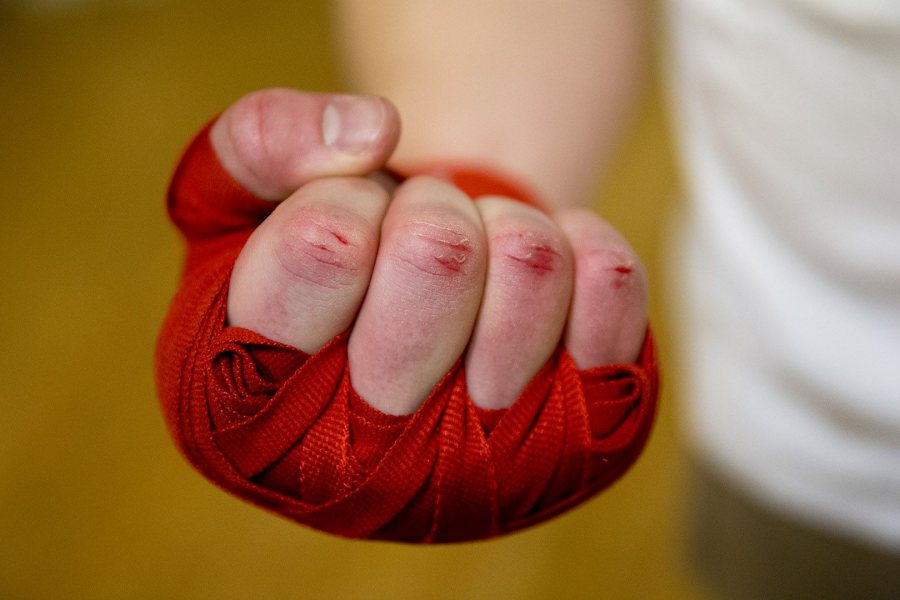 ---
Microconcentration
Learning and concentration are difficult concepts to capture in photographs, but sometimes all you need to do is get close. Armando Morales Urrutia '16 ponders microcontrollers during Short Term. — Josh Kuckens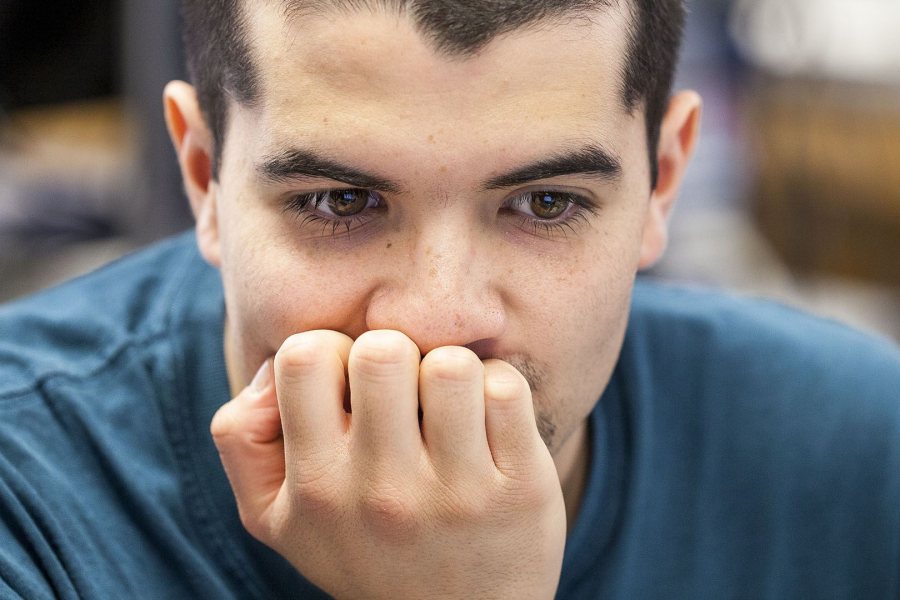 ---
A Change in Plans
Gorgeous fall colors and late-afternoon light stopped me in my tracks as I crossed campus to attend a welcome reception for my new boss, Sean Findlen '99. After pleading with a few students to stay where they were, I raced to the top floor of Hedge Hall, removed a screen, leaned out the window, and fired away. — Phyllis Graber Jensen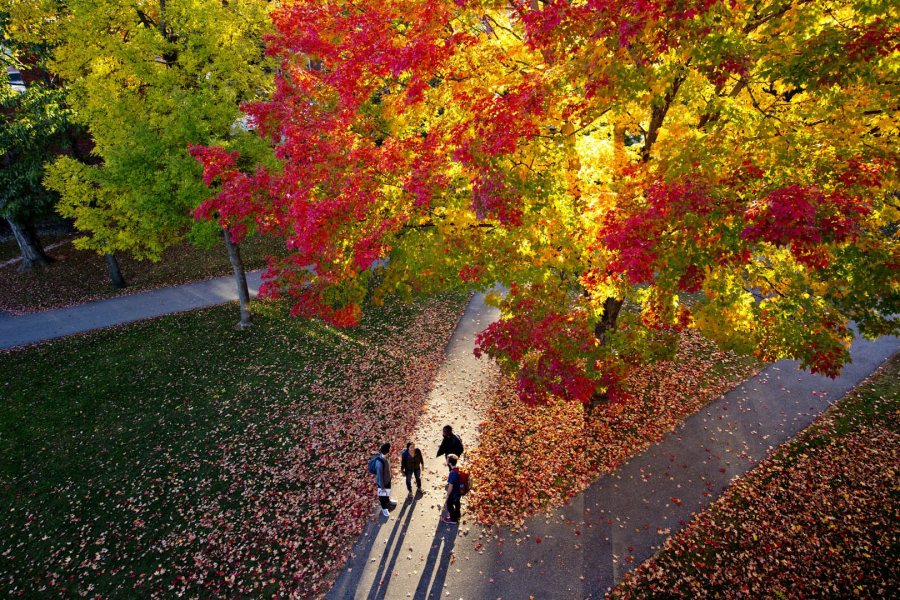 ---
All Wound Up
As a baseball fan, I'm fascinated by the softball pitching motion. While not exactly the opposite of the baseball motion, it's very different despite achieving the same result: the ball crossing home plate. Pictured in the waning April afternoon light is Kelsey Freedman '15. — Josh Kuckens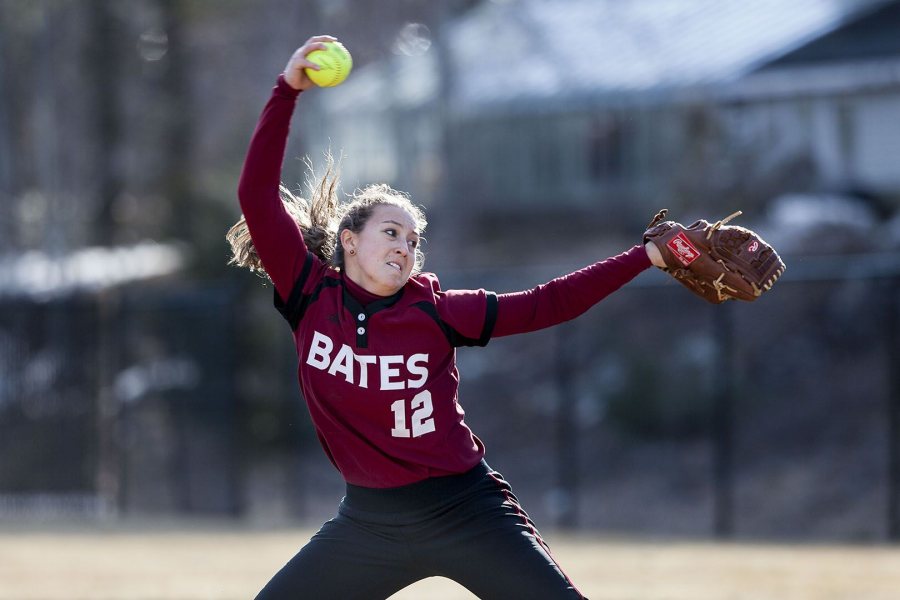 ---
Cut It Out
Before the raucous annual Puddle Jump began, still water in the freshly opened hole in Lake Andrews reflects the clouds above. I love that there's not a jumper in sight. — Phyllis Graber Jensen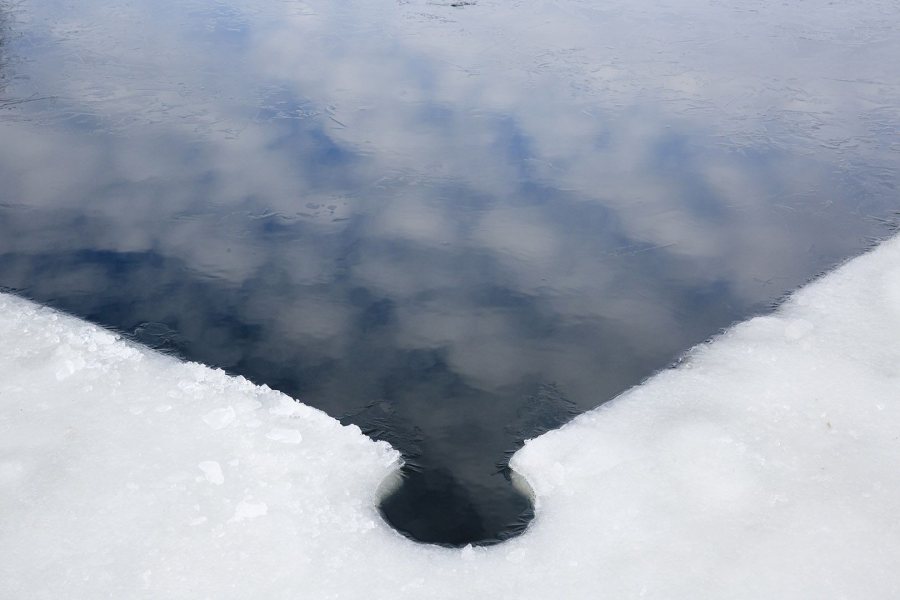 ---
River Cruise
On a cold April day on the Androscoggin River, I became one of rowing coach Peter Steenstra's many responsibilities. Besides playing host to visiting rowing teams, officiating races, and coaching his own rowers, he watched out for me, perched at the bow of his small boat. — Josh Kuckens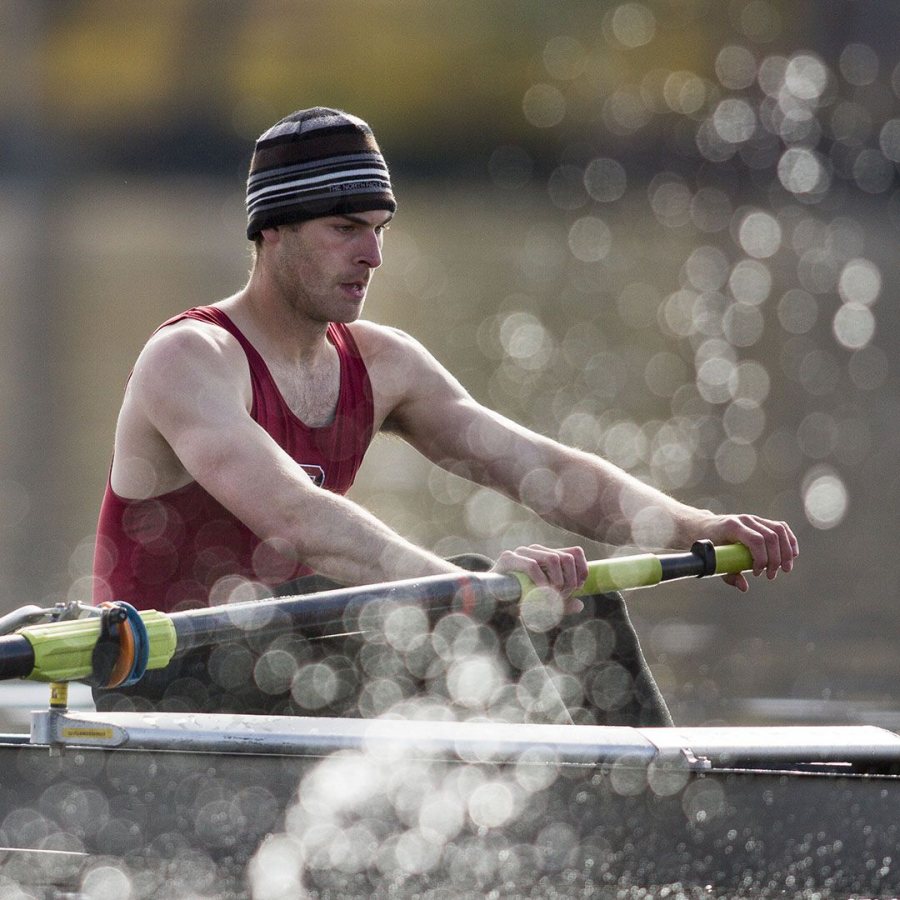 ---
'Admonishing Smile'
Leave it to physics and astronomy lecturer Gene Clough to quote Emerson while looking at Venus through a telescope outside Carnegie Science Hall: "Every night come out these envoys of beauty, and light the universe with their admonishing smile.'" Gene has an "admonishing smile" as he waits to share his star gazing with others. — Phyllis Graber Jensen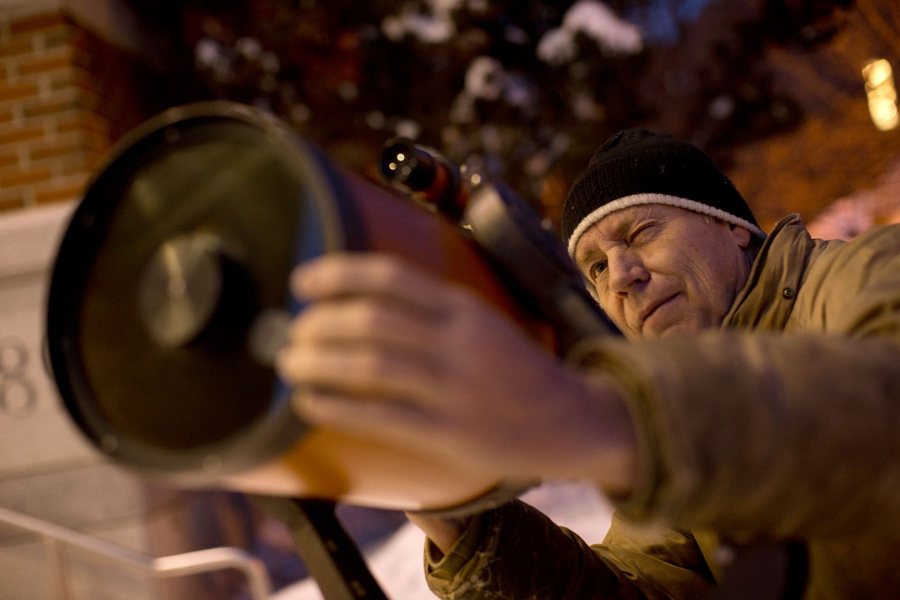 ---
Catching Their Drift
As I left the office on the evening of April 8, a snow squall passed through town. The snow made the sky above Garcelon Field glow, so I headed over, where I found the Ultimate Frisbee club practicing on what looked like Lambeau Field in January. Sometimes getting the shot is as simple as the old saying: "Get there early and stay late." — Josh Kuckens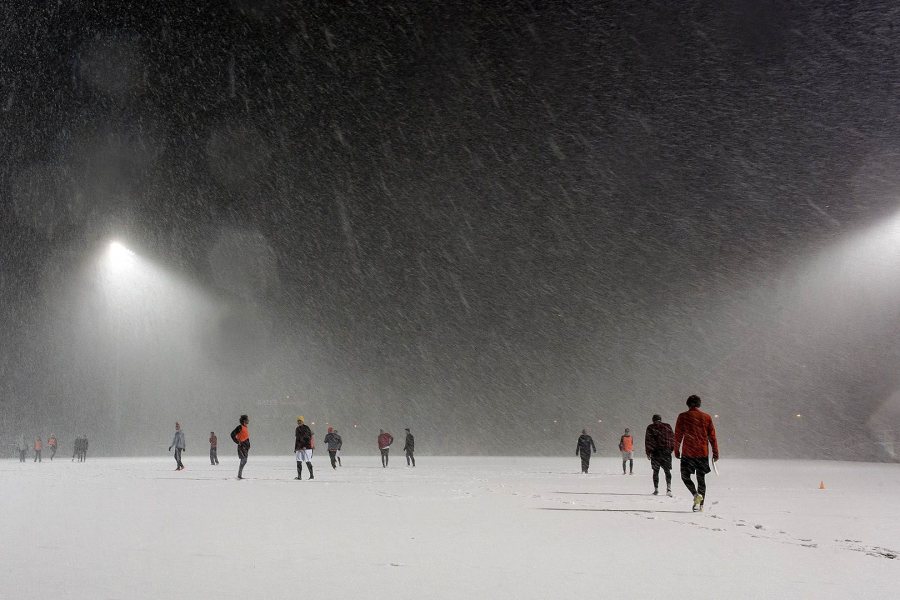 ---
As Told To
I spent a week last May photographing students in Kingston, Jamaica, during Short Term. At left, Gideon Ikpekaogu '17 and Alexa Adams '17, with community leader Melbourne Absolom, conduct an ethnographic interview with a young mother about her life and about her hopes and dreams for her children's future. They're listening to her. It's an act of love and respect. And an important part of learning. — Phyllis Graber Jensen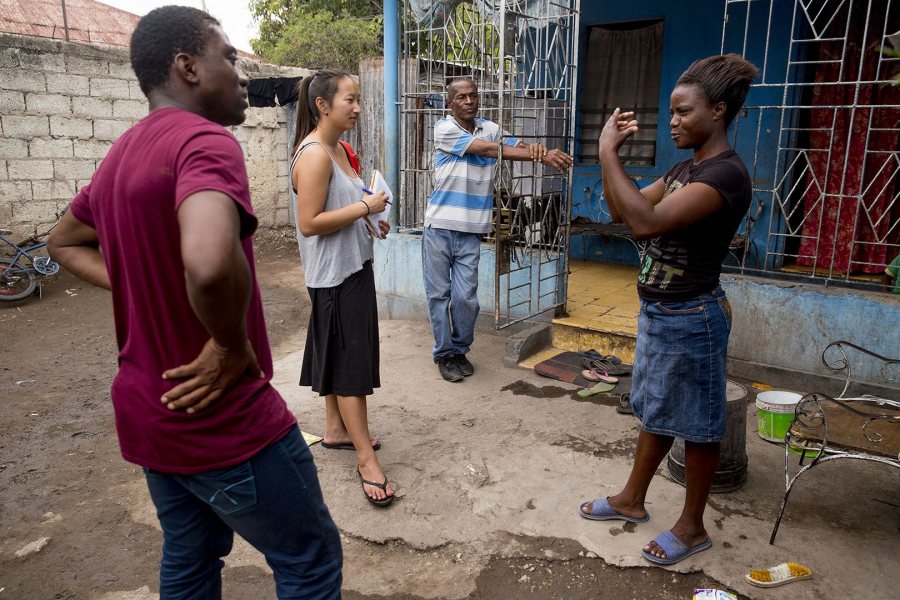 ---
See and Bee Seen
Of all the special gear I've worn on this job — for construction and hiking come to mind — donning a bee suit to cover the visit of a Short Term chemistry class to an apiary, was the most memorable. Lesson learned: Bees are too busy to sting when they're at work. (Me, too.) — Josh Kuckens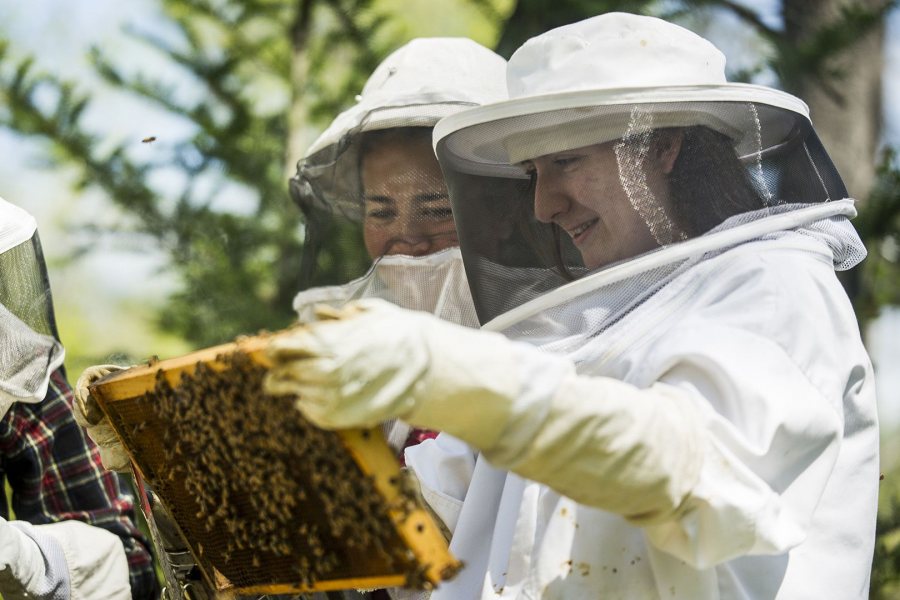 ---
Wild Welcome
The setting was the NCAA men's lacrosse tournament game last May. I was working in the student section of the Garcelon Field grandstands when I decided to cross the field and try another angle. Almost as soon as I left, President Clayton Spencer arrived, and the crowd went wild. As I photographed the scene from the other side of the field, I cringed. Why hadn't I stayed in the student section? But later, I realized that shooting from a distance enabled me to provide the context necessary to tell the story. Closer isn't always better. — Phyllis Graber Jensen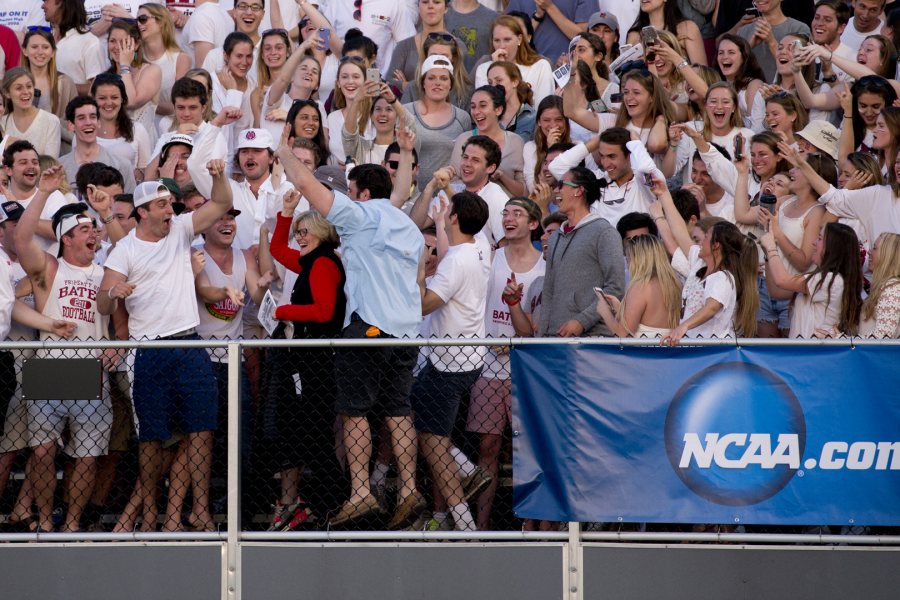 ---
Ready for My Dust-Up
I was recording video at a campus fun-run, part of Holi celebrations, when Kevin Deng '15 approached my camera lens with colored dust in hand and a devious smile on his face. I figured that photography was best for what was coming next. — Josh Kuckens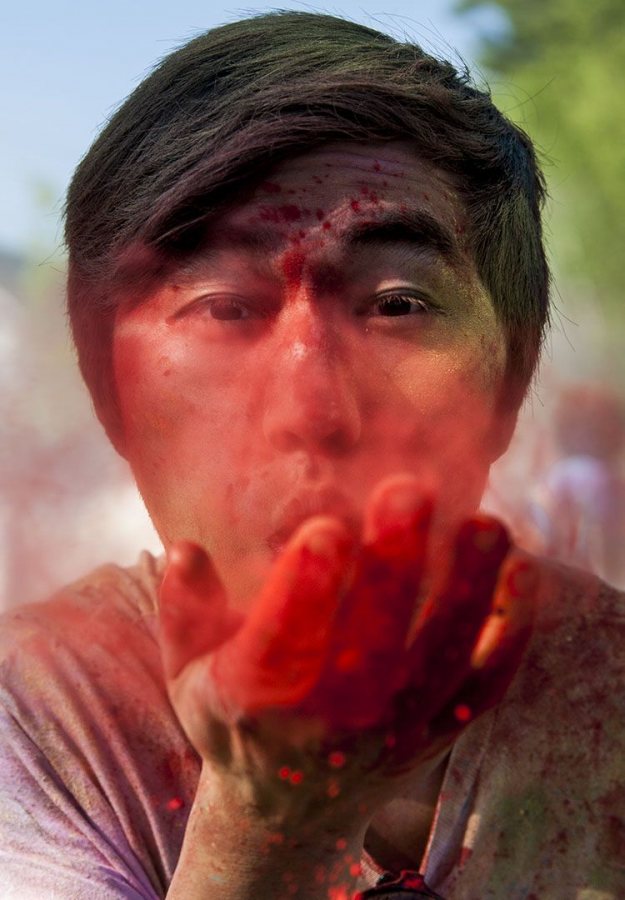 ---
Tuba or Not Tuba
Each year, music from the Blue Hill Brass is delightful addition to the Alumni Parade at Reunion. I don't know Paul Greenstone, shown here on his tuba, but I feel as if I do, since I see him and his fellow musicians each June. The challenge, of course, is how to translate a familiar sight into something different. Shoot from a higher angle? Crawl on my stomach? Back away? In this case, I got tight (as in close, not drunk). There are no guarantees that any of these approaches will make a better picture, but it's always worth a try. — Phyllis Graber Jensen