Visiting
December 17, 2021 Update: Please be aware that the road over the Sprague Marsh occasionally floods during high tides. Typically, the road is flooded on tides that are 9.5′ and higher and the road is impassable approximately an hour before and after the time of high tide. Plan your trip accordingly.
In December and January, the road will flood on the following dates:
December 30 – high tide is 7:32 am
December 31 – high tide is 8:26 am
January 1 – high tide is 9:19 am
January 2 – high tide is 10:13 am
January 3 – high tide is 11:06 am
January 4 – high tide is 11:59 am
January 5 – high tide is 12:52 pm
January 6 – high tide is 1:47 pm
January 7 – high tide is 2:41pm
January 28 – high tide is 7:07 am
January 29 – high tide is 8:08 am
January 30 – high tide is 9:07 am
January 31 – high tide is 10:03 am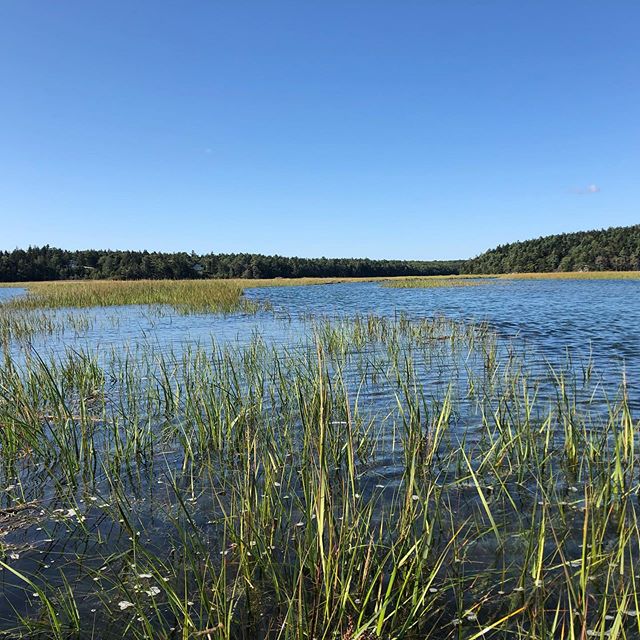 In order to preserve the natural communities of the Bates Morse Mountain conservation area and promote research activities, we ask that visitors respect the following guidelines.
Access is during daylight hours only. When the parking lot is full, additional cars will be turned away. There is no additional parking in the area. During the summer months, the parking lot is often full by 10 AM. Please plan your trip accordingly.
Enter on foot only. The only vehicles allowed are those of researchers, residents, staff, or services.
Bathroom facilities are not available on site. Nearby public beaches provide these amenities: Head Beach at Small Point – 2 miles south on Route 216; Popham Beach State Park on Route 209.
Leave no trace. Carry out everything that you carry in.
Dogs are not allowed. No dogs (or other domestic pets) are allowed in any season.
Fires and camping are prohibited.
Do not bring: Beach umbrellas, cabanas, radios and similar appliances, balls, kites, or bicycles.
Stay on the road and the hard beach surface. Do not climb on the rocks and ledges, or go into the back beach or dunes to protect fragile natural communities.
Respect ongoing research. Please do not disturb or remove markers, plants, or animals.
Protect the piping plovers and least terns. These birds nest and raise young on the beach sand. If nesting birds are disturbed, they may abandon their eggs or chicks. Please stay on the road or hard beach surface, away from marked nesting areas, and away from any birds showing protective behavior.
Please do not go past the red pole on the beach. The pole is at the dune edge, about a half-mile west (to the right) of the beach entrance.
Driving Directions: