Q&A: Bates Commencement senior speaker Rishi Madnani discovered a 'big part of who I am' at Bates
This year's Senior Address at Commencement will be offered by Rishi Madnani '23 of Langhorne, Pa., who came to Bates in fall 2019 with two major expectations about his path forward.
Both were quickly upended, but neither because of the expected culprit, the worldwide pandemic, which very easily could have defined the Class of 2023. Their college experience was perhaps the most sidelined by COVID, starting with being sent home in March of their very first year.
How to Watch Commencement
Livestreamed on the Bates website and the Bates Facebook page, the 157th Bates Commencement ceremony begins at 10 a.m. on Sunday, May 28. The academic procession begins arriving at Coram Library at approximately 9:20 a.m. The livestream kicks off at 8:45 a.m. with pre-recorded segments celebrating the Class of 2023.
Instead, for Madnani, the son of immigrants from India, the altered expectations had to do with his career and culture. In terms of the former, he planned to focus on theater at Bates. That changed. With the latter, he didn't expect to miss the Indian culture he'd been bathed in since childhood as much as he did.
Bates represented Madnani's opportunity for a role reversal, a chance to be true to himself and the possibilities of self-evolution. He quickly found great purpose in pre-medical studies and the idea of being a researcher, physician, and advocate for change in the sciences. On Sunday, he will graduate as a biochemistry major with membership in Phi Beta Kappa.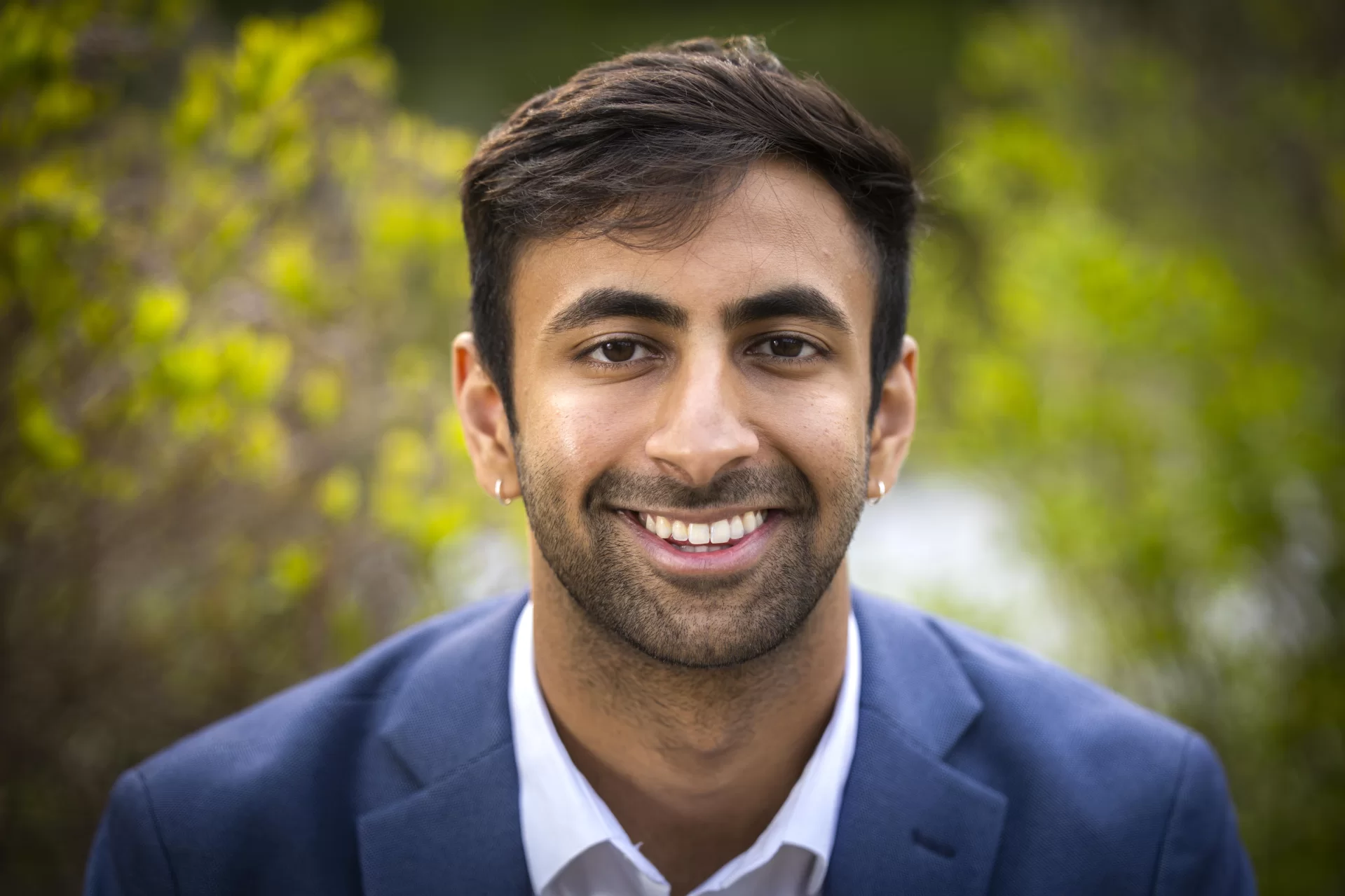 He became an advocate for South Asian culture and inclusion on campus, founding and being president of a new program of student community, the South Asian Student Association. He served as a Student Government class representative and as a student liaison on the college's Student Affairs Committee.
And he never stopped his engagement with the humanities and social science courses that instructed him on the big picture and his place in it.
Freddie Wright of Bates Communications spoke to Madnani recently, and here is an edited selection of his remarks.
A basic question: Why did you want to give the senior address?
It's been a dream of mine. I really love the Class of 2023, so it's an incredible honor to be able to speak to all of our families and the faculty and staff who helped us get to where we are.
I'm also an actor at heart. I just love public speaking — I can't lie.
So tell us a little bit about that "actor at heart." You came to Bates thinking about theater, and now you're graduating with a biochemistry major.
Acting was my childhood dream. I arrived undecided but thinking I wanted to be an actor. Freshman year I was in a production of LOVE/SICK. But I kept doing pre-med courses on the side. And once I took organic chemistry, it was like, "I can't deny it any longer. I love this."
On paper, my progression looks like going from wanting to be an actor to wanting to be a doctor. People might think, "Indian parents. They probably told him, 'Be a doctor!'" But they were very supportive of me.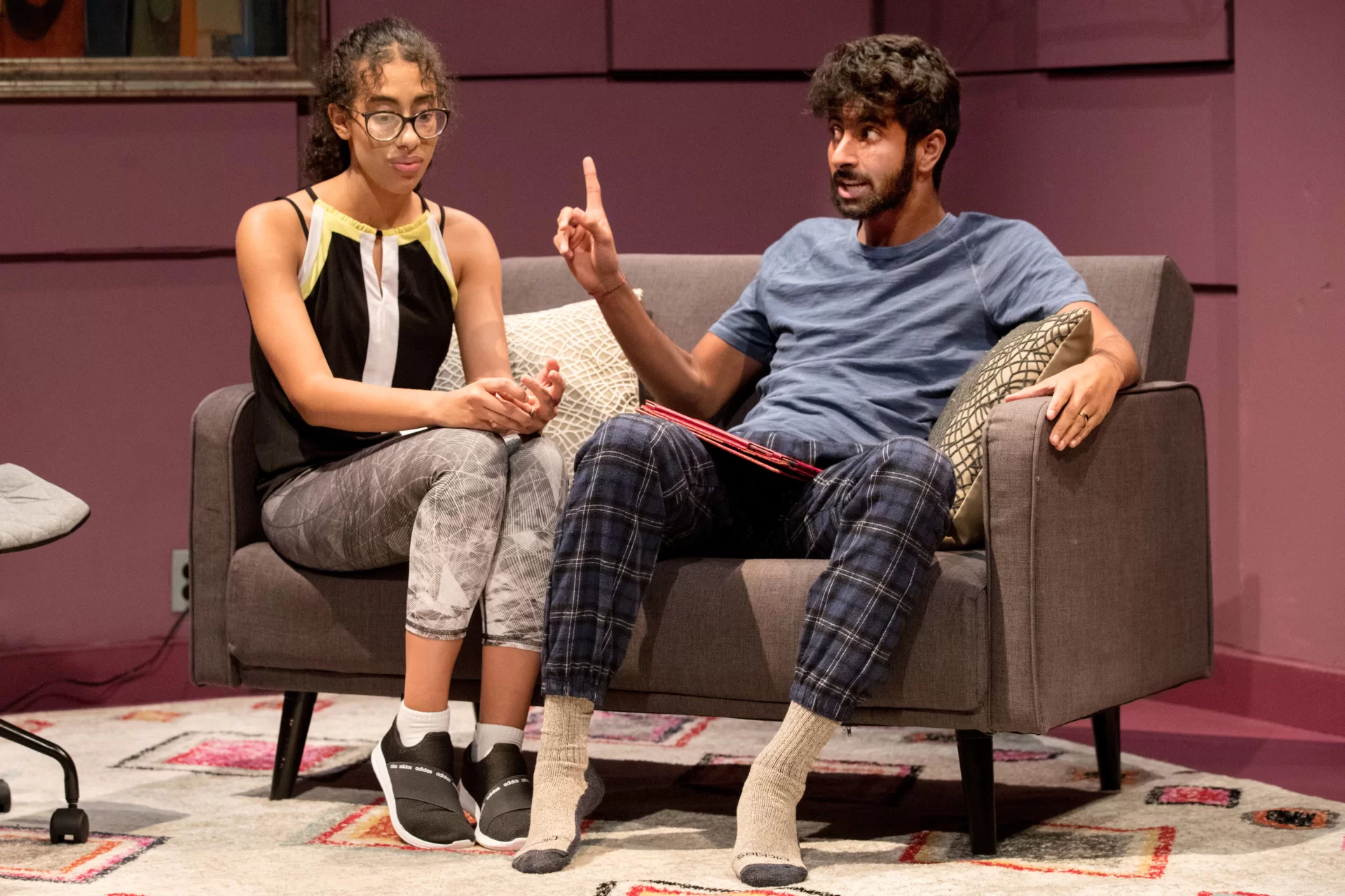 My parents are both physicians, and as the son of immigrants from India, there are certainly stereotypes imposed upon me. For the longest time, I wanted to go against the grain. I didn't want to take the safe, expected route. I suppressed it: "I can't be a doctor. I can't do anything sciencey."
But I realized that careers aren't one dimensional; I don't have to "give up" acting. For example, there's a definition of acting by Sanford Meisner: "Acting is the ability to behave absolutely truthfully under the imaginary circumstances."
If you think about it, that's an effective definition for empathy. The ability to behave truthfully while imagining someone else's circumstances and lived experiences is how I think about empathy, including clinical empathy.
What do you mean by clinical empathy?
Especially in the U.S., our healthcare system operates on a fundamental divide between provider and patient. That's bound to exist because of the power dynamic that exists between those two parties. An effective way to bridge that gap and produce better patient outcomes is to use clinical empathy. You try to understand your patient's life circumstances, their story, their background, their beliefs, and the advantages and disadvantages they face.
Essentially, you use the empathic skills that we all have as humans. My junior year, I took "Literature, Medicine, Empathy" with [Professor of English] Lillian Nayder, and a guest speaker was [Kelsey Professor of Neuroscience] Nancy Koven. Believe it or not, there is a neuroanatomical basis for empathy. Capitalistic and individualistic notions of thought and behavior might obscure it, but it's there.
You've done Purposeful Work summer internships while at Bates. What would you say to a student about the value of an internship?
I interned in an OB/GYN research lab at Brigham and Women's Hospital for two summers. Those were among the most formative experiences that I've had in my four years. And I can't thank Purposeful Work enough — they were the ones who linked me with this lab and funded me for the first summer. Complementing my curriculum at Bates with this real-world learning experience helped me refine exactly what I want to do, concretely and tangibly, in my life.
You have been active in diversity, equity, and inclusion issues at Bates, including starting the South Asian Student Association. What prompted you to start SASA?
I was raised in a very Indian household, but for a lot of my life I had a conscious desire not to engage too heavily with my culture. I didn't grow up in a large South Asian community, so I felt that I had to conform to what the media and society around me told me I should do, to look and act like the people around me. I didn't see South Asian culture with the same beauty, brilliance, excellence that I do today.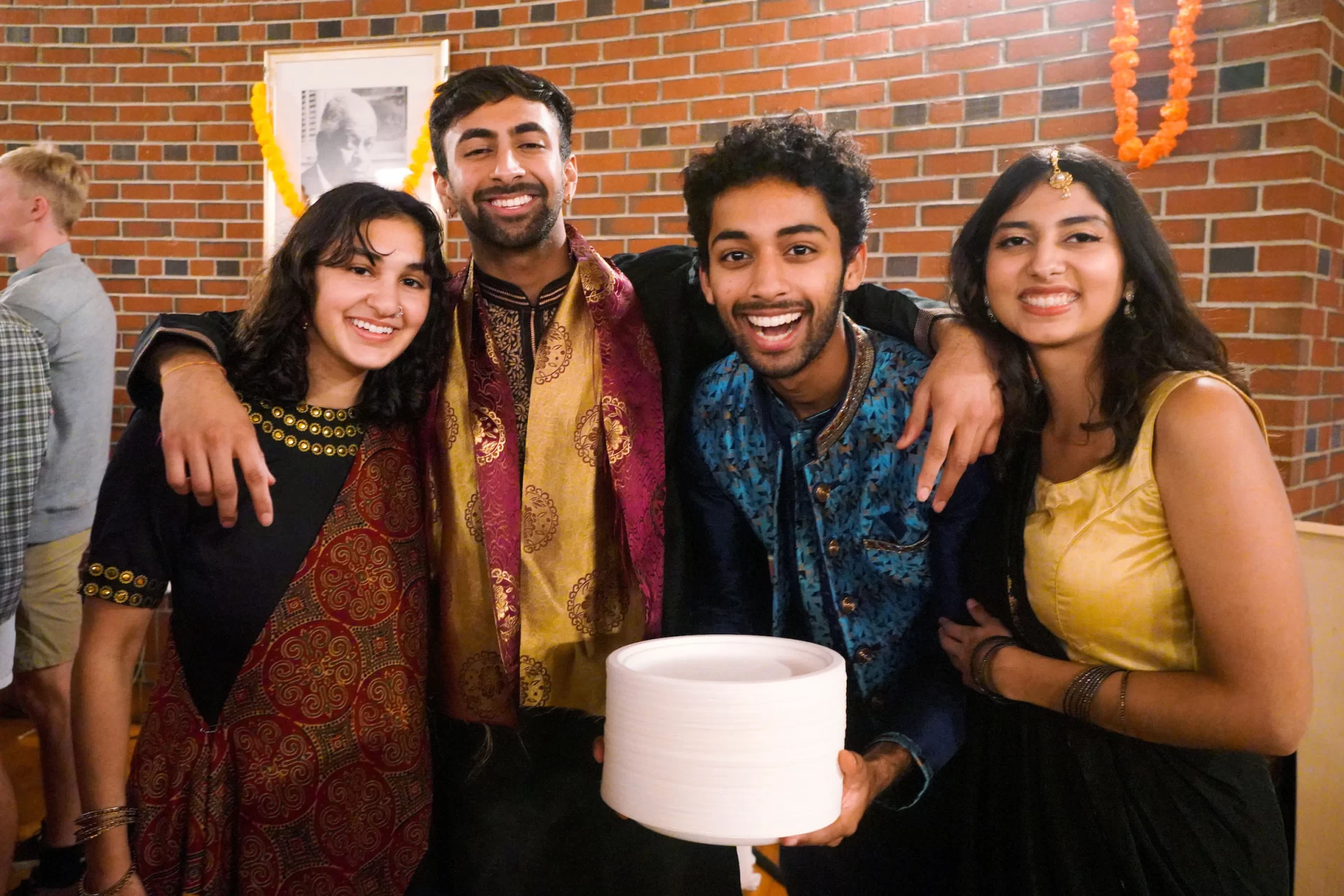 Coming to Bates, a lot of that got turned on its head. Once I was in an environment where I didn't have my family and didn't have this cultural context constantly surrounding me, I was like, "Shoot, I need that. That's who I am."
So on the one hand, freshman year, I was super deep into the Bates community. I was really feeling it, loving it, having a great time. But at the same time there was something missing, a big part of who I am. How can I change that? How can I fill that gap for others who are feeling the same thing?
Truthfully, it was more than filling a gap. It was also advocating for ourselves and advocating respect for our culture. For example, maybe saying something about people practicing yoga in whitewashed and inauthentic ways. I think everybody can benefit from yoga, but did you know it was banned in India during British colonial rule?
There's been a lot of support from my peers and other South Asian students who've taken on leadership in the club. Last week, SASA had a mock wedding; all of my friends did a dance at the wedding. We had 200 people show up, including people you might put into a certain box and say, "There's no way they would get down like that to Bollywood music."
That's the power of pridefully and unapologetically representing your community. Especially at Bates, people will happily engage with other people's cultures and celebrate them, and create an environment where all of our backgrounds are valued. Perhaps I'm being overly optimistic, and there are of course still issues, but it's been a great journey for SASA.
What characteristics have you come to value in the people around you?
Bates students have intellectual curiosity, a really fascinating lust for knowledge. They want to understand how the systems and structures around us dictate how our society works, how cultures operate, how religion influences people — all these different fascinating things.
And professors lead us on this journey — the intellectual journey, the pursuit of knowledge, and how to contribute to the world in some positive way. These things are really valued here at Bates.
At Bates, you're so intimately connected with the people around you. You see how your actions and words impact them — and you learn the little things you can do to make someone else's day so much better. This collectivist framework of our community instills in us a genuine desire to give back and be positive citizens.
During COVID, you started to create a number of TikTok videos on brown racial identity that gained hundreds of thousands of views. How did you start that?
When I came to Bates freshman year, there was a fundamental decision that I had to make. Do I put efforts into advocacy, or do I go with the status quo, blend in, and take the easy way out?
Ultimately, I chose to put in the work. Doing all that work gave me the comfort to talk with people, to work with and against the Bates administration, and to really demand space for myself and the people who look like me. It taught me resilience and the ability to speak up.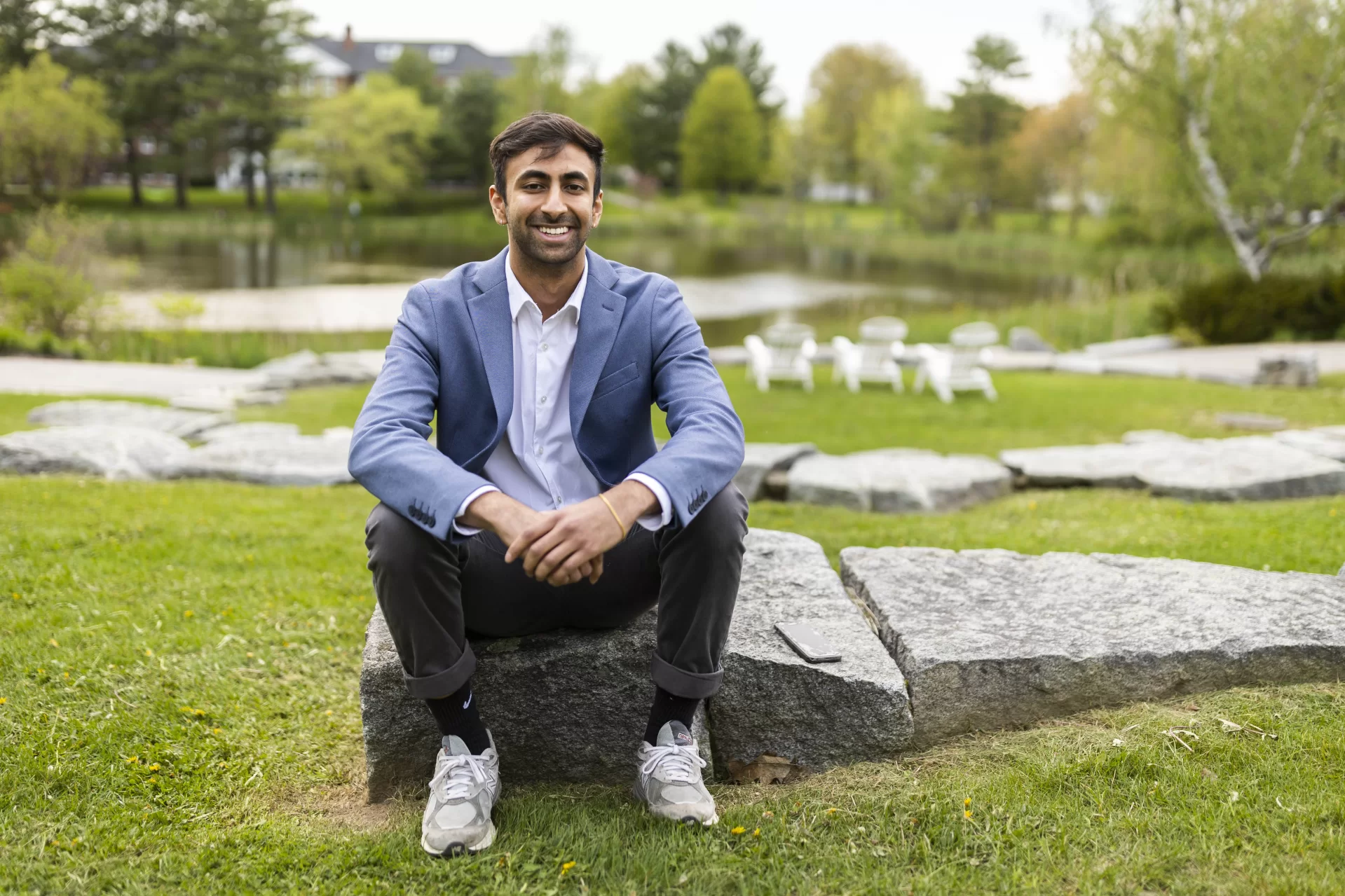 Being Indian at a PWI forced me to grapple with the multidimensional nature of my racialized existence. On the one hand, my ancestors were subjected to atrocities under British rule, and on the other, Indians in the U.S. often have access to an immense amount of socioeconomic privilege. I was always somewhat conscious of these complexities, but taking social sciences and humanities classes at Bates allowed me to explore them with a scholarly lens and better articulate my thoughts. And that's really what the TikTok videos reflected.
You expressed your goal to become a physician and scientist and to contribute to the revision and alteration of dated Eurocentric medical curricula, among other goals. How is medical curricula Eurocentric? How does that create harm?
Almost every profession and discipline evolved and grew through colonial practice, tradition, and belief. We define medical conditions, visualize them, and diagnose them largely through their presentations in white men.
A really simple way to understand this is by thinking about dermatology and skin-based conditions. It's very easy for anybody to understand how a skin condition would look different on white skin versus on dark skin. That's something that is very real.
I took this wonderful course, "Natural Products and Secondary Metabolites as Drugs," with [Assistant Professor of Chemistry and Biochemistry] Colleen O'Loughlin. She gave us so much information on the health disparities and poor clinical outcomes that exist in the U.S. When you really zoom in on those stats, you'll see that these disparities reflect deplorable inequities on the basis of race, gender, class, and sexuality.
Addressing those kinds of disparities and clinical outcomes sounds like a big goal. Does it feel daunting?
I have a lot of big goals, that's for sure! It's something that I struggle with, wanting to be a physician / scientist / policy maker. It's like three to four lifetimes worth of work. So we'll see what I actually get around to. But you know, now is the time to be ambitious!
Can you tell me about your thesis and what it was like working with your thesis advisor?
My thesis advisors are professors Jen Koviach-Côté and Colleen O'Loughlin, both of whom are incredible scientists and enthusiastic professors. Their joint project looks at compounds called pyrazinones produced by staphylococcal bacteria that might have a role in regulating their virulence, their ability to cause infection.
I got to play a small role in that research, but I mostly got sidetracked to a project involving computational protein modeling, but still within the scope of their larger research question. With Colleen's advice and guidance, I went to Peter Schlax, who is a Bates research librarian with a Ph.D. in biophysics. He's incredibly understated, but a brilliant guy.
He guided me through an amazing project where I was able to use an artificial intelligence–based technology to predict the structure of the protein that makes those pyrazinones in the bacteria, then use that structure to simulate the binding of substrates to that enzyme. I'm so proud of the work that I was able to do with everybody. And now I have this really strong interest in biophysics that I didn't know I had.
You received the department's award for research excellence in biochemistry just this past month. What does that mean to you?
It means the world to me. I remember that when Jen presented the award, she read a little section from my thesis about the ideological implications of my project. I connected my thesis work to the Cyborg Manifesto by Donna Haraway, which is something that I was exposed to in an anthropology course, "Art, Power, Politics," taught by [Visiting Assistant Professor of Anthropology] Josh Rubin. He's just amazing.
I had him freshman year for cultural anthropology, and that class pushed me so hard to think about the ways that my identity — racially, culturally, religiously — shapes my experience in this country, and the ways I exist and behave in relation to the structures around me. So in my last semester I had to come back around and take "Art, Power, Politics."
Professors will often meet you where you are. If you want to learn the material and you're excited about it, they're excited to have you. And that mutual excitement is what I love about Bates.
I wrote a paper about how my thesis project kind of subverts the distinction between nature and technology, which is a lot of what Donna Haraway writes about. I figured I should take some of that thinking and put it at the end of my biochemistry thesis because it's so relevant. For me, that interdisciplinary thinking and engagement defines the beauty of the Bates education.
We hear that a lot about the value of interdisciplinary thinking.
At Bates, you have your major, but you can pretty much take anything and be welcomed with open arms, even if you are a significant outlier, for lack of a better word.
There are classes where you don't meet the prerequisites, but sometimes all it takes is an email to the professor saying, "I'm very interested for these reasons. I think I can do well because of this." And professors will often meet you where you are. If you want to learn the material and you're excited about it, they're excited to have you. And that mutual excitement is what I love about Bates.
Your class was sent home in March of your first year, and sophomore year was lived under great restrictions. What was lost?
I think we lost "tangential" friendships. Maybe those friends aren't your core group of friends, but they're important. They represent wider connections and intermingling within the community. Freshman year, you create so many lighthearted connections. You see them in Commons, you're like, "Hey, how are you? What's going on?"
They're the people you like to see at parties, to catch up, feel a good vibe. If we didn't have those, everyone would just be in their circles, kind of isolated. And that's what happened with COVID. But those relationships have made a comeback in the last two years. So that feels good.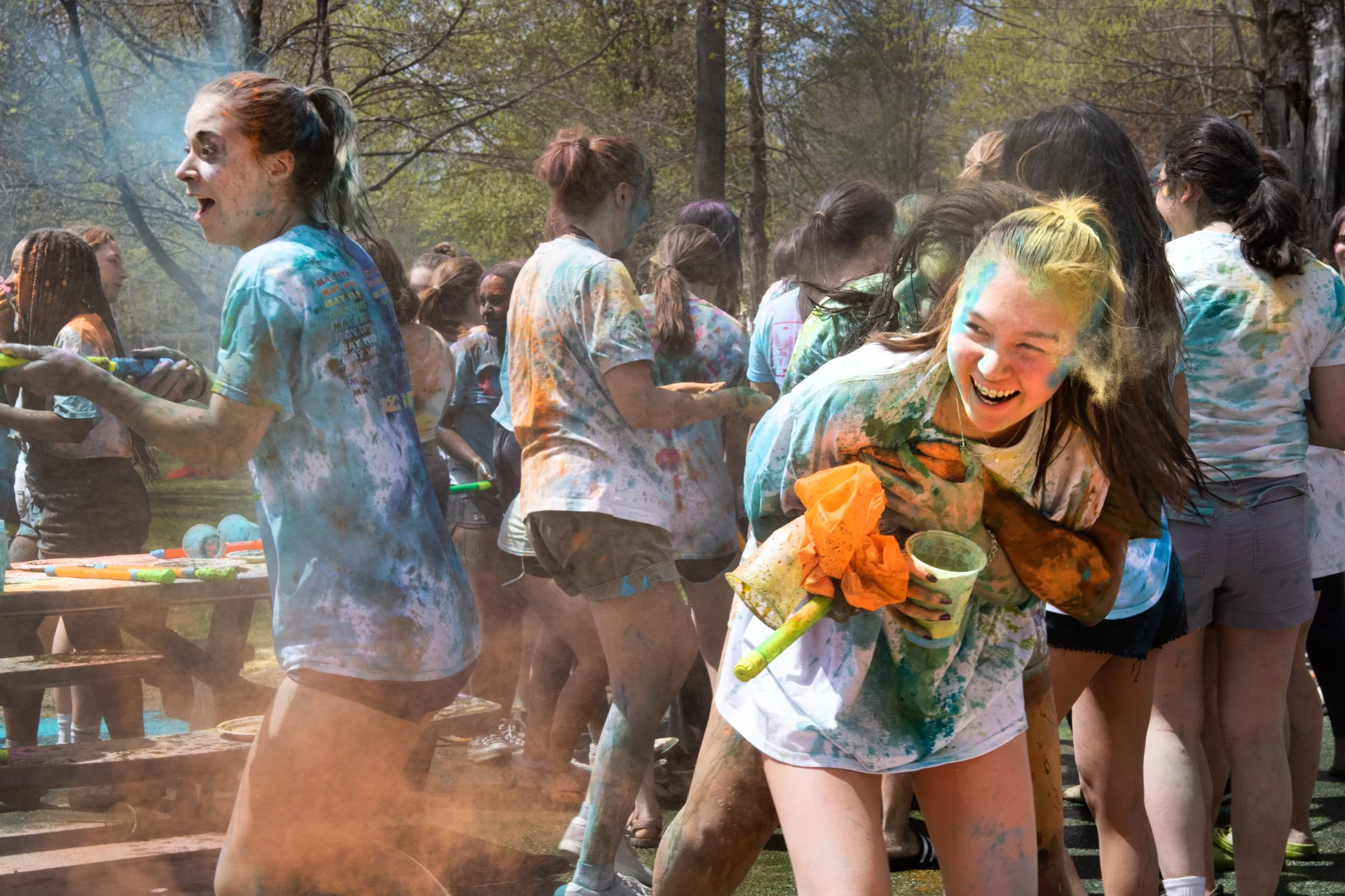 On the bright side, in my sophomore year I was academically locked in, and really forced to confront the important questions. What do I want to do? What calls me? Do I want to go into acting? Do I want to go into politics? What do I want to do? And then biochemistry called my name. And I just got swept away.
Do you have any advice for incoming students?
Speak up. The words you say here can have a large impact, simply as a result of them being a proportionally larger component of collective discourse compared with those same words being said at a large school. To me, that's empowering. It pushes you to do more because you can — you have the ability to make this place better.
What's up for next year?
I'm in the midst of applying to medical school for fall 2024. So in the gap year, I'll be doing research at the same lab at Brigham and Women's Hospital.
I'm especially excited because every summer we get two Bates interns from the Center for Purposeful Work. I'll be able to teach these students and hopefully help them understand the career that they want to have, and whether they want to be a physician, scientist, or both.
Bates connections are very tight. Bates students and alumni, for lack of better words, really ride for each other. They want to give back to the students that come after them.
I really do believe that this community has an incredibly formative impact on everyone within it. So I'm going to give back starting this summer, and after that who knows? We'll see what's in the cards.