Parent Reflections
A collection of wisdom, blessings, and stories from Parents and Loved Ones on how they and their students grew while at Bates.
The writing prompts given to Parents and Loved Ones were:
Tell us about a moment when you realized your student had grown while at Bates.
What does your student's graduation from college mean to you or your family?
---
Abby studied abroad in Prague her junior Spring at Bates. Almost immediately, we saw her grow as an independent adult. She really went out of her comfort zone being in such an unfamiliar environment not knowing anyone. She didn't just cope with these new experiences, she thrived. We hope she will always go out of her comfort zone, "take the road less travelled" (Frost), and play like no one is watching.
Below is a painting of a photo (selfie) she took on her first excursion to the Swiss Alps. It is our absolute favorite photo of Abby and will always hold a special place in our hearts.
Renee and Dan Ford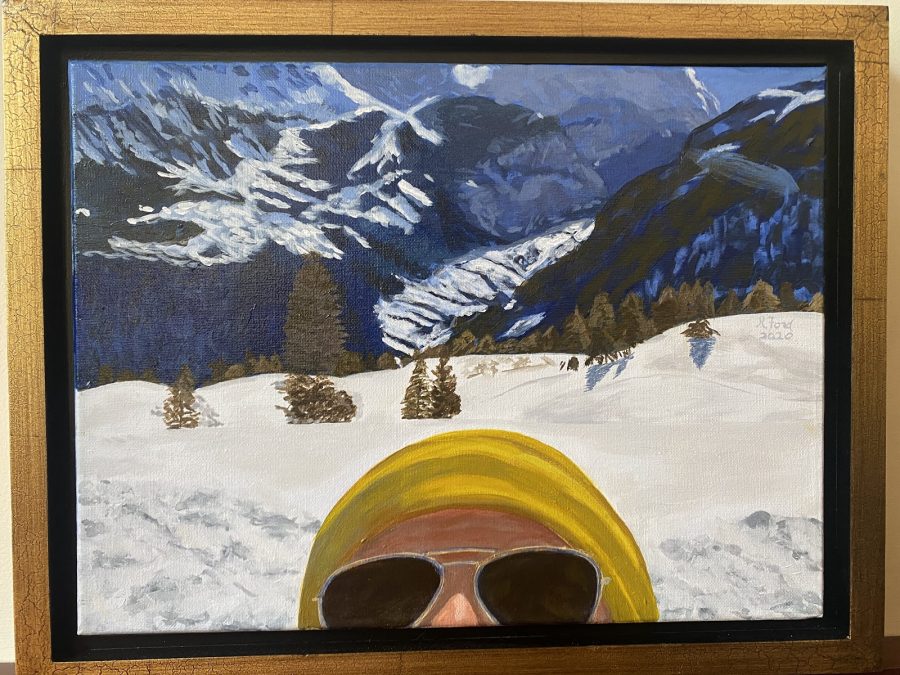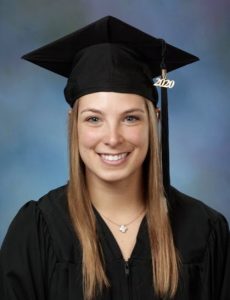 The time we realized our daughter, Adena Bernot, had really grown was during 2nd semester, junior year, her study abroad semester. She had decided to go abroad to London, and as an Economics & Math double major studied at University College London. This was not a Bates Program where she would be travelling, studying, and living with a group of students she already knew. We as her parents were already alittle anxious as she needed to apply to the school, apply for living accomodations on her own, with minimal guidance from Bates. As she had never been abroad, we had our concerns from arriving at Heathrow at 6AM and figuring out how to get to her flat, to finding her way around London in order to get supplies, food, and register for classes. Unlike Bates, housing for UCL students was not "on campus" instead being in different locations throughout London. Adena said she was ready, was looking forward to living in a flat near school, and did not want even 1 of us to go with her. She left January 1, 2019 at 8pm out of JFK. She quickly learned the tube system, travelled around like a native, worked hard in her classes, made new friends, and really enjoyed the culture, the different people, and the London way of life. She arranged weekend trips to different Countries and was having a great experience. We visited London for a week in mid-April, and the change was undeniable. Adena was confident, independent, and seemed completely at home. She was our tour guide for a week, arranging everything from Sightseeing walks and tours, to meals, to trips to Paris and Brussels, and showed us her new way of life across the pond. We returned to Long Island after a week and reflected that it was clear, Adena had truly grown up. It was amazing. She finished the semester, did great at UCL, & visited 14 Countries by the time she returned in May. This study abroad experience that Bates offered her was truly life changing. Congratulations & All the Best to this infamous class. #Bates2020 #BatesGrad
Dear Alexander,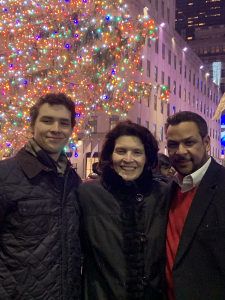 Every moment we spend with you amazes us! You are always sharing new things from experiences at Bates. Your close relationships with professors & friends have ignited your curiosity and have inspired you to grow and develop further. We are so proud of you and so thankful to the community at Bates that surrounds you !
We look forward to sharing with you the challenges and triumphs of law school and beyond. We know you will take the incredible growth from your time at Bates with you. Remember to pay it forward with contributions to Alumni activities and connect with the larger Bates community throughout your life. It is special, as are you!
Many Blessings, Health, Happiness, Peace & Above All Else, Love.
Mom & Dad
Ally has grown in so many ways at Bates that it is difficult to choose one moment. She began her career at Bates nervous about leaving her home and her high school friends, worried that she would have difficulty making new friendships. She bonded almost right away with her field hockey teammates, many of whom will likely remain life-long friends; and then fostered new friendships through classes, living situations, and, of course, through ice hockey where she also developed one of her strongest, dearest friendships. Seeing her grow and create these new relationships was very rewarding as a parent. She has also grown tremendously in her academics, from her writing and other skills to her general curiosity and analytical abilities, one of the great rewards of a liberal arts education. Watching her struggle with a season ending field hockey injury during her junior season to persevere, and ensure her return to the playing field for her senior fall, while at the same time traveling abroad for her junior spring, participating in a program with no one else she knew at the time, again, having a wonderful experience and growing tremendously has been very rewarding as a parent. As parents we are also inspired by the way the senior class bonded together and made the best of a very difficult situation this spring, engaging in class-wide "senior week" like events which they organized on their own, remaining positive despite their senior spring being cut short. We are extremely proud to see Ally graduate and move forward in her next pursuits, and are also grateful for the wonderful experience she enjoyed at Bates, and can truly say through seeing the love she developed for Bates and the Bates' community that this was the right choice of schools for her, one that will remain with her throughout the rest of her life. Thank you to everyone at Bates that has enriched this experience for Ally!
Love,
Mom and Dad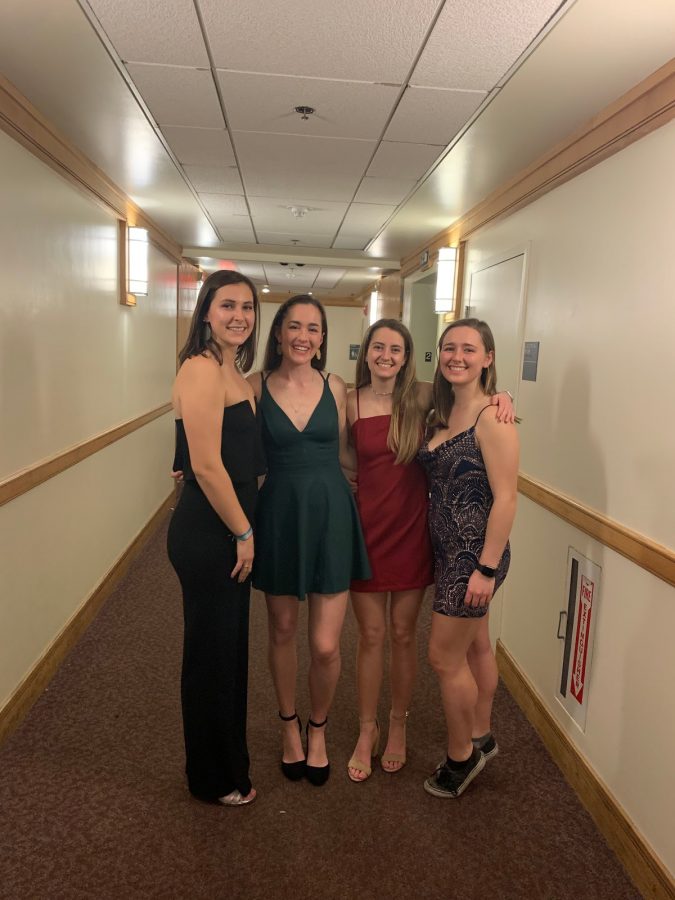 Dear Alexandra,
Let us start by saying that you have accomplished something wonderful with your graduation from Bates. And while—because of the times we are living through— this might not feel like a graduation, the graduation ceremony itself is not a culmination of your journey; rather it is meant to recognize your important accomplishment. So it is for this, your accomplishment, that we congratulate you and we honor you.
But what of this accomplishment? It is an important milestone in your life's journey, a journey towards a purposeful life. Much like an explorer navigating the unknown, it is necessary to gather provisions as well as repair and build tools, so that one is indeed prepared for the journey of life.
Bates has prepared you for this journey, providing you with the necessary provisions and skills. Your time there has taught you to read the charts and understand the critical signs you will encounter on the journey; much like a guide who is able to read the subtle ripples and contours of the earth. And what of those tools and skills required for life's journey that you have developed and honed so that you may address the challenges of our time.
During your time at Bates there were several pivotal moments in which you showed this growth, through things that you shared or decisions you made. In either case we were able to see the tremendous impact your environment, community and education were having on you.
The first that stands out was in October of your freshman year. You called us to tell us about a lecture given by Elizabeth Kolbert–author of the 'The Sixth Extinction'–that you had attended. You were eager to share the insights you gained from this lecture. You obviously understood how the different pieces fit together and were concerned about the impact of the trends she highlighted on our world. At this moment—early in your Bates education—we knew you were on a unique journey and that you would make the most of the resources and opportunities available to you in college
At the end of your freshman year your short-term course sparked an interest in bees. You furthered this interest through a research assistantship with your professor. You spent a good part of that spring and summer collecting pollen samples. We remember being impressed by your ability to build on and explore this area of interest through the assistantship. You were able to combine your desire to learn more about bees with your interest in the environment and ecosystems as well as your love of the outdoors.
The third pivotal moment of growth came in winter of her sophomore year. You informed us of your desire to stop rowing, something that had defined you since you began in the 8th grade. We knew this was a very difficult decision. To give up something you so loved to focus on academics. We were impressed by your thoughtfulness, the fact that you were forward looking, focused on building your future. You soon found a way to rebalance your love of athletics and academics by joining the running club, where you were soon finding ways of competing and doing very well to boot.
The last growth milestone we would mention was your internship with UNICEF in Peru. You had always wanted to study abroad, but now had the opportunity to work abroad in a meaningful way. You were pushed in so many ways, having to make so many decisions. It was truly wonderful to speak with you and learn about each and every day. Knowing that you were fully utilizing your language skills was wonderful. We'll love your newfound Peruvian accent forever. But just as important as language, were the friends you made, the personal relationship. Friends like the refugees from Venezuela trying to make a new life in Peru. This was a wonderful period of growth for you.
Your journey has been one of tremendous growth. And the future, what does it hold? What does it require? It will require that you build upon the foundation you have developed in college: a desire to learn; being a critical thinker; and following your dreams and passions. At Bates, you built close relationships with your peers, friendships that will last a lifetime. In addition, you formed real connections with many of your professors. They provided support and encouragement. You valued their help and advice. And finally, you grew into the person you are today, ready to face the world. Your generation faces tremendous challenges but remember to be true to yourself and you will continue forth on your wonderful journey.
Congratulations,
Mom and Dad
⭐️ CONGRATULATIONS, dearest Alison! You are so very much to celebrate! Soar high and know that you have now, and will always have, our greatest admiration and deepest love.
xxxx, M, D, Kate and Mark
️
Dear Ali,
The past four years we have watched as you have expanded your horizons and grown into a strong, independent, and determined woman who we are confident will affect positive change in the world. There were many small moments in the past four years when we noted that our "little girl" was really growing up, but as your graduation is upon us, two of those moments particularly strike a chord. The first of these moments occurred in December, when you delivered a 30-minute talk on The Asymptotic Density of Abundant Numbers. Your knowledge of the topic was of course impressive, but what we were truly struck with was the ease, confidence, and clarity with which you presented such a complex topic. It allowed us to experience firsthand the synergies of your seemingly disparate majors of math and theater.
The second and perhaps more profound moment occurred this past March, specifically the week of March 9th. Yes, this is a COVID story, but it is so much more. Early that week, as colleges and universities around the country began closing their campuses and moving to on-line learning, you called us in distress. Your senior thesis, directing Emma Goidel's play The Gap, was scheduled to run March 26-30. You were still a full two weeks away from the start of tech week, and despite all the hard work that you and the cast and crew had put in thus far, the production was nowhere near stage ready. While it seemed in the first days of that week that Bates, with only 3 weeks of classes remaining, might be able to finish the term, you were worried that the campus would close and your thesis would not happen. Directing this play was not only important for your graduation requirements but capturing it on video would be critical to building your portfolio as a director. In addition, you were also scheduled to direct the short-term musical in May, something you had aspired to do since your first year on campus. Like so many other seniors across the country, your senior spring was crumbling before your eyes. On Tuesday March 10th we talked about the possibility that Bates would close and the play would in fact not be staged as planned. In that moment you were utterly distraught and seemingly overwhelmed. We felt helpless and sad.
But this is where the story turns. You did not wallow in your sorrow and bad luck, but instead got to work at a breakneck pace. Just 48 hours later, when the announcement was made that campus would be closing and all students needed to depart by Sunday, you had a solution. You had worked tirelessly with your cast and crew to make sufficient progress, and on Friday March 13th you staged your thesis play to the then maximum allowable audience of 80 people. The set and costumes were simple. The lighting and sound design you had worked with your crew to plan were never implemented. There were a few "line" calls, but the performance was absolutely amazing. As a bonus, the performance was recorded on high definition video and you were able to share it with friends and family and will be able to include it to your portfolio of critical work.
The resilience, fortitude, and creativity you displayed in that week was tremendous and truly showed us how you have matured and grown in your years at Bates. Sadly, two months later, the world is faced with even more uncertainty and pain. We wish that you could have had your Bates senior spring with its many traditions and that we could be celebrating with you on campus. But the silver lining is that this crisis gave you an opportunity to shine in your own special way, and we are more confident than ever before that you will do great things and can rise to meet any challenge or adversity that comes your way.
Love, Mom & Dad
Now, four years later, I am so happy for Alyssa and extremely proud of her for making her four years at Bates so fulfilling in so many ways. She has made life-long friends, and developed meaningful relationships with professors. She has worked for residential life in jobs that have allowed her to develop her leadership and mentoring skills, and in the admissions office, which no doubt has benefited her interview skills. Academically, her experience has been tremendous. I realized Alyssa had grown while at Bates when as time went on, and she explained the course material she was studying to me, I found it increasingly difficult to understand (despite her great ability to explain things clearly)! Her computational neuroscience honors thesis on the flexibility of visual cognition certainly takes the cake in that regard! I could not be more happy, proud, and hopeful for Alyssa, as she embarks on the next phase of her life.
Loads and loads of love,
Mom
Alyssa (on the right) on drop-off day, with her sister and her mom! So many new experiences, new people, and new opportunities awaiting, along with a bit of anxiety mixed in (for us all)…..
The First
The first
To wear a cap, gown,
And mask
With Amore ac Studio.
Her future uncertain,
With paths unknown,
Yet filled with discoveries
And action informed.
Lead by knowledge and
Commitment to
The quest for truth
To unfold.
So proud we stand,
Transformed and
Grateful.
Hopeful hearts full of joy.
Analea Angot and mom Natalie Allen
2020 Graduation collage "Small but Mighty"
Andrew, it's hard to believe that you could have grown anymore while at Bates. You are loving, smart, funny, and always wanting to learn more. Honestly, there wasn't just one moment that stands out. Rather, it was an accumulation of many moments. Each conversation got deeper. Your compassion for others grew. Your ability to assimilate information and make decisions were refined. Your puns got better, if that's possible, and your drumming got exceptional. You gained so many new experiences while at Bates. I am so proud of you! Your journey is just beginning, so enjoy the ride! May the waves always be 3-4 foot and glassy.
Love you to the end of the universe and back,
MOM
Andrew, you have worked hard, with great experiences the last four years. I watched you mature and am proud of you. As you discover more about life, you will find it to be like a great rock and roll song and Bates has given you the inner rock rhythm to make your story. I will always be here for you. To quote the Rolling Stones; "Wild horses couldn't drag me away."
Love you,
Dad
"You are your best thing."
Beloved, Toni Morrison
Be you. Nobody to tell you differently. Nobody to dictate your march forward. Nobody to determine your past. Just you. You are your best thing. Your kindness. Your gentleness. Your love. You claiming life on your terms. Your open and non-judgmental heart. Your courage. Your grit. Your power.
You are your best thing. Stay on this path. Trust it completely. Hold it lovingly. Take it and pass it around. Let it flow. Bring your joy. Change others because of it. Inspire.
Leave your encounters with a show of care. Think deeply. This you do. You are your best thing. Those who chose to listen, to respond, will have learned something. Those who do, will have a more open heart. Those who do, will feel a wee bit better than before.
You are your best thing. Bring your empathy. Bring your change the world. Bring your break the status quo. Bring your tolerance. Bring your silliness. Bring your instincts. Bring your love. We will all be better for it. You are your own best thing.
Tell us about a moment when you realized your student had grown at Bates.
When she told us sophomore year she was going to major in biochemistry — she loved it in the lab, and wanted to do a chemistry thesis. She comes from an extended family of English majors, who couldn't tell a periodic table of elements from a periodic table of contents. She was her own person! Her independence and intellectual growth was nurtured and reinforced at Bates.
What does your students graduation from college mean to you and your family?
Her graduation from Bates College is powerfully meaningful. There has been a member of her family at Bates nearly continuously for the last 90 years (she has two cousins in her class)! Her grandfather, Milton Lindholm '35 (of the Lindholm House) and grandmother, Jane Ault Lindholm '37, devoted their lives to Bates and would be overjoyed with her graduation, as we all are.
Have a wonderful Baccalaureate and Commencement, under these strange circumstances. Annie has had a wonderful experience at Bates. She has been beautifully mentored and has made lifetime friends.
With gratitude,
Annie's parents, Karl Lindholm and Brett Millier
Congratulations Annie Winslow! We are bursting with pride for you, your personal growth, and all that you have accomplished at Bates College. Though it may not look so now, your future is bright because you are who you are. You will look in the rearview mirror to see this moment in time with a unique time to the special person you became.
We know you are open to the possibilities – even those that come from times of adversity.
You are walking through history and you have demonstrated that you can and will overcome any obstacles in your path. The valleys in one's life are where you gain momentum to move forward and to persevere.
The world is filled with possibilities and it needs your leadership, your kindness, and your critical thinking skills – and especially your special brand of friendship. Embrace the unknown horizon and keep shining your bright light wherever you go and with whatever you do.
We know you will learn from each opportunity, no matter how big or how small.
Life is what you will make it.
We love you!
Reflection 1: Ashley has grown over a series of experiences at Bates, but we hadn't realized just how much she had grown, until we dropped her off at JFK for a semester abroad, in the fall of her junior year. That was a terrifying experience for us, as parents. Allowing our child to board a plane alone, go to a country she had never been to before, not knowing anyone, and to live, study and travel for almost four months. We don't believe we were surprised, but she validated quickly, that she had the maturity to figure it all out. She had an amazing semester, traveled to many countries and made some lifelong friends from around the world. When she arrived safely home, we realized just how much she had truly grown. We now have confidence that she is prepared for anything life brings her way after college.
Reflection 2: Ashley's graduation from college is extremely important to our family. Both of us parents each value education and feel Ashley has been given the academic and personal freedom to achieve her goals through Bates College. Ashley's Professors have encouraged a lifetime of learning and we know Ashley certainly embraces that. Bates has been able to provide her with learning experiences on so many levels. From the classroom, to her research opportunities, to the track team, she has learned an incredible amount from all these experiences and has fed her craving for that knowledge. She is excited to continue her studies in the topics she has become passionate about. Her time at Bates has provided her a venue to explore those passions and to find a direction for her next chapter. We feel Bates has provided her with a strong foundation to support her in her next endeavors. We are so proud of all she has accomplished and look forward to seeing where life takes her.
Ken & Melissa Pratt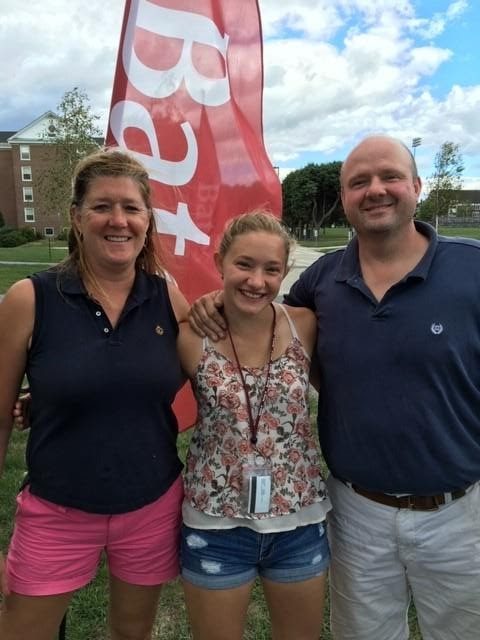 Becca, we are so very proud of who you are and how you are unfolding as a responsible, young adult! Your generous, warm heart welcomes all those you meet and you offer so much love and kindness to our world! We are so grateful, blessed and fortunate to have you in our lives!!
You have grown so much in the past few years! The way you have handled the pandemic will be etched in my memory—despite the loss of a last senior semester and in-person graduation, you have taken care of yourself and the well being of others during the pandemic.
We have seen how you are so health conscious of what you eat and what you prepare in the kitchen. Your daily disciplines show us that you love and respect yourself through daily mindful practices; and you seem so balanced to handle the challenges in our world today. You are vigilant in your creative music process—singing, songwriting, and performing. Your persistence will carry through in this lifetime.
Keep your vision steady to heal our Mother Earth as you love yourself and your fellow persons!
We love you with all of our hearts!
Love,
Dad, Mom, and Anna
Xoxo
Dear Carlie,
Though there were several big moments for us during your time at Bates, the one that stands out was meeting you in Argentina at the conclusion of your semester abroad. There you were, comfortably navigating a foreign culture with maturity, compassion, and a sense of humor. We knew you encountered many challenges during your study abroad, however, it was evident you had risen to the occasion and emerged a stronger, more confident and independent version of yourself.
As with any transformative experience, the skills you honed while studying in Argentina will be forever useful, particularly now as you head into an uncertain future. The world is different but you know how to adapt and persevere. We are so proud of the person you have become and are confident your life will be interesting and gratifying.
We love you,
Mom and Dad
Our life is shaped by the mind;
We become what we think.
-The Dhammapada
Cate (Day)-
You expanded your mind at Bates. Whether investigating Eyewitness Identification for your thesis, The Lives of Rivers, Cultural Politics, Photography, Calculus, Linguistics or The Psychology of Sports/Exercise, you acquired new and unique ways to think and learn. Carry them with you always but pair them with the knowledge in your heart.
"The course of your life depends on how you react to opportunities and challenges that randomness presents to you. If you're paying attention, you will find that things happen. They might seem good. They might seem bad. But the important thing is how you reacted to it. "
– Leonard Mlodinow
Charlotte was the one who really drove the college selection process, independently researching the unique qualities of the huge number of small liberal arts colleges, choosing which to apply to, and deciding which invitation to accept. We didn't know anything about Bates and were a little surprised by the choice – but it was hers to make, and make it she did.
This decision, in many ways, was one of many related to Bates that propelled her toward greater independence; toward adulthood. Her decision was based on a combination of intellect and gut, and it worked. She's been happy; successful; thriving. That it was the "right" decision grew confidence to continue making independent choices regarding her work, health and relationships. She called upon us less and less to figure out next steps. Conversations sounded different throughout the years: "I'm going to…" instead of "Do you think I should…?" and " I did…" instead of "Can I…?"
As expected, she didn't always make choices that seemed "right" in hindsight, but that's as it should be: She adjusted and learned. Her decisions led her to amazing growth experiences: interning on Capitol Hill, studying abroad at Oxford University, a fellowship at a social change agency, and her involvement at Bates in theater, political action, the Jewish student community, and growing a supportive circle of friends.
Then Covid 19 entered the scene, right at the brink of graduation. There weren't really decisions to be made as much as mandates to be followed. Now Charlotte is living at home with us in Portland, Oregon. The autonomy and family separation that makes college years such a liberating and exhilarating time was yanked out from underneath her. And her future path, on which she had a vision and timeline for jobs and school and career has veered way off course. Watching Charlotte navigate these scary, uncertain times is seeing her "adulting" in a way we've never been called upon until now ourselves. We see her responding to this period with appropriate fear, disappointment and sorrow. And we see her living with gratitude, flexibility, and gentleness with herself and others around her. We see Charlotte facing each day with purposefulness, helpfulness and generosity. We see her looking toward future plans that require resiliency and innovation. We've heard her talk about the fact that people need one another, now more than ever, to help each other solve problems, and manage in this world.
That seems like growth to us.
We recall dropping Chris on campus for first year orientation. We took a hike to the top of Mount David, offering panoramic views of the city and surroundings. A nice little oasis just off campus. We paused to think in silence at the top, leading to the attached picture, one of our favorites. When we returned to Chris's dorm, we waited until the last possible moment to try to meet his new roommate, really wanting to see who Chris would spend his formative first semester living with. Word came in that his roommate was running late, and we would not get to see him before we left campus. A real curveball. But it struck us in the moment that Chris was ready for the curveball — meeting up with other students from his floor and heading off to their first Bates event, while parents like us shuffled away.
It is April, junior year. We get off a plane in Stockholm where Chris has been living since early January. We've seen him via FaceTime but not in person — the longest stretch yet in his 20 years. We take a cab to an apartment in this foreign city, and are greeted by our son, living on his own and by first glance doing just fine. He has his things well arranged in his small but tidy apartment, and makes his way confidently about the kitchen, fashioning brunch as the host. "Pytt-i-panna", Swedish hash. His favorite Swedish concoction, easy to make, easy on the wallet and easy to like. Chris cooks, we eat, he cleans — this is something new! Afterward, we head out to the local Stockholm Metro stop and our son leads us on a day of sightseeing, truly in charge. We head to our Airbnb that night assured he can make his way.
-Cheryl and Joe Bierwirth
Dear Christopher,
The end of your Bates experience is not as any of us could have envisioned. As we recently sat around the kitchen table to celebrate your 22nd birthday, we recognized that these times to celebrate and reminisce together as a family of 4 may be fewer and farther between…and all the more reason to cherish.
Please know that our LOVE for you grows each year as you grow. Our PRIDE in you expands as we watch your borders expand. And our CHEER for you loudens as you run your next race.
We wish you wisdom, persistence, and grace as you continue on your journey of learning and discovering the 'purpose of your work.'
Amore ac Studio,
Mom and Dad
Tell us about a moment when you realized your student had grown while at Bates:
There were two major points of adversity in Connor's time at Bates, the first came at the end of his first year when it became obvious that Football would not play the same role in his life that it had since he was a small boy. His ability to manage the loss of a sport that he loved with maturity and perspective showed me that he had grown as a young man. Additionally, he was able to rise above the unfortunate situation and managed to become even closer to his friends and to the whole Bates community. Connor did not let the loss of football take anything from his Bates experience but instead, focused his efforts on academics, other athletic endeavours and relationships that I believe he will carry with him for the rest of his life. This transition showed me Connor has become a strong man with great character, integrity and loyalty to his friends & family, a lifelong love of sport that would be nurtured in many ways and a strong focus on and commitment to his academic goals.
The second moment at Bates was pivotal for Connor but also for the whole family. Connor became critically ill in his sophomore year at Bates and was hospitalized for almost two weeks. We are so grateful to the whole Bates community for the care and concern expressed and for allowing the family to stay at the Trustee's house with Connor upon his release from the hospital to nurse him back to health. Connor's condition was very serious and there were moments when we feared that he would not make it through. With the help of the Hospital staff, the Bates community, Connor's professors and friends he was able to recover fully physically, emotionally and academically. It is because of Connor's resilience and determination and the support of the whole Bates community that Connor was able to stay on track and graduate with his class in 2020. Connor's ability to overcome this situation and persevere to meet his goals tells me that he is prepared on every level to face the challenges that life may bring.
So, my words of wisdom to Connor…
You are a remarkable man with uncommon compassion, resilience and loyalty. You can accomplish ANYTHING you set your mind to, this is only the beginning of great things. Remember where you have come from and remember those who have helped you along the way, but most importantly, stay true to yourself and follow your heart into your amazing future.
We happily have watched Emma B grow, mature, and become more confident and centered during her years at Bates. Her time as a Multifaith Fellow has been especially meaningful as she navigates her journey of self-discovery and fulfills her desire to be of service to others.
The poem below contains our hope and advice for our beautiful daughter.
-Valerie Brandt & Blair Hall
Believing in You
Poet: Catherine Pulsifer, ©1997
Never stop believing in yourself.
When others doubt, don't you.
Do what you love to do,
No one knows better than you.
Life is too short to live others' dreams
Follow your own dream
Push yourself to reach your goals
And live the life you once dreamed.
Trust your instincts.
Be true to yourself.
You know what is right for you.
Never give up or give in.
Forget the words "I don't know how".
You can learn,
You can research,
You can do.
Your mind is powerful.
When you believe you can.
You will find a way
You won't waste a day.
Persist and persevere
Do not fear
Because if you believe in you
You will find dreams can come true.
May all your dreams turn into goals,
Believe in yourself.
And remember, all of life is a choice.
The decision is up to you.
Believe in Yourself, Dare To Be
Whatever You Want To Be!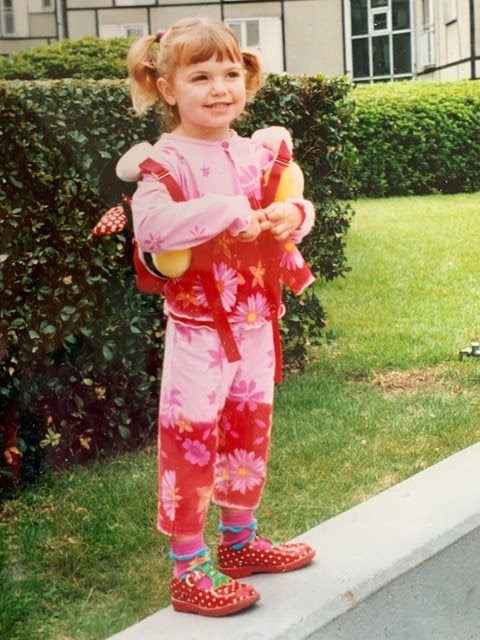 Dear Eliana,
We love you dearly, and we are so proud of you. We are proud of the young woman that you have become – your intelligence, your many talents, your charming personality, and your drive. You are a great friend, and that is an admirable quality. You make strong connections with people wherever you go.
When you went off to college, I wrote you a letter in anticipation, and the advice that I closed with stands today. Here it is:
Try to live your life as if you were the protagonist in a lengthy and interesting novel, a private heroine who has adventures and challenges, and who is living out a life that has ultimate meaning and purpose. What you do in your life really matters – to you, to those who love you, and to God.
All Love,
Your Loving Parents
We felt pride when Elizabeth told us she had become a Restorative Justice Fellow at Bates. But learning that she was mediating tensions between Bates Security and Bates students of color was not the moment we realized Elizabeth had matured at Bates — mediation seemed a likely use of her talents. Learning that their stories had made her weep was the moment we realized she had become an adult. For nurturing Elizabeth's compassion, we are grateful to the people of Bates, one and all.
-Debra Pelo & Robert Brantl
Tell us about a moment when you realized your student had grown while at Bates.
There are many moments at Bates that I am sure Ella would say were engaging, exciting, rewarding and fun. She has had wonderful leadership experiences (EMS and Take Note, for example), made incredible friends and survived Maine winters! Her experience researching and writing her thesis was particularly extraordinary. Ella really enjoyed and benefited from working closely with her thesis advisor. As a result, Ella developed really effective ways of assessing the decision-making process driving e-cigarette use, which resulted in new research in the field.
What does your student's graduation from college mean to you or your family?
As the values implicit in a liberal arts education continue to decline in our society, we are so glad that Ella had the opportunity for this kind of education at Bates. We are thrilled about Ella's achievements and the milestone of her graduation.
-Liz Westerfield & Scott Kinnamon
You are empathic, self-reflective and engaged,
Multifaith Fellow, N Street Village intern, Women's Center volunteer, AESOP leader,
Giving of yourself to others, helping improve lives.
You persevere, are curious and explore outside your comfort zone,
South African adventurer, nature lover, Maine explorer, certified mediator,
Overcoming obstacles, expanding your interests.
You are intelligent, hard-working and passionate about learning,
Honors thesis scholar, Bates' slavery expert, faculty and administration collaborator,
Accomplishing academic excellence, maximizing opportunities for growth.
You are mentally strong, athletic and take on physical challenges,
Century cyclist, distance runner and Maine summiter,
Pushing beyond limits, achieving new goals.
You are special and loved more than you know.
Love,
Mom, Dad and Caroline
When you went off to nursery school, the teacher asked us to draw a tree and ours had branches reaching far and wide. They asked us to label the branches with hopes and dreams for your three year old self, and we labeled them with dreams of "curiosity", "kindness", "happiness". And in the years that have followed, you've perched yourself firmly on those branches. Perhaps that tree was a birch tree, a symbol of renewal — For now we reflect on what this moment, your college graduation, means to us. And in this strange moment in time, we add to those branches — and to the rebirth of the birch tree — the new branches of "responsibility", "community", and "peace" with hopes that you will continue to climb and tend to them.
— Claudia Ullman and Amy Kissel
Our Dearest Emma,
We are so happy and proud of you for finishing your four years and graduating from Bates College. Please always treasure the time you spent at Bates and remember these wise words from your fellow Minnesotan, Bob Dylan….
May God bless and keep you always,
May your wishes all come true,
May you always do for others
And let others do for you.
May you build a ladder to the stars
And climb on every rung,
May you stay forever young,
May you grow up to be righteous,
May you grow up to be true,
May you always know the truth
And see the lights surrounding you.
May you always be courageous,
Stand upright and be strong,
May you stay forever young,
May your hands always be busy,…
May your feet always be swift,
May you have a strong foundation
When the winds of changes shift.
May your heart always be joyful,
May your song always be sung,
May you stay forever young.
-Your Loving Family
Today, #42 Giovanni, you would be walking across the stage at Bates College with your Bachelor's Degree in Sociology and Spanish. Again, circumstances didn't let this happen. Life has thrown you many curveballs but you didn't let them knock you down. You waited for your pitch and you were ready to run the bases. You not only applied this passion on the baseball field but also in everything else in your life. All the road trips we took to tournaments and games prepared you for this road trip called life. You are going to learn more, love, make mistakes, fail, succeed, and explore. Your strength, compassion, and humbleness are your greatest qualities. Those qualities are the ones that are going to follow you on the next chapter of your life wherever that may take you. We didn't get to watch you walk across the stage today, but we will watch you take this beautiful journey called life. We love you and are very proud of you. Play ball!!
Love Mama, Papa, Nonnie, Nonno, Viviana and Diego.
"When life throws you a curveball, don't let it knock you down and keep you down. Get up, re-adjust, brush yourself off, and keep it moving forward".
-George Bronner
The year 2020 will forever be etched in all of us as a year of extremes: the worst pandemic in centuries, the biggest economic collapse since the Great Depression, the steepest increase in unemployment since records have been kept. And yet, this is the year that you enter the world, Grace, as a college graduate armed with a four-year degree from one of the best liberal arts colleges in the country.
Although the landscape appears bleak to the unimaginative, you have honed an acute curiosity and nimble mind while at Bates. You have learned over the last four years how to look at the world as a place that inspires imagination and wonder, rather than fear and anxiety. The world will need graduates like you to cure its ills and restore faith in the potential of humankind.
You have earned the degree that will prepare you for the challenges ahead. Now, you need to dig deep down to your core and latch onto your innate ability to heal. You must set aside your doubts and trepidations about the future and hold onto that confidence you've always had to combat the obstacles ahead.
I know you have this capacity because I saw it firsthand on the field hockey field at Bates. You became a dominant force against all competitors, leading the team to the most wins in decades. You never once doubted that the team would rise to meet the challenge of any opponent, even if the opponent was ranked #1 in the country. Your confidence and unparalleled work ethic brought Bates Field Hockey to new heights, including the highest national ranking in program history.
You are no stranger to adversity, having lost your father in the middle of your Freshman year at Bates. This loss only made you more determined to persevere in your pre-health curriculum and pursue your dream of a career in healthcare. How could you have imagined in 2017 that the world would be caught in the grips of a global pandemic at the time of your graduation in 2020? Yet, the world you are entering upon graduation is one that requires the skills and mental toughness that are your hallmarks.
Our country is desperately in need of the 2020 graduates to bring hope and confidence back to our weary population. We will all be watching as you take the virtual stage and deliver the promise of a new generation.
You are an inspiration to us all, Grace, and we love you so much!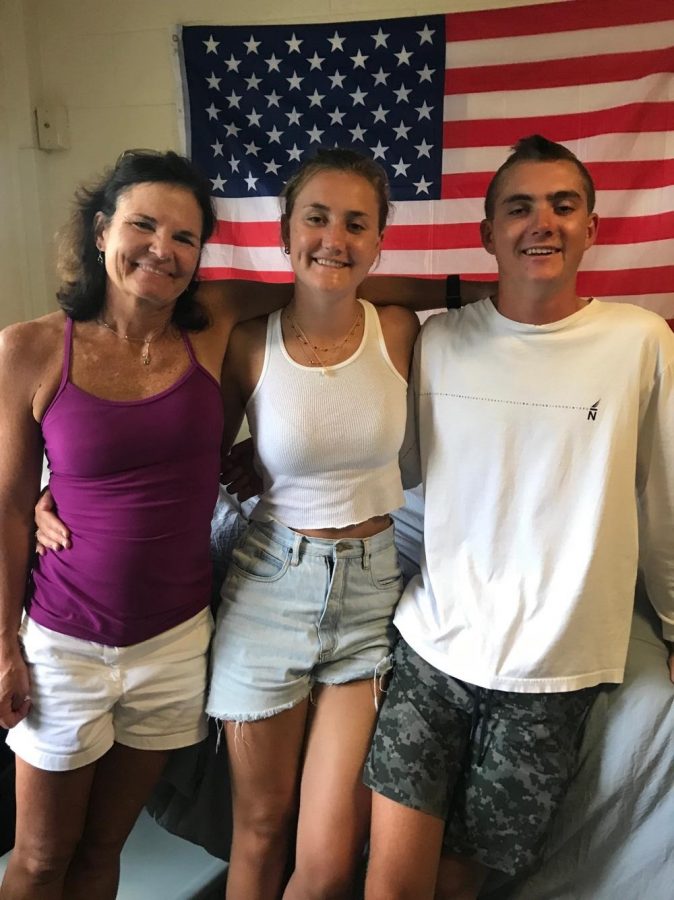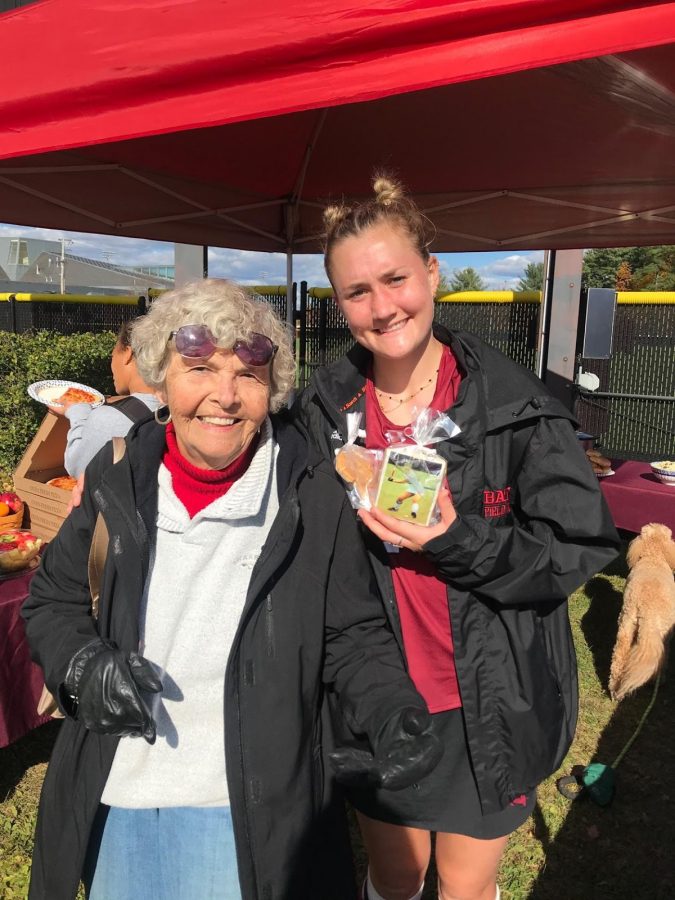 We have a clear and powerful memory of our daughter Grace calling us to discuss a choice she had to make between two Bates courses. We put the call on speaker and got ready to ask a bunch of questions and offer some advice and generally do a lot of talking (shame on us, we know). Instead, Grace launched into a cogent and thoughtful recap of the considerations she was taking into account, the people she'd talked to, her personal comfort zone versus taking a risk, the differences in curriculum and professors, and the reasons why she was leaning toward one of the courses instead of the other. We just looked at each other: who was this grown-up we were talking to? After we'd hung up the phone, we shared the same thought out loud: now THAT'S intentional learning!
Thank you, Bates, for helping your students own their education.
Congratulations to the Class of 2020, and Grace, we couldn't be prouder!
Fred Warder & Quynh Thai
Jack-
We are so proud of you. Since you left us four years ago you have grown tremendously. You have developed into a critical thinker who cares deeply about the people and world around you. Let your intellect and compassion guide you in life after Bates. We can't wait to see what you do with the endless possibilities ahead. We love you.
Thank you again for this opportunity.
Take care,
Laura and Jay McLarnon
We could not be more proud of the man, scholar, and leader Jack has become—and could not be more grateful to Bates for its role in supporting and shaping him— during his four years as a Bobcat. Our kids look for many things in a college going in, sometimes the flashy and fleeting things that ultimately matter the least. As parents, we can only hope they get their fit approximately Goldilocks right, and that they will adjust, engage, and thrive while learning and contributing meaningfully to their chosen community. We hope they'll make healthy choices, give back, and forge lasting connections. We hope they'll challenge themselves and explore new roles, activities, and areas of academic inquiry. Mainly, we hope they won't squander a nanosecond of their time and opportunity on campus . . . as perhaps we once did.
We're pretty sure Jack nailed it. Through good old-fashioned hard work, focus, wit, and grit, he seems to have extracted the marrow of what a Bates experience can be, and has amply readied himself for the next phase: graduate school. He's gained much along the way and we know he will miss much. He'll miss his friends and the energy of campus, of course, but also the kind, caring, and generous administration he never took for granted. He'll miss the small classes that enabled him to drill down and conquer concepts while developing genuinely close relationships with his professors. He'll really miss the staff and delicious food at Commons—especially the pesto, salad bar, and spice rack utilized so masterfully in his Commons Creations. Perhaps he will not miss the savage wintertime walks to and from his job downtown.
Although our family is scattered around the country and world due to our rather unconventional foreign service life, everybody—from far-flung siblings to elderly grandparents—had eagerly opted in to celebrate Jack's achievements in real-time, on-location Maine. Oh, the plans we had to reunite in Jack's honor and explore our favorite state! Oh the whoopie pies that would have been consumed!
Jack, although we will now have to watch your launch into the world remotely, we can only hope you'll feel the collective pride and joy from the many folks out here who love and admire you. We cannot wait to witness your next chapter . . . .
Congratulations to Jack and the Class of 2020!! Love, Mom
Jack has grown immeasurably while at Bates, but there is a moment that stands out. Athletics had traditionally been a way for Jack to shine, but injury had forced him to shift his focus and his trajectory. His new "team" became the community. Despite his daunting course load, Jack took on volunteer opportunities mentoring recent immigrant youth at the housing authority, as well as tutoring at-risk kids at the Dingley school. He also found time to work several days a week on staff in Senator Collins' office addressing the concerns – big and small – of local constituents. We have no idea how he found the time, and were worried that his grades would suffer and/or he would burn himself out. But to the contrary, his grades continued to rise as did his positivity and pride in his ability to make a difference in others' lives. That's when it struck us just how much he had grown, not only as a scholar but as a human being. This growth has continued to flourish – both inside and outside the classroom – and Bates has every reason to be as proud of this graduating senior as we are.
~Love, Dad
You have to understand what a kind young man James is. From the minute we visited the Bates campus, I had a feeling that Bates would be his home for the next 4 years. The people that we met, the presentation of the spirit of collaboration and caring from Bates staff was welcome to parents that were stressed out from the college search. The beautiful campus on that warm sunny day and once again the people we met gave James the feeling of confidence that this decision was the right one.
Dropping James off and losing him so quickly to his AESOP trip was like watching a bird fly from the nest for the first time never knowing where he will land and when he may return. The excitement in his eyes while accepting this new challenge was obvious. His immersion into the Bates curriculum and experience allowed him to look at life and the big world differently. He used his love of photography to take pictures for The Bates' Student newspaper and eventually had a few pictures published in Down East magazine.
Being an older brother, James was geared to watching out for others and embraced his Green Dot group. He enjoyed helping others while he himself was growing into his own maturity. Being part of a responsible group was just a natural fit for James. During Fall semester of freshman year, he arrived home for Thanksgiving with pneumonia. Having promised a friend a ride back to Bates after the break, he was not backing down on his promise. Even though James was not well enough to go back to Bates himself, we got his friend back in time so not to miss any classes. He also kept his self-goal to complete the "Puddle Jump" and has every year since.
Second year realities of not being a double major in Math was tough for a student that always loved math, but it taught him to understand that life isn't always what you have planned out. So he adjusted his mind set and looked forward to studying abroad in Rome the next Fall semester. He also received a great opportunity for an internship with a Bates' alum. Dealing with the complexities of relationships was also present and he grew into a core group of friends that he could always rely on. I personally enjoyed meeting with them and sharing conversation while having dinner at the Commons. I think this is where we saw him turning into a man that started making decisions for himself while dealing with adversity.
Fall semester of his Junior year was full of excitement as he planned for travel to Rome. Traveling abroad and being immersed in the center of history while walking out his door into a living museum every day thrust James into a new level of confidence. Once again, making new friends and learning of different cultures and economies gave him the confidence to explore further into Spain and Morocco. Who was this young man? We met him in Rome and he became our confident tour guide. Getting back to his Bates friends for Spring Semester was like being welcomed home again. He continued with his love for playing "Ultimate" while completing his academic studies. That summer, he jumped into an internship with a startup that helped him develop marketing strategies and communication skills. This earned him many customer citations and a company award for his energy, hard work and ideas that he brought to that team every day.
Senior year came so quickly and the fall semester flew by too fast. Back to Bates weekend was a lot of fun with extended family and friends after missing the event the year before while in Rome. With anticipation of graduation, plans were made and dates were set for great celebrations with family and friends. Then the pandemic set in. Family members were sick and survived. And the world changed right before our eyes. Plans for catching up with friends at the Commons were not possible. The Mount David Summit could not be held. Campus was shutdown and finally the long awaited graduation, the day to shine, was taken away. But, like new growth after the fire, ideas sprouted up and plans were made to persevere and not let this Coronavirus win. On-line learning was utilized to conquer the virus at its own game. Friends left campus but stayed together during the Spring Semester. The Frisbee was used to bond the classmates together in fun during this trying time. Innovation and inspiration was used in the "new normal." Responsibilities were shared, planning meals, cleaning, chores, shopping for food, and staying healthy with social distancing. But most importantly, being there for each other was the most important survival tool these Bates' students shared. "Inclusion" and "collaboration" were the first things I remembered on my Bates tour the very first time James and I stepped on campus.
"Congratulations to the Class of 2020!" To all the staff at Bates that encouraged growth in these fine young men and women, I cannot thank you enough.
Sincerely,
Philip and Angela MacDonald (Proud 2020 Parents)
We realized that James had grown while at Bates during his junior year abroad. We knew that he had been applying himself as a student, taking on increasing academic rigor each year. But when he was living in Florence we could see how he had grown as a person. He and his friend, Brendan, lived with a host family and we had a chance to meet them and have dinner with them in their home. The host family have had Bates students staying with them each semester for years, and they told us that James and Brendan were their favorites. That small assertion meant the world to us as parents. It reflected that James and his roommate were courteous, fun to be with, and could successfully adapt to be a part of their Italian family. It told us that they found James to be interesting and curious and made us feel that James is probably bringing the same positive character traits to the Bates College campus, helping contribute to a diverse but close-knit community. We are most proud of the strong friendships and connections that James has made over his four years at Bates and we have been so impressed with everyone we have met. James has kept in touch with his host parents to be sure they have been OK during the pandemic.
James (left) and his host family with Brendan Mullally (right) in Florence
James and his parents in Florence
James and his real family at Bates homecoming in 2019
Tell us about a moment when you realized your student had grown while at Bates.
In the spring of Jason's junior year, a younger friend was considering Bates. Jason offered to give the family an insider's view. After the visit, they described Jason as "both interested and interesting". In these few words, Jason's growth crystalized for me. Through his experience at Bates, he was developing a wonderful blend of curiosity and generosity.
"Let your curiosity run away with you. Know that beyond every ordinary explanation there is a deeper and more exciting discovery to be made."
―From the Last of the Really Great Whangdoodles by Julie Andrews Edwards
What does your student's graduation from college mean to your family?
As a second-generation college graduate, Jason's graduation is a source of tremendous pride for his grandfather. It is a special moment to see the gift my father gave me be passed to my son.
Mary Canaday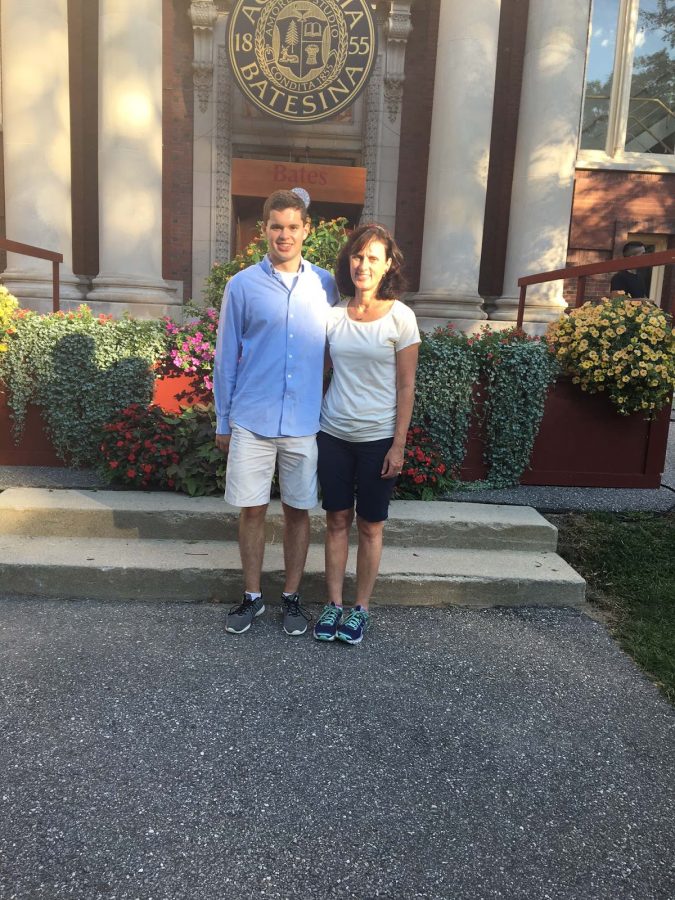 May 20, 2020
I recognized how much my son, Jay, has grown during his years at Bates when I read his senior thesis in economics. As I read his thesis, I was impressed by Jay's comprehensive knowledge of the advanced mathematical and economic concepts required to make his scholarly conclusion on the relationship between asset pricing and international soccer results. In many ways his thesis represents a fitting culmination of the hard work that Jay had put in to master his course material during his years at Bates. His work presents an in-depth quantitative analysis which includes the use of computer coding which Jay learned during the research phase of the paper. The result is a clear well written analysis of complicated material. Having spent my career in finance, Jay's thesis reminds me of economic articles authored by the Federal Reserve. I also realize that Jay took full advantage of the strong academic curriculum offered at Bates.
By Jeff Kahle, father of Jay Kahle, '20
1. Tell us about a moment when you realized your student had grown while at Bates.
Jem took his junior fall semester in Nantes, France. He began writing a blog, and we remember reading it as the fall progressed and thinking, "is this really our son?" He wrote with honesty and humor about experiencing the wonders of a new culture, about the pain of missing his friends at school, about his difficulties in conversing in a different language, and about his gratitude for the friendship and support of his friends and family. Bates gave Jem the confidence and courage to push himself, and we are so proud of all his accomplishments.
I first noticed change in Jem the day he was accepted. He seemed to have more sense of purpose and confidence and when I dropped him off the following September he was so ready to face the challenges and excitement that college presents. At that point, however, change accelerated while he made new friends, learned from classroom challenge, and matured into a man who embraces challenges with quiet and humble confidence. Bates College has been the best thing that ever happened to Jem and it has prepared him to meet head on the challenges that life presents.
2. What does your student's graduation from college mean to you or your family?
Jem comes from a long line of Mainers; both of his parents were raised in Maine, and all four of his grandparents spent the majority of their adult lives in Maine. Jem, however, was born and raised in the Pacific Northwest. In choosing to attend Bates, Jem embraced his Maine roots, much to everyone's joy. Bates provided Jem the opportunities and challenges that helped him grow into an accomplished student and leader. We are so proud of him.
The decision to attend Bates was Jem's alone so graduation is a culmination of and reward for his efforts. It was his idea to attend Bates, it was his hard work over four years, and it was his steadfast focus on academics and sports through the entire process that makes me so proud. Jem is the oldest of three and he's set a very high bar for his brothers to raise.
The moment we realized we had grown…
"It's Jonathan!" I called to my husband. Jonathan was face timing us from India! He went to India during short term of his sophomore year. This was the first time we had spoken with him since he left a week before.
He looked good. He was smiling and seemed happy. He was still smiling when he showed us a cast extending from his hand to his elbow. "Don't worry, I am okay." He said quickly. He slipped while walking on a pathway. He had to go to the hospital and it turned out that he had broken several bones in his left hand.
We were impressed and surprised how well he seemed to be taking this set back. There were times on the trip where they were camping and backpacking through Ladakh. He learned quickly what tasks/chores he could do on his own. More importantly, he learned that there were things that he just couldn't do on his own, and that he had to ask for help.
The call ended, but the image of his smile, hiding what I am sure was a painful injury, stayed with us. We heard from him again about a week and a half later. This time the smile was a little less sincere. He tried to cover what we knew was a sadness. "So, how are you?" we inquired, not really sure we wanted to know the answer.
"I'm okay, a little down to tell you the truth." He then proceeded to tell us that he was not able to go with his group to the summit of one of the highest mountains because of a reaction he had due to his asthma. He had to stay behind with Mr. Dyer. He was embarrassed and angry. He felt responsible for ruining this amazing experience for Mr. Dyer. Our hearts ached for him, and the only thing we could do was listen.
A few days later he called again and his smile was back. He told us they actually had a great time exploring alternative places at a lower altitude and really had the opportunity to experience the culture because they stayed with a family for a few days.
This is when we realized how this experience guided our son into adulthood. He tried to make the best of a few hard situations. He was an ocean away from us, explored a new land, injured himself and had to navigate a foreign medical system. He learned to rely on his own instincts and realize his own limitations. He also discovered that although his mind did not have limitations, his body did. Most importantly, he found out that plans can change in an instant, but there are alternatives that arise and one needs to make the best of a situation.
Our son came back from India, physically drained but emotionally a stronger more mature young adult. Thank you Bates, and thank you to Professors Dyer and Melnick for guiding him through his journey.
Michael & Eleanor Farrell
What does your student's graduation from college mean to you or your family?
Thank you for this opportunity. The graduation of our son has so much meaning. Joshua S Andino, is closing a chapter that began 24 years ago when Monica and I had two sons, much to the surprise of many. We couldn't be prouder of our son, Joshua. Today, as a family, we celebrate his accomplishments and success.
To Josh:
May the love of God always be with you and protect you. May God lead you well — to the people, decisions, places, and communities you are called on to love and serve. May God guard your heart and mind. May God give you the wisdom as you go into this new world. May you always know and find in your heart the truth. Whatever you do, never stop learning, exploring, growing and challenging yourself to be your best.
Today we celebrate! And celebrate we will! It's going to take more than a canceled graduation ceremony to stop us from commemorating your day. We will all gather (with social distancing!) on Zoom to celebrate and commemorate with you. We are all excited!
Today is your day. Wishing you all the best for what life now has in store for you.
We're sorry you've had to let go of the graduation ceremony and celebration you've been looking forward to for the past four years. We wish it could have been different, but it is what it is. We roll with the punches, as this family has always done. This does not diminish the hard work and accomplishments that have led you to this day. On the contrary you have become stronger and wiser because of it.
We're proud of your accomplishments and the person you've become. I thank God every day for choosing me to be your mother.
Today is your day. Wishing you all the best for what life now has in store for you.
We love you. Know that you are loved unconditionally and infinite.
Congratulations and God Bless You son! Congratulations to the Class of 2020!
Mamita
Maria Pasita Andino
May, 2020
My son Julien Armando Williamson was raised for the first 14.5 years of his life by a single professional working mother and his Puerto Rican grandfather, Armando Matos. The last eight years have brought Julien many changes. A move from Miami, Florida to Sandy, UT, a new father figure, my husband Peter Tolo, two stepbrothers, high school, Utah State Soccer Champions, and acceptance to Bates College in 2016. Through all these changes, grandpa continued to be with us, that is, until March 24, 2018 (i.e., Julien's sophomore winter semester).
As I reflect on Julien's four years at Bates two key events stand out that have allowed him to grow and experience life occurrences. The first one was making the call to inform him his grandfather had died. Julien flew from Portland to Ft. Lauderdale on a Sunday, stayed for the burial services, spoke at the services on Monday, and went back to Lewiston, Maine on Tuesday to finish his winter semester. His speech two years later still resonates in my mind…… "You were my first best friend". "You taught me to be competitive, mentally strong, the love of baseball, especially the NY Yankees, the importance of your family Puerto Rican roots and the vital significance of a college education". Julien completed his sophomore winter semester with great grades. The second event was the fall of 2019 when Julien received a concussion playing soccer and could not study or play the game he so loves during his senior year for 5 weeks. He became depressed and my first thought was he would not graduate. He found the mental toughness, physical endurance and spiritual strength and was able to return to play for the playoffs and finish his senior fall semester.
I have witnessed the transformation of an 18-year-old teenager into a 22-year-old man. A young man that learned to find passion not only for political science and Spanish literature but also environmental science, economics, and history. A human being that respects intellectual differences and sees the power of diversity in education, the workforce, teams, and friends.
The COVID-19 pandemic has changed all our lives. However, these things remain the same… you graduated college, you have a job, you are safe, you are healthy, you are blessed, and you are loved.
As you move into your future endeavors a few words of wisdom…. Respect all, become the master of active listening, work hard, play harder, continue to find other passions, be flexible, read, study, evolve, embrace change, be patient, be humble, find your own spirituality and be true to yourself.
Sylvette Williamson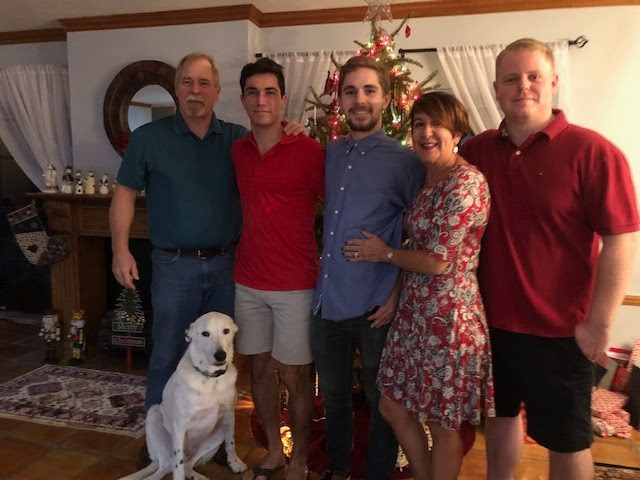 "On the other side of a storm is the strength that comes from having navigated through it. Raise your sail and begin."
―Gregory S. Williams
This a picture of Katie Crossin celebrating the binding of her thesis with her friends via Zoom and family.
"We delight in the beauty of the butterfly, but rarely admit the changes it has gone through to achieve that beauty." – Maya Angelou
We have shared in many of the challenges, stress, fun and success that Katie has experienced these past four years at Bates. Each one helped Katie to grow into the smart, independent young woman she is today. The moment when we clearly understood that Katie had grown was when she told us she had landed a research internship in a New York University neuroscience lab. She took the initiative to find a lab that was doing research that interested her and then emailed the lab to see if they could use a summer intern. We are so proud of all you have accomplished, Katie!
"You will stumble and fall, you will experience both disaster and triumph, sometimes in the same day, but it's really important to remember that like a hangover, neither triumphs nor disasters last forever." – Helen Mirren
With lots of love,
Mom and Dad
"We realized Ke'ala had grown while at Bates from the very first day of freshman year – MOVE IN day. We had driven from Vermont, the whole family packed in the truck, with the back loaded with all her stuff, she was so excited to set up in her room. Ke'ala was so READY, in fact as we drove onto Frye Street, she asked to take control of the music so she could play her "pump up music". We moved her stuff in the room and set it up as well. As we got closer to the end of setting up her room, we all felt the massive lump in our throats as we knew saying goodbye was imminent. Finally, it was time to say goodbye and one by one we all hugged Ke'ala as we all cried. She walked us down the stairs, across the street over to the truck, we said goodbye one last time, and tears were streaming down all of our faces in the vehicle. Ke'ala stood there – holding back the tears as she waved goodbye as we slowly rolled away. We looked back and saw Ke'ala finally give way to all the emotion and cry her eyes out as a timely orientation leader caught her and hugged in front of Frye House. That was the moment we knew Ke'ala had grown, she knew her sister, cousin, mom and dad were unable to hold it in throughout the entire process. It all happened in an instant as she knew she had to be strong for all of us, as if she knew it was all part of the maturity process. Ke'ala certainly arrived that day, and it was a blessed 4 years from there.
Ke'ala, we know times are trying now. However, your character is rock solid and we know you will shine bright and persevere. Be kind and always be yourself.
We love you always,
Mom, Dad, Rayna and Simba
Graduating marks the end of an important chapter in your life, but it also marks the start of a really great beginning. The pages are blank for you to create a wonderful and uniquely Libby story. It was said once that, "twenty years from now you'll be more disappointed in things you didn't do than the things you did" – it's very true, always be you. This is a special and exciting time with all that's right in front of you – the possibilities are endless and are just waiting for you to grab on to them. It can be scary, confusing, and full of anxiety, but now's the time to take chances and risks, and be certain there will be someone (it may be you) or something to catch you, mom and I will always be on call. You will always be our priority, whether by phone, text, skype, skywriting or in person. We are here for you always, there is nothing you could possibly do that could separate our love from you. We are your biggest fans, and greatest cheerleaders – you will never, could never, disappoint us. We believe in you, we always have and always will.
We realize that your graduation from Bates isn't going to be quite the celebration you thought it was going to be, but being handed a scroll of paper as you walk across a stage isn't what make us proud of you. It's a thousand little things, it's who you've become; A smart, funny, caring and compassionate person.
Love always,
Mom & Dad
A moment I realized our son Luc (Rhetoric/Film and TV) had grown at Bates:
Luc had never been overly effusive about his time at Bates, although he spoke with great respect for Professors Nero, SKR, Cavallero, and others who guided and pushed his thinking, because he has always been in a hurry to get to the next phase of his life, post formal education. So we were taken aback when, upon returning from a long walk on the beach in March, the week his Bates experience was cut short, Luc shared his own realization that everything he had learned and experienced at Bates— from his friendships, being in the CrossTones, his short term in Budapest, a semester in New Zealand, being a Green Dot, all of it—helped him understand two things deeply—the foundations of the stories he would tell through film in the future, and the world his stories are a part of and informed by. To the Bates community, thank you from our family for all you've done to make this enlightenment possible. Luc's Bates journey has been all a parent can hope for.
Prompt: What does your student's graduation from college mean to you or your family?
Our daughter's graduation means a lot to our family and our community. Her success is a validation of our sacrifices and hard work as first-generation immigrants. Cherrysse's journey to Bates College started in the Philippines and then Hawaii, and as she found herself across the continent to pursue her goals and passions, she paved a way for young women to thrive and persevere. Her success is a testament to her willingness to learn, her sincere curiosity, and her passion for what she believes in. We are forever grateful for Bates for listening to our daughter's story, believing in her and her values, and providing an environment that fostered growth, maturity, and development. Our daughter Cherrysse stands proud as a Bates Alumna, and her journey beyond has only begun.
Dick and Cherrypie Ulsa
Maddie was wired for academics from birth! So much so that I was concerned she was missing out on fun as a kid. I used to beg her to bring me a B grade and I remember the first time she did and her perplexed reaction to my celebration of the moment. She wanted to cry but it didn't seem like the right response to my joy! She was ready for college well before it was time, and it was very important to find both the right academic institution and one that would provide the comfortable environment where Maddie could get the whole college experience. Bates certainly seemed to fit the bill when we visited and dropped Maddie off for the first day. But it wasn't until I saw her engaging in shows, working with the local community children, and jumping in the freezing pond annually that I knew it truly was the perfect place.
― Dad
The moment I knew Maddie had grown at Bates was actually the moment we dropped her off there for her freshman year. We ALL laid eyes on the campus for the first time together – and I knew from the moment we saw the campus and from moment I saw Maddie on the campus – walking around and in her dorm with her new roommate – that she was at home at Bates. It was that perfect, small New England school she was searching for. And in a time when many students around the country were struggling to be away from home, on their own in a rigorous academic environment – Maddie was flourishing and excelling in her studies, her extracurricular activities, making new friends, performing in plays and taking on outside jobs.
― Anita
Graduating from Bates College with high academic honors is no easy feat, although Maddie makes it look easy! Her graduation is such a huge accomplishment and the culmination of so much hard work and determination. To receive a Fulbright Scholarship to top it off is the icing on the cake as a reward for four years of focused and intense studying. We simply could not be more proud of her HUGE and AMAZING accomplishment!!!
―Anita
I could not be more proud of Maddie on all of her accomplishments and hard work. Dean's list all four years and now a Fulbright are indeed very special achievements that can only come with dedication, focus and hard work. I know Maddie will find the right next steps for her future…though I know, because of who she is, she is also anxious as she was standing next to the ice cold pond for the first jump. Maddie, know we are there with you and can't wait to see you pursue the next chapter pursuing your dreams and passions.
― Dad
Dear Madeline,
It is hard to believe that your time at Bates has come to completion and that you are graduating. HURRAY and CONGRATULATIONS to you!!
I know you worked very hard during your time at Bates and I am very proud of your disciplined efforts toward your academic studies.
Not only did you apply yourself academically, you devoted time and energy to the community through your involvement with Bates Book Buddies Enrichment Program where you realized the positive impact you could have within a community or with an individual.
Your semester abroad to Portugal taught you independence, self-reliance and a desire for adventure.
Through all your experiences at Bates, both in the classroom and beyond, you have become a mature, compassionate, socially conscious young woman.
Very proud of you Maddie!! With most earnesty, I look forward to your upcoming achievements.
Love always,
Mom
"To accomplish great things, we must not only act but also dream, not only plan, but also believe."
Anatole France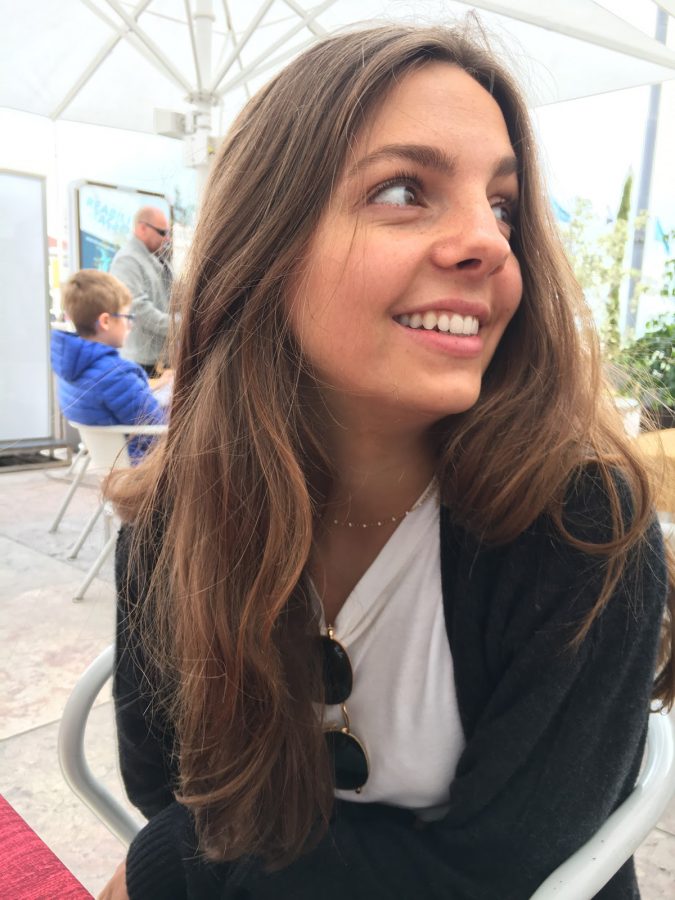 During her time at Bates, Maddie's experiences varied as widely as those she encounters crossing her beloved Penobscot Bay in a small boat. There were many calm days of smooth sailing, other days with choppy seas requiring skillful navigation, and some rougher days with strong headwinds full of challenges and daunting questions. Through it all, she persevered. Thanks to her skills, creativity, and determination, as well as the support of her shipmates (friends and professors), she made it to this important milestone. Her parents and siblings are incredibly proud and happy for her and thankful to Bates for providing such a rewarding and memorable college experience.
1: Tell us about a moment when you realized your student had grown while at Bates.
The both of them being more independent in their choices, developing and nurturing their interests.
2: What does your student's graduation from college mean to you or your family?
I am beyond proud of the two of you, first generation college graduates. It hasn't been a easy road, being raised by a single teen mom. Look at God, You both have Grit – Perseverance – Determination – Resiliency. The endless gifts and talents that you've been blessed with, continue to protect and nurture them. It's an honor to be your mom. This is only the beginning and the testament to what amazing young men you both are.
My twins – My firstborns – My legacy!
Marcel and Jio'vanni, Bates College Graduates! Class of 2020 Y'all did it!
I LOVE YOU!
MATTHEW,
The greatest job we've ever had has been the job of raising you.
We wouldn't trade a minute of the time we've spent caring for you, cheering for you, and watching you grow.
We've laughed with you and celebrated your victories, we've worried about you and shared your hurts, and through it all you've filled our hearts with love.
Congratulations on your graduation. We are so very proud of you and your accomplishment… Go Bobcats!
Mom, Dad and Luke
Four years ago, we were getting Melanie ready to leave for Bates College. As we were packing bags and getting together the necessary dorm essentials, we watched our then little girl, wide eyed, quiet, unsure, and yes, maybe even insecure pack up her belongings. I vividly remember thinking, "Will she be ok?"
As we draw closer to graduation, unprecedented as it may be, we are struck by the dramatic change and evolution Melanie has made in a mere four years. Do we believe she would have gotten there at any other college? Perhaps, yet it was Bates College that helped our little girl evolve into a strong, confident, secure, and capable young adult. It was her classmates, teammates, coaches, and professors, who assisted her; when she fell, they helped pick her up, encouraged her to stand tall and taught her with every fall, there is a lesson to be learned.
We will forever be grateful to Bates College for what Melanie learned in the classroom about people, history, environment, politics, and the like, but mostly, we will be forever grateful to Bates College because four years ago we gave you our little girl and you have given us back a strong, vibrant, secure, intelligent, and confident young adult.
Thank you and may you all be safe and well!
Warmly,
Karen and Gordon Binkhorst
Reflections for Molly
The day had come
Decision made.
Nervous fingers tapped the board
Would Bates accept?
Would you be in?
Congratulations was the word
Which greeted you upon the screen.
Dad and I embraced you tight,
Tears of joy were shed by all.
The family now had our own BOB CAT!
Our beautiful, smart, fun loving girl
Off to Maine, come the fall.
Before that day we lost your dad,
His loss was deep and there each day.
But an angel now stands by your side.
He's watched you grow these four years past,
His pride, like mine overflows.
Each day at Bates has strengthened you,
Your love of life has grown so strong
The friends you've made will last lifelong.
This year has ended differently,
The graduation may not be.
But the gifts of Bates are in your soul,
Bates is now a part of you
The memories forever yours.
You're ready now to meet the world!
Strong and brave you've always been,
Use that strength to make your mark
We're all so very proud of you
Congratulations Graduate!!!
Our son Owen Lindenfeldar (in the middle of the phone booth, shown here with David Kipp, '20 and Nick Halliday, a friend from high school) went from a boy with an unused passport to a regular traveler while studying economics at Trinity College, Dublin, last year. He learned how to live on his own, budget, and navigate numerous cities. He even got to play on an Irish soccer team (that's him in the bright goalkeeper jersey). Thank you, Bates, for this rite of passage. As parents, we could not be happier with how Bates has supported our son's growth in the classroom and beyond.
Maria and Russ Lindenfeldar, Parents of Owen Lindenfeldar '20 and Gretchen Lindenfeldar '23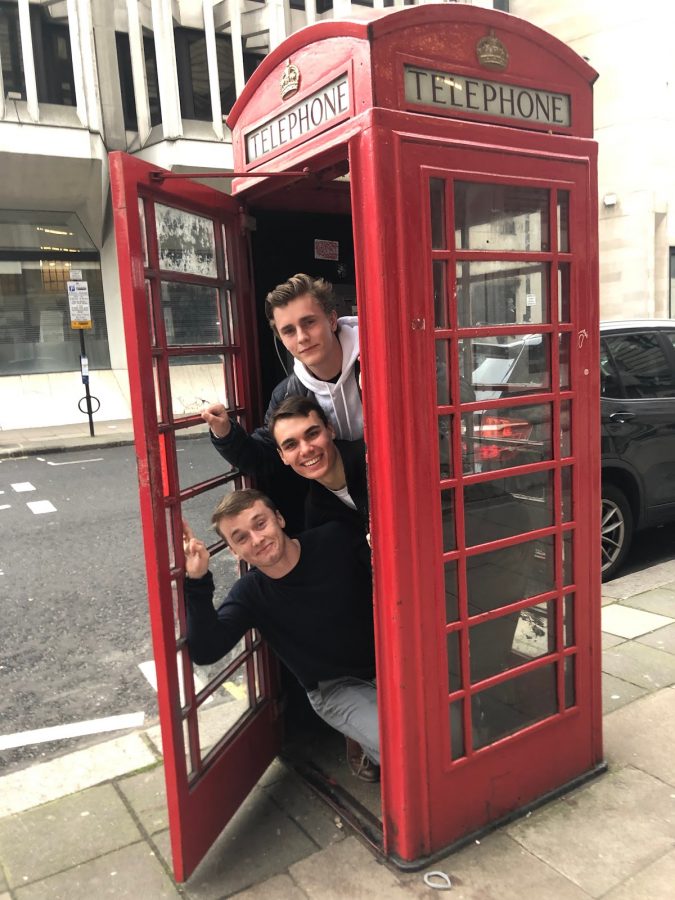 With tremendous pride and bittersweet emotions, Patrick's graduation represents the end of an era for our family! For the last 14 years, Bates has TRULY been our family's second home- all of our four children are now Bates graduates!
This day marks the end of an era for us and we are truly saddened. Saddened for a magnitude of reasons but to be quite frank, saddened because Baccalaureate remains of our most treasured graduation experiences! We wish we could be sharing this momentous occasion together..
As parents, we have never ceased to be amazed and impressed by the TRUE sense of community Bates fosters from day one for everyone!
Today we celebrate with gratitude the lifelong bonds created with friends, teammates, coaches, and professors! Thank you!! Thank you!!
Today we celebrate with humility the opportunities a Bates education affords!
Today we celebrate with pride the achievements of our children as student-citizen-athletes!
This graduation means so much to us….There are not enough words…
Tom and Ruth Beaton
P' 2010, P' 2012, P' 2016, P' 2020

Photo From left to right:
– Robyn Beaton, wife of Tommy Beaton '10 (UNH grad)
– Shannon Beaton '16
– Lyndsay (Beaton) Shea '12
– Patrick Beaton '20 holding Tommy's daughter, Caroline, Class of 2038….LOL
– Tommy Beaton '10
– Ruthie Beaton, mom, Trinity Class of 1983
– Tom Beaton, dad, Tufts Class of 1982
Peter, we are all incredibly proud of your accomplishments as you graduate from Bates College. You have worked hard both in and out of the classroom, showing us that determination can achieve great things. I am sure you will go forward and continue to be a positive member of society and of social change. We love you.
As parents, we witnessed a tremendous growth in our daughter, Pippin, after her freshman year at Bates. She decided that she wanted to give up her nordic skiing career; a career that had begun at the age of 5 and continued through elementary school, through high school at a ski academy, and ultimately led to her decision to attend Bates and compete on their nordic ski team.
It was a huge decision to make on her part. It was a major part of her identity and she was leaving all that behind to leap into the unknown. A majority of her life up until this moment in her sophomore year involved nordic skiing. It is a year round, rigorous endurance sport. All her friends, travel, education and new experiences involved an overlap with skiing. She identified as a nordic skier and if she left that behind, could she create a new identity for herself and was Bates the place for her to accomplish that now that she was no longer skiing?
We are happy to report that after she took her sophomore fall semester off to intern, she returned back to Bates, ready to discover her new identity and to decide once and for all whether Bates was the right place to accomplish all that she wanted: new challenges, an enhanced and involved college experience and an expanded group of friends outside skiing.
The answer was quickly apparent at the end of her sophomore year. She matured into her new self; a curious, involved and 100% committed student at Bates that transformed into a fierce love for everything Bates. She made wonderful friends, joined clubs, worked as an editor on the Bates newspaper, was an AESOP leader for 2 years and had many academic accomplishments.
We are extremely proud of her; that she challenged herself and asked herself hard questions which only she could resolve on her own. She realized she had more to her identity than skiing and trusted her decision to stay at Bates and it was the right decision to help her in her transformation.
We love you, Pip, and congratulate you on all you have learned and become. We wish you all the best as you enter into the next phase of your life's journey. We are confident that the journey you started at Bates will help prepare you for all you seek in the future.
Congratulations to you and the extraordinary class of 2020!
Love, Papa and Mama
Riley has always been a very strong girl in her focus and passions. While at Bates, Riley's strength and passion grew measurably to forge everlasting friendships and excel in her pursuit of academics with a purpose. She will change the world.
Riley Turcotte's graduation from Bates is a milestone in her life and her family is incredibly proud of her constant achievements and continued development. Her college experience as Captain of the Bates Women's Soccer Team, Key member of the Championship Women's Hockey Team, her European studies in Prague, Czech Republic, all the while maintaining high academic standards and achievements. We love her deeply.
Photos:
1) with Bates Women's Hockey Teammates – after winning the Adirondack Conference Title
2) with family
3) Riley picture as athlete of the week – Bates Women's Soccer Captain

The first time I noticed Ryan had significantly grown while at Bates was May 2018, he finished sophomore year, and came home from Bates for the summer. Something was different about him, not physically, but in maturity, he had changed. I said to myself, he has come home a man, I knew he didn't want to be here, he wanted to be back at Bates. He has got his wings, he is now a man. I was so proud of the man this boy had become.
Thank you Bates for guiding my son's transition from a teenager of 18 to a young man of 22. Thank you for teaching him to be a critical thinker, an independent, intellectual thinker, providing a safe place to speak up, ask questions and not be judged, to utilize Bates resources. Thank you for accepting him into your friendly, welcoming community where he knew he wanted to be since the beginning of his junior year in high school.
Congratulations Ryan Lizanecz you worked hard for this ~ I wish you a lifetime of happiness!
Love
Mom
Photos:
-First & last day as a student at Bates
-Ryan and me sailing Casco Bay with Bates crew
Dear Ryan,
Wow…who could believe four years could go by so fast, and now you are graduating. It seemed like yesterday when we dropped you off at Bates. Bates is undoubtedly a beautiful campus, but it's completely different from Miami's fast-paced city life. We privately had our reservations, especially with how the cold weather would affect our Florida boy. Still, you were so excited that you basically ran off with the other freshman baseball players and almost forgot to hug us and say goodbye. It was at that point that we realized you were ready for college. We also realized you would be driving the bus on this journey, and we were simply going along for the ride.
There were some hurdles freshman year, yet you managed to keep the faith, worked harder, and never gave up. You learned that determination and the right attitude can make a difference when facing difficult circumstances. You kept a positive attitude and were always a great teammate and friend to all. We took notice. It made us proud. We admired your will to succeed, and your nature of always wanting to help others even if you were struggling. A genuine part of growing up is recognizing how failures can teach us lessons and guide us down the right path. That is sometimes a painful lesson to learn, but you passed with flying colors.
During your freshmen year, you acknowledged to us that you had the "yips," and it was incredibly frustrating. You had to deal with that issue on your own. It took a great deal of mental toughness to get yourself back on track. Fast forward to senior year, and you witnessed a freshman baseball player with the same issue. You could have easily ignored him and let him figure it out on his own, but instead, you remembered what it was like and offered to help. You could have easily looked the other way and let the other kid figure it out alone. However, you placed kindness and compassion over competition. It's that genuine care for others that we love about you the most! You may not be the most vocal leader on the field, but you know that it takes as a "team" to win. Those skills will help you immensely after college.
Although Covid-19 prematurely ended your final season at Bates, we truly still believe in you. We are not just talking about baseball. You will win at life. When you put your mind to something, you can accomplish anything. Don't let this pandemic define you … it's merely a pause button so you can reflect on what means the most to you. Strike it out like only can you can do!
With that said, keep on doing what you do…keep DREAMING, keep TRYING, embrace CHALLENGES, and share your EXPERIENCES with others. Because in times like these, your character, courage, and determination will get you through this. Always be true to yourself!
Congratulations, and remember, we love you always.
We would talk with Sam on Sundays, and he would fill us in on highlights: being chosen as a Dana Scholar; becoming musical director of his a cappella group; working as a tour guide; organizing student volunteers to tutor high school students; working as a peer tutor. We would get to visit in person every few months. It was on those visits that we got to see that Sam's various leadership opportunities weren't just fun and rewarding activities for him; they were helping him build confidence, competence, and character. By the time he left for a semester in Nantes, France, he was prepared for a whole new level of independence. When we met him there for a vacation at the end of the semester, we were amazed at how he took charge of our family's activities, navigating the language and culture with ease. As Sam graduates, we know he is ready to embrace all the challenges and opportunities that lie ahead.
Since she learned to walk, Sarah has channeled brave confidence to the external world. Bravely, because most often, she does not let others know the fear and uncertainty that lurk inside. However, in spite of what fear or uncertainty may be present, Sarah has marched forward on the path that is uniquely hers, as she knows who she is and the values most important to her. That is how she made her way to Bates College in Lewiston, Maine from her hometown of Glen Ellyn, a small suburb west of Chicago. In the process she left the Midwest; her family (including her two siblings that have been with her since before birth); her friends and the life most familiar to her for 19 years. Sarah was on a path to be part of the Bates community that would help her to grow into the person she is meant to be, her best self.
At Bates and abroad at St Andrews, Sarah built her own new community, developing deep relationships with new friends, teammates and mentors, people who challenged her to see a bigger world and think about that world in new ways. Her growth manifested itself while interning last summer at Wilderness Inquiry in Minneapolis, an unfamiliar place where she knew no one. In eight short weeks, with her trademark enthusiasm, Sarah used what she learned at Bates to quickly build her community. This somewhat temporary community included new friends, work colleagues, a new beloved Ultimate Frisbee team, and a new church home. From a parent's perspective, that summer represented a capstone to Sarah's experience at Bates, a time for Sarah to prove to herself that she could make a home and create a life with purpose and meaning wherever she might find herself.
Sarah's family is grateful to the Bates community for giving Sarah the additional roots she needed to bravely and confidently embark on the next part of her incredible, wonderful journey in life. May God through Christ continue to guide her steps.
We are proud of you, Sarah!
"Go confidently in the direction of your dreams! Live the life you've imagined." – Henry David Thoreau
Sarah Delany at Glacier National Park,
July 2019
Belonging to a country where even during 1998, it was a stigma for many women to give birth to a girl child let alone a second girl child, people don't even think of congratulating the mother if she gives birth to a baby girl. For me, It was always against the set norms to even desire or pray from god to make me a mother of daughters. So you can only imagine what these societal norms had to say about me raising two daughters as a single mother. Sometimes, I have doubts about being a good mother. Infact, most of the time I don't think I was a good mother at all. In between the pressure of working multiple jobs and fighting through my own personal battles of being a divorcee in a society where this was considered against the "normal" family, I was not always able to be present. But, one thing for which I was absolutely sure was that if my daughters had a dream, I will make this dream come true for them, no matter what. So, when Sukanya was in 6th or maybe 7th grade and said she wanted to go abroad for college, I only said- work hard, apply wherever you want to and if you get enough financial aid, I won't stop you and I will make sure that no one else does either.
Sukanya took this with utmost sincerity and when she got the opportunity to study at Bates College, I was only happy that she is going to be able to fulfil her dream. It was not an easy journey for Sukanya. There were times when I thought that sending her to the U.S, all by herself at the age of 17 with no family or friends to look after her in a country that was so many miles away was not an ideal decision.
But, her resilience is the only reason for her to be able to complete her course from Bates College. I was always by her side, no matter what but at the end of the day it was her strength that got her through college. Today, I look at Sukanya as not only my daughter whom I love so very much but also as this woman for whom I have nothing but respect. She is an inspiring young woman and I am in awe of the growth she was able to make at Bates.
As for what her graduation means to me: Hard Work pays. Consistency matters.
Dreams can be fulfilled if you work towards fulfilling them. She is the first one in the Shukla family to have gone to the U.S for completing her higher education. Sukanya is a person with iron will and nothing can ever stop her from achieving her goal. It matters to me most that she was able to do what she dreamt of doing.
Her graduation from a college so far from her birth country, so far from family means to me that she has grown up to be one resilient woman who is going to be able to achieve whatever she wants even if I am not physically with her.
It means that many single mothers who face criticism and are looked down upon by society can support their daughters' dreams no matter what anyone has to say. Ladies, nothing can stop our daughters from dreaming and fulfilling those dreams.
My family and friends are deeply proud of Sukanya for having the courage to make her dreams come true. She is a force of nature and she has just begun.
When I talk to Sukanya over phone calls, she says that she has found her own family here. she says "mumma, I don't feel so alone. I think I have my crew" and all I can now think of is that I cannot wait to meet this crew but until then, to all the people who Sukanya considers family, Thank you for loving my daughter and thank you for supporting her through the last four years. It would be an honor to meet you all some day.

Parent Reflection by Dr. Geeta Shukla, Mother of Sukanya Shukla
Thomas, "may your troubles be less and your blessings be more and nothing but happiness come through your door!"
— An Irish Blessing
We are so proud of you and all of your accomplishments during your time at Bates. We've watched you mature, take on difficult classes, make a great group of friends, and excel in your basketball career over these past 4 years. We are so grateful we have been able to share these amazing memories with you. It made us even more proud to see you overcome the many adversities that you faced. We have all the confidence in the world in you as you take on this next phase in your life. Your determination and integrity will continue to serve you well, just remember, "Always Stay Humble & Kind."
We first realized that Tristan had grown at Bates, when he decided to study abroad in Belgrade, Serbia. He had never been to Europe and didn't speak the language. We were very apprehensive before he went. He had never traveled abroad alone. Tristan got on an Air Serbia flight, landed in Belgrade and had to navigate the next 24 hours from the airport, to the hotel and to the study abroad office to meet his group. While he was there, he learned the language, traveled to Budapest, Romania and Greece on his own, including booking Airbnb!
When we arrived in Belgrade 4 months later, Tristan's independence was apparent as soon as we met him. Our hearts almost burst! He took charge of our visit, taking us to his favorite spots, helping us order food and explaining his experience in the city. He was a confident tour guide that helped us understand the culture and the history of the region. I don't know how we would have managed without his grasp of the city, language and the culture. He was an equal with his parents for the first time in his life. We were so proud!
Bates not only gave Tristan an excellent education and collegiate experience, but also the ability to experience a completely different part of the world. The experience at Bates shaped Tristan into the independent, confident person he is today. He is an inspiration to his younger siblings.
Karoline and Michael Kane

The Bates Experience is what happens when for eighteen years you tell your child they can do anything if they set their mind to it, and they believe you! At the end of sophomore year, non-outdoorsy Valerian decided to take a NOLS (National Outdoor Leadership School) course for short term and spent a week backpacking in the Adirondacks. Then she spent junior year abroad in Yaroslavl, Russia. We are not a family of campers or world travelers. She thought she could, so she did. We realized that city or wilderness, anywhere she wanted to go in this world she would survive. We have learned to trust her with the Valerian decisions.
Thanks,
Wendy Growcock
1.Tell us about the moment you realised your student had grown while at Bates.
Vid has had lots of experiences while at Bates and playing tennis on the Bates Men's tennis team. It is hard to pinpoint a moment of growth while on campus. I think there were lots of mostly ups and some downs that have shaped Vid as a Bates graduate. One that comes to my mind is a time when the tennis team was playing tennis with special needs kids from the Lewiston community and Vid told me how much he enjoyed that time and looks forward to it. He felt that they were some of the happiest people in spite of everything they have to endure.
2. What does your students' graduation from college mean to you or your family.
Graduating college means a lot. While growing up in India it was part of the culture which believed in the fact that the only thing one can truly give their children is a real education, and given the fact that education happens on and of an educational institution and throughout one's life, Bates has been a place of learning for the sake of learning and growing as a compassionate human being and becoming a citizen of this world. Bates has been a big part of Vid's ongoing education.
Parents Timothy and Vicky Keifer \
Sister Liza Keifer
Grandparents Roberta King and Richard Broderick
The moment we first noticed that our daughter Violeta Keifer had grown while at Bates was when she came home for Thanksgiving break her freshman year. We could sense a newfound confidence in her that we couldn't quite put our finger on. There was an air of confidence in her actions and words and by the time she returned for winter break, it was more pronounced and there to stay. Even her grandparents had noticed that there was something different in the way their granddaughter carried herself. Her inquisitive, exploring nature had suddenly been given a boost by her newfound confidence as a young woman at Bates College and we are all so very proud of her.
Violeta's graduation from college is a huge milestone for her and our family. The fact that she was interested in attending college on the other side of the country can attest to her adventurous approach on life. She has always been willing to take on new challenges as exemplified with her study abroad in Turks and Caicos and I am sure this will continue to take her to new heights in her career. She has worked incredibly hard to get to where she is now and we know this will take her far in her endeavor to do anything she sets her mind to do. She has grown into her own while at college and this is an incredibly important step to her being self-sufficient and solving life's problems as they come along.
Congratulations to our daughter on this day of an incredible achievement and may you continue to move forward with the sense of curiosity and wonderment that brought you to Bates. We love you and are extremely proud of your accomplishments!

"I am not bound to win, but I am bound to be true. I am not bound to succeed, but I am bound to live by the light that I have. I must stand with anybody that stands right, and stand with him while he is right, and part with him when he goes wrong."
— Credited to Abraham Lincoln
CONGRATULATIONS WILLIAM WEEKS
WE ARE SO PROUD OF YOU
WE LOVE YOU
BE BOLD, BE COURAGEOUS, BE YOUR BEST. – GABRIELLE GIFFORDS
Bates Graduation 2020 Parents' Reflection- Zachary Jonas Family
"They're calling the game. Good move in my opinion." Fri, Mar 13, 10:12 AM.
As we prepare to watch this graduation, coming together through technology rather than on lawn chairs, we think back to the text Zach sent advising us to come and get him: simple, direct and without complaint. The reality of the virus swept away campus life, the anticipated end of senior year and the traditions that come with graduation. Yet, our son's reaction showed his mettle. He thinks clearly, reacts adroitly and responds kindly. Bates helped Zach hone these abilities.
The next day, Zach moved out of his room. Packing was complicated by the specter of cleaning anything brought along, but the hasty sorting of the needed from the unnecessary did not phase him. He listened to the information about the virus, accepted with remarkable grace the reality that had so suddenly landed upon all of us, and set about the tasks in front of him. Books, pictures and the coffee pot made the cut. Momentos from friends and events did, too.
Between flights of stairs, Zach greeted friends. Conversations that might have come over the next ten weeks seemed to compress into minutes. Each exchange took on its own cadence and patter with inside jokes told, memories shared, and farewells given. Yes, they hugged goodbye— so be it.
We will admit to thinking wistfully of the traditions surrounding graduations in years past; visiting Lewiston in full family force and celebrating en masse and in person with all of the graduates would have been memorable. Still, we know we are part of a historic moment and we will attend this virtual graduation as proud as can be. Zach's ability to adapt to even jarring change and act decisively while valuing his relationships with others assures us that his time at Bates was well spent— a "good move," in our opinion.
So, here's to the Class of 2020– may you pursue truth, act bravely, and take care of each other.